The Department of Social Welfare and Development (DSWD)-Caraga have intensified its campaign for the institutionalization of the Community-Driven Development (CDD) by gathering stakeholders from different parts of the region and explaining to them the impact of CDD to poor, vulnerable, and disadvantaged sectors and communities, on November 15, 2019, at Watergate Hotel, Butuan City.
The Stakeholders' Forum was conducted through the Kapit-Bisig Laban sa Kahirapan–Comprehensive and Integrated Delivery of Social Services (Kalahi-CIDSS) Program, the agency's lead in the advocacy of the CDD institutionalization bid.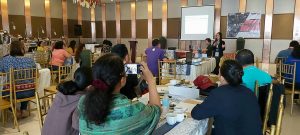 The forum was attended by municipal and provincial information officers, and planning and development coordinators and line government agencies' representatives.
The forum intends to define CDD particularly in the context of Kalahi-CIDSS, to strengthen the advocacy campaign of CDD, to promote the use of this approach in the implementation of other government programs and projects, and to strengthen the ties with the stakeholders in order to gain their support and commitment in the passage of the CDD Institutionalization Bill.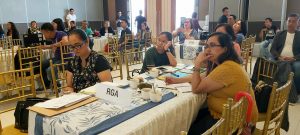 Jean Paul S. Parajes, DSWD Caraga Promotive Services Division OIC chief, said that as the Kalahi-CIDSS program comes to a close this year, the Department is on the move to call for the passage of the CDD Institutionalization Bill, adding that since 2003, CDD has already demonstrated success in poverty alleviation, community empowerment, and participatory local governance.
"With the success of the program, the agency sees the opportunity to ride on the momentum gained through the implementation of the program, through the institutionalization of CDD by making it a regular strategy for programs and services of the government. This way, with the passing of the bill, CDD will be operationalized in government programs, activities, and projects," Parajes said.
For 16 years, the Kalahi-CIDSS program has been using the CDD approach in empowering communities in targeted poor and disadvantaged municipalities by giving the people the opportunity to make informed decisions on locally-identified options for development and manage resources to implement sub-projects that address their needs.
During the forum, regional specialists from the program discussed the gains and successes of Kalahi-CIDSS in the context of CDD. They also disclosed the future steps of the program towards CDD institutionalization.
Kalahi-CIDSS also shared the different technologies used by the monitoring and evaluation unit in the implementation of the program. The management seeks to transfer these technologies to help the local government units and government offices in providing a more efficient and effective delivery of services.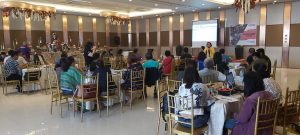 Participants expressed their support and commitment to the program, saying that they believe in what CDD can do to help their people.
Trento Municipal Information Officer Allen Joe Lumanta shared that Trento town is now on the move to create a CDD ordinance, after the Kalahi-CIDSS program improved the lives of the communities in the municipality.
"The municipality of Trento has always been supportive of the Kalahi-CIDSS program. We assure the management that our municipality will promote the institutionalization of CDD because we believe that this is an effective strategy in poverty alleviation and fosters inclusivity. This is what our people need," Lumanta  said