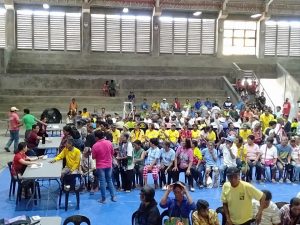 Beneficiaries of the Social Pension for Indigent Senior Citizens Program (SocPen) who haven't claimed their stipends still have a chance to get their pension.
The Department of Social Welfare and Development (DSWD) Field Office Caraga is currently conducting special payouts for SocPen beneficiaries who have unclaimed pensions for the first and second semesters.
Juvy P. Echavaria, DSWD Caraga SocPen focal person, said that special payouts have already started on the last week of October in some towns of Agusan del Sur.
Echavaria urged beneficiaries to claim their stipends as those who haven't claimed their pensions for two consecutive semesters will be taken off the beneficiary list and be replaced by those on the waitlist.
"Naa may schedule sa special payouts, so dapat mo-adto gyud sila (there is a scheduled payout, so the beneficiaries should go and claim their pension)," she said.
Echavaria added that beneficiaries who are sick, hospitalized, unable to walk or bedridden are allowed to send their closest kin claim the P3,000 semestral stipend.
Representatives of bedridden beneficiaries could claim the pension by presenting required documents, such as medical certificate (with doctor's license number), Pagtugot Form signed by the Local Social Welfare Development Officer, original and photocopy of any valid government-issued IDs of both the beneficiary and the representative.
More special payouts will be conducted as DSWD have completed the release of stipends for the second semester in all 73 local government units in the region.
Personnel of the Social Pension Program Management Office are working double time to serve the 140,000 target beneficiaries this year and at the same time delist unqualified senior citizens in the program.
As of November 13, a total of 2,984 beneficiaries were delisted from the program since they have already died, transferred residence, could no longer be located/without any information, are receiving pension from other agencies, and has regular family support.
The Social Pension program provides a monthly stipend amounting to P500 to augment the daily subsistence and other medical needs of indigent senior citizens. This is in line with the fulfilment of the government's obligation to the most vulnerable sector through social protection, and for the full implementation of Republic Act 9994 or the Expanded Senior Citizens Act of 2010.
Qualified beneficiaries are those who are 60 years old and above; frail, sickly, or with disability; without pension from government and private agencies; and without regular income, compensation or financial assistance from their relatives.