When he was still young, Vicente L. Gausin, Jr., or "Vic", used to tag along with his parents in their community meetings because he had nothing to do at home and he wanted to avail of the snacks during these meetings. Later on, when he was a little older, he began assisting them in facilitating these meetings. This sparked his interest in community volunteerism.
Vic is a 20-year old youth volunteer from Barangay Pinana-an, Las Nieves, Agusan del Norte. His parents, Vicente D. Gausin, Sr., and Ofelia Gausin, used to be Kalahi-CIDSS community volunteers and members of the Barangay Sub-Project Management Committee Community Volunteers of Pinana-an.
While assisting his parents in their volunteer works in Kalahi-CIDSS, Vic realized that he also wanted to do what his parents were doing. He wanted to help the community. He also fathomed that even at a young age, he can contribute to the improvement of his community.
With this realization, he became more active and involved in the community.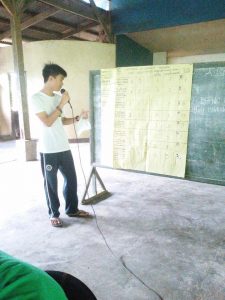 As a community volunteer, Vic learned and experienced a lot. It was with Kalahi-CIDSS, where he first learned the significance of community effort. He said that it really motivated him when he saw how each member of the community would walk an extra mile just to accomplish their goals.
"I have seen that the people in my community were united and worked hand-in-hand just to achieve the development we aspire for. This inspires me even more to take part and contribute even in my own little ways", Vic said.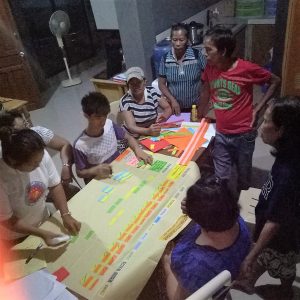 During the community planning, Vic developed a deeper understanding of the problems in his community and how critical it is to work as a team in resolving these issues. Before, he did not pay much attention to these problems as he thought that it was not his concern at all. But after becoming a community volunteer, he saw that the youth plays a huge role in the improvement of the community as they can offer fresh perspectives and offer new ways on how to address problems.
He said that the youth should be more involved in the planning, budgeting, and implementation of community projects.
But his journey as a community volunteer was not smooth sailing at all times. Vic also struggled.
"While volunteering, I also had to go to school. Sometimes, I struggled juggling between volunteer works and my studies. I had to make sure that I do my responsibilities in both aspects", Vic shared.
He also received discouragement from others, saying that volunteering was a waste of time. He was not compensated for his services and it would not bring him opportunities.
But he did not let this get in his way. He brushed off the negative remarks of other people and continued to serve as a community volunteer. He says that his experiences as a Kalahi-CIDSS community volunteer have helped him boost his self-esteem and honed his leadership skills.
Through volunteerism, Vic was given the opportunity to experience real challenges and make a meaningful contribution to society. He was also able to widen his social capital – meeting new people, sharing experiences with them, and learning from them. As a matter of fact, he represented the Caraga Region in the recently concluded Kalahi-CIDSS National Community Volunteers' Congress in Butuan City last August 2019.
During this event, Vic was able to exchange ideas with other community volunteers from across the country and pitched in suggestions on how to promote the passage of the Community-Driven Development (CDD) Institutionalization Bill.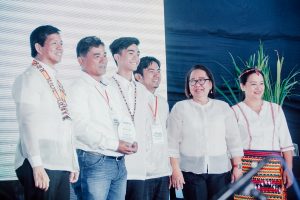 "I believe that the youth sector plays an important role in nation-building. We may only offer tiny efforts but I know these small contributions can lead to a significant result," Vic shared.
Since his volunteering experience with Kalahi-CIDSS, Vic has been involved in other volunteering works in school. It has become both his learning venue and his comfort zone. He said that he still sees himself in the future doing volunteer works because he had always the heart to serve.
Currently, Vic is in his second year in college at Caraga State University, taking Social Work as he wishes to continue working with the community and serving the people especially those who are in poor, vulnerable, and disadvantaged areas.
"My volunteering experience in Kalahi-CIDSS has helped me develop a sense of citizenship. Being a community volunteer was one of the best decisions I have ever made in my life," Vic concluded.