The DSWD through the Adoption Resource and Referral Unit (ARRU), conducted its Program Implementation Review for its Adoption and Foster Care Program, which was attended by social workers from the different provinces, cities/municipalities, family courts, and the regional residential care facilities, on October 21-25, 2019 at Amontay Beach Resort, Nasipit, Agusan del Norte.
The activity was conducted to equip social workers who handle adoption and foster care cases on the laws and guidelines of the program and improve their skills and competencies in handling Alternative Parental Care (APC) cases, by identifying the gaps and gains in the implementation of APC, in its 2019 implementation.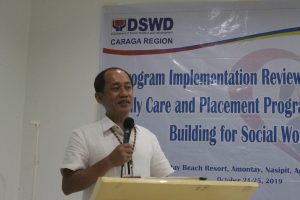 The program handlers and the participants discussed the performance of Field Office Caraga to further assess factors affecting the program's implementation. This way, stakeholders will have a venue to express their thoughts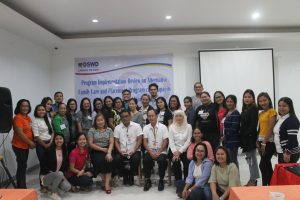 , share their experiences, revisit the accomplishments, and come up with plans to improve implementation in the following years.
Social workers from the Local Social Welfare and Development Offices (provincial, cities, and municipalities) of Caraga, different family courts, and from the centers, were able to share their experiences during the PIR.
Through the different discussions and sessions, the participants were able to assess, both the internal and external factors that contribute to the present situation/practices in the program's implementation.
Thesa Joy B. Musa, head of ARRU responded to the concerns and queries of the social workers by presenting the Regional Situation on Adoption and Foster Care to give the participants a better understanding and appreciation of the program's implementation.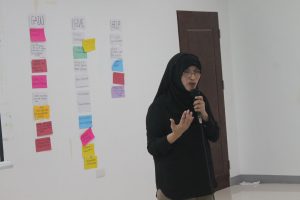 Representatives from the Department of Interior and Local Government and Philippine Statistics Authority were also on hand to provide additional information in the program's implementation.
Jeffrey Ramo, LGOO V from DILG, discussed about the RA 10165 or Foster Care Act and the roles of LGU in foster care and adoption cases. Ms. Miriam Mapatac of PSA also shared the latest guidelines on birth certificate issuance, correction, and other related issues associated to the implementation of adoption and foster care.
The social workers were also subjected to a capacity building activity as part of the initiatives in enhancing the skills and knowledge of the participants.  Facilitators treated the participants to Personality Tests and Personality Typing, which came in handy, especially in making the participants identify their characters and highlight their strengths and weaknesses.
Lectures and activities were also conducted emphasizing the importance of maintaining the well-being of the workers through stress reduction and mental health promotion. The social workers, being in the front lines in providing social welfare and protection, need to be emotionally and mentally stable since they are personally handling distressed persons, and people in need.
The PIR and the capability building activities are just ways for the DSWD to ensure that the programs and services of the agency are being handled by capable workers to ensure that the welfare of its clients and stakeholders are taken care of. #