Mindanao, a home to 24, 135, 775 (NSO, 2015) Filipinos and the melting pot of diverse cultures, where people of different languages, tribes and races meet. Here lives the Tri-People of Mindanao – the Christians, the Muslims and the Lumads.
Over 18 Lumad groups or Indigenous Peoples' groups are present in Mindanao. And one of these is the "Mamanwa" (or variously called Congking, Mamaw, Ammanusa, Manmanua, Mamaua), described as having a dark skin tone, a small frame, kinky-haired, snub-nosed and with black eyes. The term Mamanwa means "first forest dwellers," derived from "man" (first) and "banwa" (forest). They are the original dwellers of the forests of Jabonga, Kitcharao, and Santiago, Agusan del Norte.
The Mamanwa of the Caraga region are the oldest existing group of people in the Philippines and are believed to be direct descendants of the Mambuti tribe in Africa.  They are nomadic in nature, founded on slash-and-burn, cultivation on small patches and minimal wet rice agriculture. Food gathering is heavily relied upon by this cultural community.
Some cultural communities retained these traditions and livelihood activities, but the Mamanwas in Jabonga, Agusan del Norte have adapted to the way of life of the "bisaya" people. From being nomadic to settling to houses built in their ancestral domain. These settlements are a product of the partnership between the LGU and the mining corporation in the area.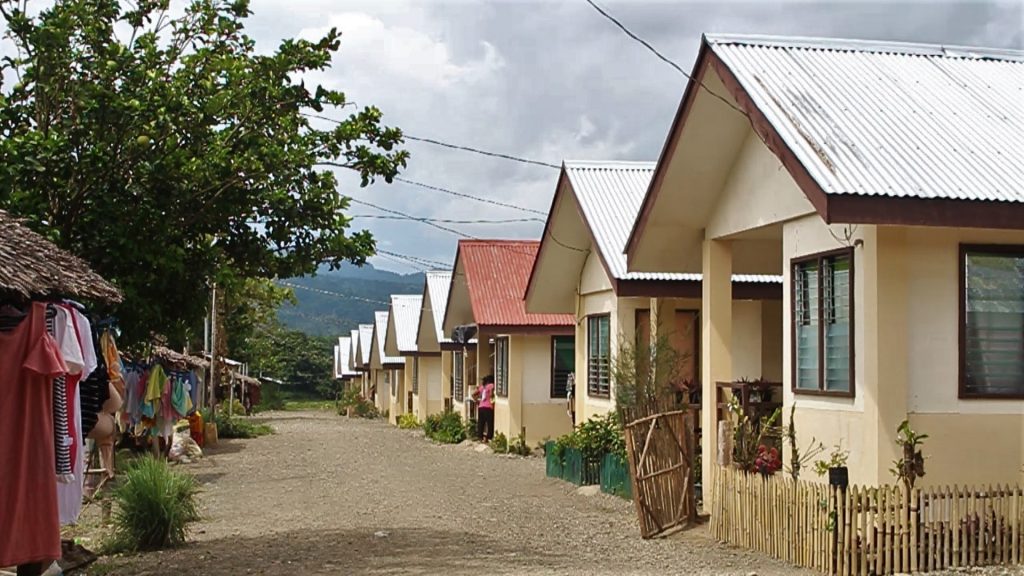 The shifts from subsistence economy to cash or money oriented economy have contributed to their poor economic system. There is a near depletion of their hunting, fishing, and farming due to illegal logging, large-scale Kaingin, and mining which in some extent poison the rivers.  They have adjusted to it and even joined the Mining corporation in order to earn income for basic needs.
"Lisod jud kay kada tuig man gabaha dinhi, tapos bisan patag sa bukid maapektuhan man gihapon ang among mga tanum kay mag landslide man. (Every year we would experience heavy flooding; it has always been hard when there are disasters. Even if we stay in the mountains, our plants will be damaged due to landslides.)" Purok-7 President, Jalpha Antawon shares on how hard their life is during disasters.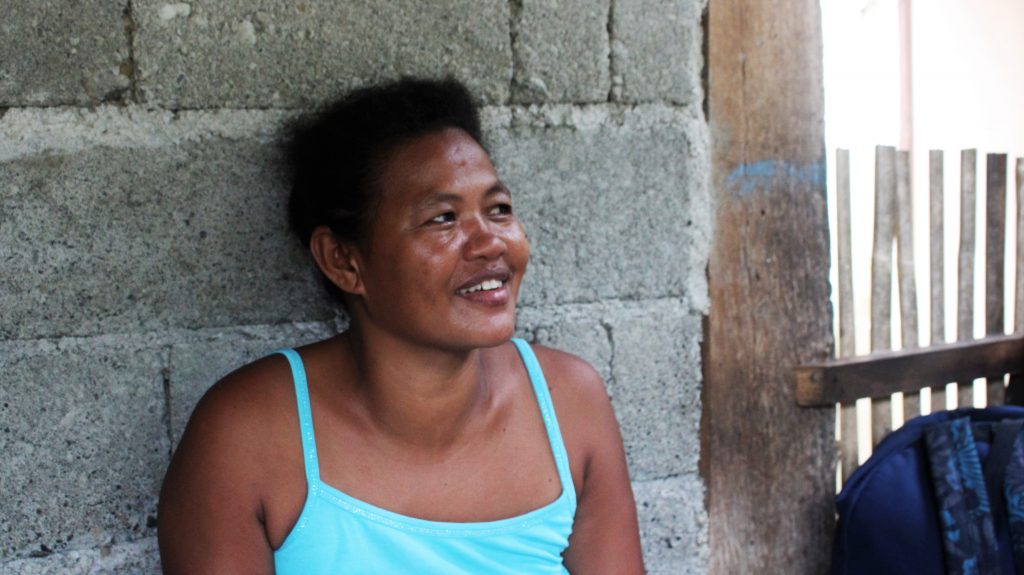 They also added that it usually takes 2-3 months for the water to subside. Since this is the case, reducing the damages of possible disasters is a great way to help the Mamanwa community. One of the activities that they did was the sand bagging along the Kalinawan river. It was a way to promote disaster preparedness and to reduce heavy flooding due to the over-flowing of the river in the said community.
Another activity was the extraction of waterlilies or water hyacinths. Since they are skilled weavers, the Department of Trade and Industry (DTI) educated them on how to utilize the water hyacinths that are present in the Kalinawan river. They were taught to make slippers and bags out from it. It promoted recycling and utilization of available resources to producing a new product. This has become a practice of the community, since it did not just prevent clogging of the Kalinawan river but it also served as livelihood to the Mamanwas.
The other activities that were also conducted during the 10-day implementation of Climate Change Adaptation and Mitigation (CCAM) in Purok 7, Sitio Coro, Barangay Colorado, Jabonga are the following: Drainage cleaning, Road cleaning, Slope Protection through sand bagging and communal gardening.
"Kalahian raman gud karon kaysa sauna na wala pay hinabang, Minus ra ang ming skwela tungod sa kalisod. Karon naa nay nakadugang nga [kwarta], daghan na nakapa skwela. Dako gud among kalipay nga naay nagpakabana sa amo nga mga pobre (Before the implementation of CCAM, there were only few children in our community (Mamanwa cultural community) who attends school. But now with the monetary help earned through the CCAM implementation there was an increase of pupils. We are very happy that there are projects like this, who helps the poorest of the poor.)" Erly Dadyo shares on how grateful she is on the projects of DSWD.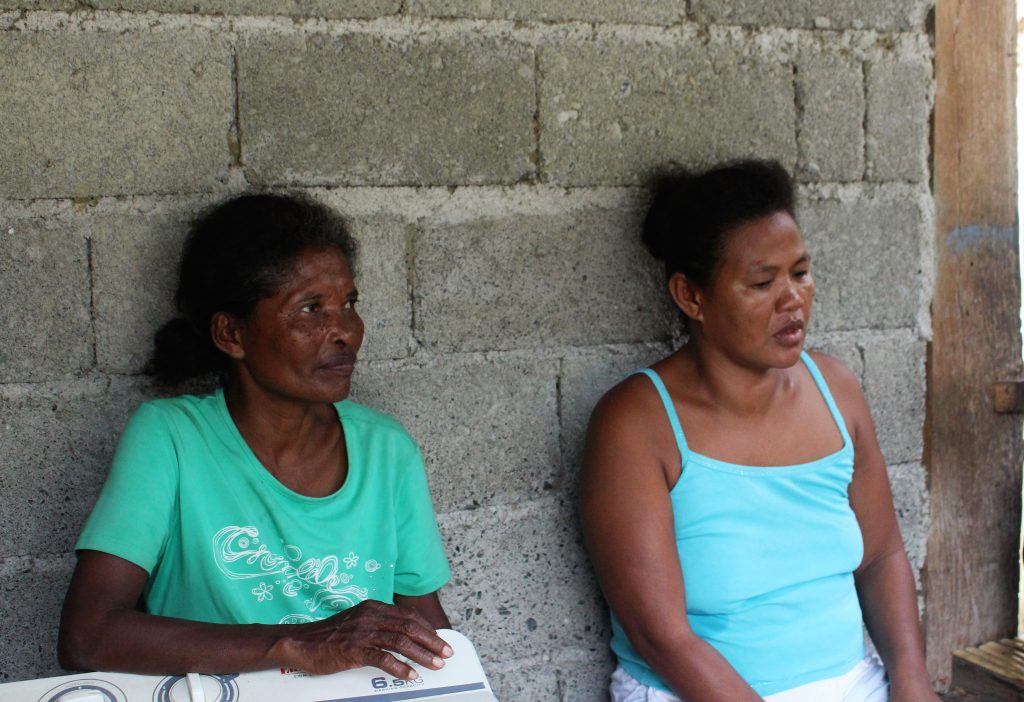 The CCAM or Climate Change Adaptation and Mitigation is a project of DSWD that aims to strengthen the resiliency of both natural systems and the urban built environment as well as adaptive capacities of vulnerable groups and communities. This has become a platform for them to learn about climate change and its effects on us, on the planet and on their future. It was where they learn about disaster preparedness and disaster mitigation. It did not just make them knowledgeable on these issues but also helped their families in providing the basic needs. They were really thankful for the CCAM project because it has given them additional income to put their children to school.
The knowledge that was acquired by the Mamanwa community was a great step in changing their perspectives and attitude towards disaster preparedness. There was a change in their character, from not giving attention to environmental conservation to trying to maintain cleanliness of their surroundings.
It has not only affected their perspective on the environment but also with themselves. It has created environmental advocates within the community like, Jalpha Antawon, the 43-year-old Purok-7 president that has used her influence to encourage other Mamanwas. According to her, they would always clean their surroundings every end of the month. Encouraging the spirit of volunteerism within the Mamanwa cultural community.
"Ako gyud ang mag-guide sa ilaha, hinlo jud na dinhia! Kada katapusan, magvolunteer mi dinhia manglimpyo, magpahina (I would always initiate to start the cleaning (surroundings), from that time on it has always been clean. We would always clean every end of the month; we would volunteer to do Pahina.)" Said Purok-7 President Jalpha Antawon.
A lot has changed from how the Mamanwas in Jabonga lived, on how they interact with other people, and most importantly on how they perceive climate change and its effects. If you have encountered Mamanwas, some of them are aloof to strangers but now most of them are like Jalpha Antawon; brave to step up and empowered to take a stand in promoting environmental conservation. Along with the spirit of volunteerism as one of the highlighted traits that CCAM has imparted to the community.
Cleaning the environment might be something that we do in regular basis, but in the Mamanwa culture it is something they're not used to. Thus, it clearly states how huge the impact brought by Climate Change Adaptation and Mitigation (CCAM) to the community.