"All of life is peaks and valleys. Don't let the peaks get too high and the valleys too low."
Sitio Tabon-tabon of barangay Mahagsay in the municipality of San Luis, Agusan del Sur is known to be a place where the birds called Tabon or Philippine Egret lay eggs. The local residing in the area often witness the birds grouping together especially during late afternoons. Sitio Tabon-tabon has two rivers namely Adgaw and Maasam. The people who live near the river Adgaw are known as Adgawan-on and those near the river Maasam are Maasamnon – both groups living on both the river bends are from the Banwaon Tribe.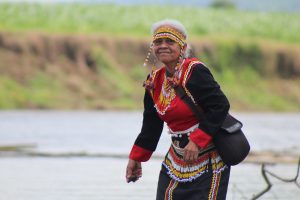 In a place where roads almost take you nowhere, Felicidad S. Manpinsahan, at a ripe age of 78, grew up and grew old at the Maasam side of the Sitio. She was married to Ankie Manpinsahan and blessed with 4 children.
Felicidad never had the desire of living away from her birthplace, Sitio Tabon-tabon. "Sa Tabon-tabon nako nidako, naminyo ug nagkaanak. Mag-uuma mi sa akong pamilya. Akong bana, sa buhi pa siya, nananom og mga lagutmon aron naa mi makaon. Kung naa mi daghan maani nga lagutmon, saging, ug humay, magbaligya mi sa merkado (I grew up in Tabon-tabon, got married and raised a family here. I come from a family of farmers. My husband, when he was still alive, would plant root crops for a living. If we had good harvest, we sell some of our root crops, bananas, and rice in the market place)," Felicidad said.
It may sound simple and common for people living simple lives in the countryside, especially in far flung areas. They spend their days in their communities, and seldom do they go to town, and this is because there is difficulty traversing the perilous trails going to the Poblacion.
Felicidad and other residents of the sitio set schedules when they go down to town to sell their crops. They have ventured different ways to reach town. Walking, horseback riding, even setting up their own "balsa" or bamboo raft to take the river route.
"Mogikan mi og alas 4 sa kadlawon pero maabtan mi og gabie nga naa pa gihapon sa suba. Ang among buhaton, mohunong sa mi sa kilid, ihikot ang balsa ug magbuhat mig kahigdaan sa yuta. Ang among higdaan kay mga dahon sa saging ug uban pa. Didto nasab mi magdung-ag og luto. Mangadlawon na sab mi pagka-ugma pagpadayon sa byahi gamit ang balsa (We would leave at around 4 o'clock at dawn and travel downriver the whole day. Night time would come, and we are yet to reach our destination. So we would stop by the riverbank, tie our raft, and prepare a place to sleep. We would use banana leaves as our bed, and we would also cook our meals there. We would then leave at dawn the following day to continue our travel)," she added.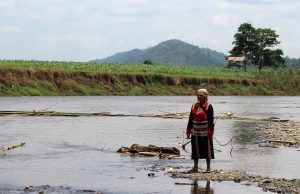 Selling their produce is not just the challenge they face with regards to the issue of their sitio being far from town. She also worries about having members of her family getting sick. The hospital or health center is too far from the sitio – emergencies, accidents are very challenging to them. Felicilda never had the opportunity to visit the hospital when she gave birth to her children – the distance from their community to the hospital is quite far.
"Kada-panganak nako sa una naa rako sa balay. Ako rapud manabang sa akong kaugalingon. Paghiyob, utong nalang pud ko unya mogawas na ang bata. Ako napud magputol sa pusod. Wala gayud ko nadala og hospital ug wala pud midwife manabang (I gave birth to all my children at home. I delivered them myself. I just pushed when I had contractions, and the baby would be expelled. I then cut the umbilical cord after. I was never sent to hospital and no midwife was available to assist me)," Felicilda explained.
All her life, she never thought of their living condition as an issue. Poverty was never an issue for her. They do not expect for people from other barangays, most specifically from the Poblacion, to feel bad about their condition. She remains positive amidst the hardships they face in their community.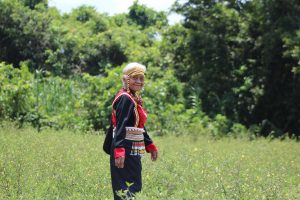 Felicilda spends her time taking care of her grandchildren and attending chores at home. She lives with her eldest son and his family. She shares that they need to farm and hunt to have food on the table. "Sa buhi pa akong bana kaniadto, arun naa mi masud-an, manlit-ag siya og manok, manlais og baboy, mang-apulo og unggoy ug mangaso og iro (In order for us to have food on the table, my husband, when he was still alive, would set traps for chickens and pigs, hunt for monkeys and wild dogs)," she added.
So when a government program which provides cash grants to poor families came in 2018, Felicilda was more than happy to hear the news. She was one of the beneficiaries of the Unconditional Cash Transfer (UCT) Program of the Department of Social Welfare and Development. When she was told to claim her 2018 grant from UCT, she felt ecstatic. She was glad to receive money for her to buy medicine and provide for the needs of her family.
Together with other UCT – Social Pension beneficiaries from Sitio Tabon-tabon of barangay Mahagsay, they then set adrift on their "balsa", going downstream to the Poblacion to claim their UCT grants. They prepared clothes and food good for 2 days.
"Nalipay kaayo ko kay naa koy nadawat nga dugang hinabang gikan sa gobyerno. Dili lang ako ang malipayon, apil akong mga kaubanan nga mga tigulang. Dili naman namo mahimo ang pagtrabaho sama sa kaniadto nga kusgan pa mao dili nami makakwarta pa. Kaning gihatag gikan sa UCT nga dugang ayuda pila nasab ni nako ka-bulan nga vitamins mapalit. Nakatabang sab ko sa akong mga apo sa ilang pag-eskwela bisan ginagmay lang (I was so happy that I received additional grants from the government. I and my fellow senior citizens are so happy with the grants. It is a good thing that our needs are addressed because we could no longer work because of our old age. Unlike before when we were still strong, we could still earn some money –  but now, that is already impossible. This additional grant from UCT will be used to buy vitamins which I will have for months. I will also be able to help my grandchildren with their needs in school)," she shared happily.
After the payout, they went to the market to buy rice, medicines and vitamins. All her companions went home riding a habal-habal or a motorcycle. But Felicilda decided to stay with her cousin Edna M. Mapungahan at the Poblacion in San Luis. She decided to live with her cousin because she finds it hard to live with her son at Sitio Tabon-tabon anymore. She can't walk for long distances and even stand for long periods of time – her legs are weak, her body could no longer endure rigorous activities. Her cousin who is way younger than her is capable of taking care of her; make sure that she has her vitamins and that she eats healthy food.
"Malipayon na man ko diri sa akong ig-agaw. Mingawan naman ko ug didto ko sa Mahagsay kay patay naman akong bana. Nakipuyo rako sa akong kinamaguwangang anak didto. Naa naman sila mga kaugalingong pamilya. Diri nalang ko sa akong ig-agaw arun sab dili na lisod sa ako ang paglugsong kung magpayout sa Social Pension ug UCT (I am happy living here with my cousin. I would only feel lonely back at Mahagsay because my husband is no longer with me. I stay with my eldest child there. My children already have their own families. It is better that I stay here with my cousin so that it will not be difficult for me to go when there is payout for Social Pension and UCT)," Felicilda explained.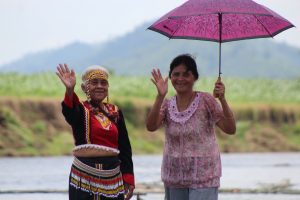 Felicilda's situation is very difficult and that not all women have the strength and courage to go on with life with limited opportunities. She is a woman who symbolizes humility and simplicity. She became wiser and wiser as the years went by because of the trials and difficulties in life. She was not able to experience the luxuries in life, but her experience of living a simple life has made her content, and much happier, even in her old age.
The Unconditional Cash Transfer (UCT) Program caters to 3.2 million Social Pension for Indigent Senior Citizen beneficiaries in the entire country. They are being given an additional grant from the government for them to cope with the increase of prices for commodities and services due to the implementation of the Tax Reform for Acceleration and Inclusion (TRAIN) Law.