"If the family were a boat, it would be a canoe that makes no progress unless everyone paddles."
There are times that no matter how strong a family is, trials come and challenges the bond and faithfulness of the members. Tough decisions are bound to be made that changes the lives of the members.
Mothers play a vital role in the family. Most of the time, the mother has the direct and most intimate relationship with her children. The strength of a mother can be manifested on how the children are raised. But how does a family strive to stay together when the head of the family gives up with the challenges of life? What will happen when a mother experiences difficulties that may affect the children?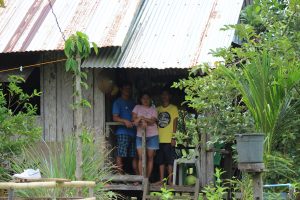 The Marcos family, made up of Roy, 39 years old (father), Levine Suazo Marcos, 38 (mother), 38 years old, Krieleroy Romie, 17, and Krieleroy Jade, 14 years old.  The family is a beneficiary of the Pantawid Pamilyang Pilipino Program (4Ps), implemented by the Department of Social Welfare and Development (DSWD).
Roy is a high school graduate and Levine is a graduate of a vocational course in computer science. Roy is a farmer and Levine is a plain housewife. Their first born Krieleroy Romie is in Senior High School while Krieleroy Jade is in Grade 8. Both children are doing good in their own field of interests in school. The eldest is active in extra-curricular activities like school band.
Amidst being a beneficiary of the 4Ps, the family still encounters countless trials in life. One unforgettable and unfortunate event in their life was an incident when the family was caught in the middle of an encounter between the Philippine Army and a rebel group in their community way back in 2005.
"Among balay sa una trapal ra gajud ni gitabil sa palibot. Amo rato napunitan sa kalsada kay nahulog to gikan sa nilabay nga truck. Mao nga nahadlok gajud kami adtong nag gyera unahan sa amo kay basin molahos ang bala sa trapal. Ang gyera unahan lang gamay gikan sa balay, mga 100-150 meters lang ang kalay-on sa mga rebelde (The wall of our house used to be made of tarpaulin. We picked it up after it fell on the ground when a truck passed by. This is why we were very scarred when a firefight broke out since bullets could easily penetrate the tarpaulin. The clash was so near, the rebels were so near – maybe about 100-150 meters away)," Levine shared.
Roy carried Romie and Levine carried Jade. They were called out by Roy's father to run fast and escape from the firefight that was happening. "Dugay pa gajud ko nakadagan ato kay nangita pako og tsinelas. Lisod pud modagan nalang ko nga walay tsinelas kay naay mga bato ug mga sagbot nga hait kaayo og mga dahon. Nahadlok na gajud kaayo ko ato nga panahon kay gagmay pa kaayo akong mga anak (It took me awhile to run away from our house because I was still looking for slippers to wear. It's hard to run without slippers because there are sharp stones and grass all around. I was so scared that time because my children were still so young)," Levine added.
Roy wasn't able to hide his fear when that happened. He was trembling in fear – fear that something might happen to his family. "Nangurog na gajud kos kahadlok pero kung pati ako manalaw, mag-unsa nalang akong pamilya? Kung unsay nabitbit ra dajun mao ra gajoy akong dala aron dili ko mabug-atan kay karga pa nako akong kinamagulangang anak (I was shaking from fear but I thought to myself, if I will give in to fear, what would happen then to my family? I brought along what I was only able to grab, since it would be hard for me to carry a lot of things and carry my eldest child at the same time)," Roy shared.
The family successfully escaped the area of encounter and reached the place of Roy's parents where they sought for refuge.
Moving on was not easy for the Marcos family. As a father and head of the family, Roy had to find work that would sustain their family's needs. He was able to find a job in a bus station as a driver.
"Nakatrabaho ko pagka-drayber sa bus maong hapit mi natanggal sa 4Ps. Daghan man kaayo nagreklamo nga na-4Ps beneficiaries mi nga naa man ko trabaho. Wala sila kabalo nga gamay pa akong sweldo ato nga mga panahon kay extra raman ko ato (I was able to work as a bus driver that was why we were almost removed from 4Ps. Many people complained why are still beneficiaries of the program, because I had a job.  What they did not know is that my salary was not enough since I was only a substitute driver that time)," Roy shared.
The family thought they will be financially fine but another turning point came into their life. Roy got sick frequently due to exhaustion so he stopped from driving. He tried to sustain his family's needs by planting crops and fruits that they sold once harvested.
Levine was traumatized from the encounter they experienced. That time, she was still breast feeding her youngest son. Due to poor health, Levine could not provide the proper nutrition Jade needed. The child became sickly.
Their misfortunes continued, as opportunities to better their living conditions were scace. There was even a time that Roy thought of giving up Jade for adoption, or leave him in a church and wait if someone would take him.
"Lisod kaayo among kahimtang. Si Jade dili motarong ug susu sa iyang mama. Wala man mi ikagasto pagpalit og gatas kay mahal man kaayo. Giingnan nako akong asawa nga ipa-adopt nalang sa lain. Ibilin nalang namo sa simbahan didto sa Tandag City. Tan-awon lang namo kung kinsa ang makakuha saiya. Manlakaw rami kung makuha na siya. Kay kung nisugot akong asawa molakaw na gajud mi ato para ipa-adopt ang bata (We really had a hard life. Jade wont breastfeed from his mother. We didn't have money to buy milk because it's expensive. I told my wife to give up the child for adaption. I even told her that we could just leave him in the church at Tandag City and see who takes him, then leave once someone would take him. If my wife agreed, we would have had the child adapted already)," Roy emotionally shared.
Levine did not agree to Roy's idea. She couldn't imagine herself losing another child. She already lost her second child – a baby girl. She was 6 months and 27 days when pregnant when she had a premature delivery of a baby girl. The baby fought for her life for 13 days.
"Ingun sa doctor kung nasulod lang siya sa incubator mabuhi gajud kay himsog baja unta. Madungog na namo nga mohilak. Guba lang gajud ang incubator sa hospital mao wala na gajud siya nakakaya (The doctor said that if my baby was placed in an incubator, she might have survived because she was healthy. We heard her soft cry. It's just that the incubator in the hospital was damaged that is why she did not survive)," Levine tearfully shared.
Levine tried her best to adjust and cheer herself up so she can take good care of her son. She had to always look after the welfare of Jade growing up, since he was often sick and frail. When Jade started going to school, Levine had to come along since Jade was too dependent on her. Romie on the other hand was independent. He would go to school alone and stayed with friends after school hours.
The couple recounted the times that they experienced hardships – it was usually because they did not have the financial capacity to provide for the needs of the family. They couldn't send their children to school back then because they couldn't even feed their children.
"Nalipay gajud kaayo mi nga naapil mi sa 4Ps kay dili sa tanang panahon makatanom ug maka-harvest mi og daghan humay kay naay panahon nga baha, naa pud panahon nga init kaayo nga gulay ra among matanom. Dili katubo ang mga tanom og tarong. Ang gasto sa eskwelahan sa mga bata dili na nako problemahon kay naa na pambayad. Ang kada-adlaw nalang nila nga baon ang akong andaman. Makapalit pako og mga sinina nila pagmakadawat sa programa (We were glad that we were included in the 4Ps program because it was not all the time that we can plant and have a bountiful harvest of rice due to flood and even drought – wherein we can only plant vegetables. The school expenses are not a problem for me anymore because that is already covered by the grants. I only have to look for their daily allowances. I can now buy them new clothes every time we receive the grants from the program)," Levine added.
Levine and Roy were blessed with 2 boys with different personalities – each special on their own way. Krieleroy Romie is friendly, outgoing, free-spirited and generous. He also does good in school activities. While Krieleroy Jade is quite, reserved and thrifty. He also does good in school.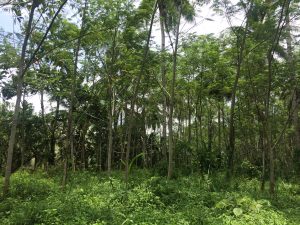 The couple's focus as of the moment is the welfare of their boys. They invest for the future of the boys. They are grateful for being one of the blessed family who are enlisted in government's programs. Since they are Pantawid Pamilya beneficiaries, they are automatically recipients of the Unconditional Cash Transfer Program.
"Niaging tuig ang nadawat namo nga Php2,400.00, gipalit gajud namo og siguro ang bugas, ang sobra gihipusan nako kay og naay project ang mga bata o bayranan naa ko mahatag dayon. Wala mi gadahom ato labi na kay wala mi naingnan nga UCT diay tong nadawat namo sa cash card. Daghan man gud tao nag-ingun nga hinabang to gikan sa usa ka senador. Mapasalamaton kaayo mi isip ginikanan sa programa kay nagamit gyud namo ang grants sa mga panginahanglanon (Last year we received Php2,400.00 – we immediately bought some rice with it and kept the amount that was left so we would have something to provide for the needs of the for their projects or school contributions. We didn't expect that we would receive something from the program. There were even some who said that the additional cash in our cash cards was given by a senator. We are really thankful to thank program, especially as parents since the grants really helped us in our needs)," Levine said.
"Kadtong Php3,600.00 nga nadawat namo para sa tuig 2019 kay insakto kaayo pagkarelease kay enrollment sa akong kinamagulangang anak. Nakapatahi mi og unipormi ug dugang pampalit og gamit nila sa eskwela. Sa pagkakaron ang plano namo sa sunod nga tuig nga madawat namo sa UCT, para gajud to sa kinamagulangan kay magcollege. Kay mawala na raba siya sa Pantawid Pamilya kay mag-18 na (The Php3,600.00 that we received for 2019 came in the right time because it was during the enrollment period of my eldest son. We had his uniform sewed and bought additional school supplies. For now, we are planning to spend the grant from UCT in 2020 for the school fees of my eldest son because he will be in college by that time. He will no longer be a part of the program by then because he will be turning 18)," Levine added.
Roy is doing his best to prepare for the future for his sons. He invested on farming falcatta trees on their inherited land. He planted trees to his more than 1-hectare land to ensure that in the coming years, they will have something to harvest.
"Insakto gajud ning mga kahoy, igo magcollege ang duha ka bata manginahanglan na gajud na og dagko nga gastuhan. Hilabi na og graduating, dagko na ang mga kahoy pwede na harbison. Karun samtang naa pami sobra ginagmay nga sobra sa budget kay naa man mi madawat gikan sa 4Ps ug UCT, mo-invest sab mi og para sa kaugmaon sa akong mga anak kay lisod kaayo ning walay nahuman nga kurso sama nako. Lisod mangita og maayong trabaho nga naay insaktong sweldo (These trees are serve its purpose once my sons would reach college because they will have a lot of expenses.  When time comes that they will be graduating, these trees would be in good condition for harvesting. Now that we have savings from the grants we receive from Pantawid Pamilya and UCT Programs, we could invest for the future of our children because it's really hard not to have a degree, just like me. It is hard to find a good job with sustainable salary)," Roy said.
"Bisan unsa kalisod magtinabangay gajud mi kay dili ko gusto nga magkabulag-bulag mi sa akong pamilya. Nahibalo ko sa kasakit mawad-an og ginikanan kay gibiyaan usab mi sa among inahan kaniadtong gagmay pami. Noybi-anyos ko adtong nipanaw siya, wala magsulti nga mopanaw siya. Magakalisod man pero gusto nako makita nako akong pamilya arun malig-on ko sa kanunay (No matter how hard it is, we will try to help each other because I don't want us to be separated. I know how painful it is having to lose a parent because I was left my mother when I was so young. I was 9 years old when she left and didn't say a word of where she was going. We may encounter hardships in the life, but I will try to see to it to the bond of our family strong)," Levine said.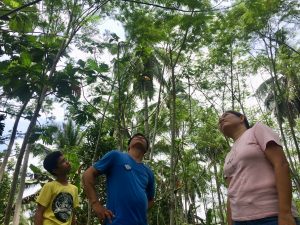 The couple is working hard to pave a better future for their children. The challenges they faced in the past has become a driving force for Roy and Levine to work hard for their family's welfare. They hold on to the idea that they were able to overcome the worst situations before, so they are confident that they will be able to face the challenges at present and the future well.