"A bone to the dog is not a charity. Charity is the bone shared with the dog, when you are just as hungry as the dog."                   —           Jack London
Most people say that the only person who understands well the plight of someone, is the person who had also experienced the same situation.
In the farthest barangay of Bunawan, Agusan del Sur called San Marcos, majority of the residents are members of Indigenous Peoples' groups, specifically the Manobo tribe. It takes more than an hour to reach the Manobo people in their ancestral area. Manobo people wear colorful tribal attire, and speak a distinct language to communicate with each other, often spoken by elders in the area.
One of the residents in Barangay San Marcos is Jinky Loida Montes Mara, wife of Roger Arana Mara. She is 40 years old, and a mother of 4. Jinky manages their family business –  a sari-sari store. Her husband works as habal-habal driver within the barangay and sometimes in the town proper. Aside from attending to their sari-sari store, she spends her time as a parent leader of the Modified Conditional Cash Transfer for Indigenous Peoples (MCCT-IP), a program of the DSWD.
Family comes first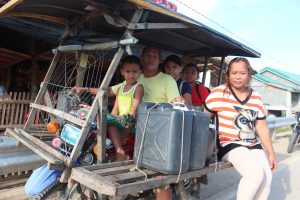 Having four children, Jilaida Mae, 16; Maria Mice, 14; Ramsel Rodjay, 12; and Rogjin, 8, Jinky sees it as a big challenge for their family. She juggles her time managing their store, functioning as parent leader, and taking care of their children, to ensure their wellness and safety. A typical day for Jinky would be cooking food for her family, attending to the needs of her children – especially during school days, looking after their store, and assisting her husband in fetching potable water in the central town of Bunawan since their water from a deep-well is not suitable for drinking and cooking foods, .
But when Jinky became an active volunteer of Kapit-Bisig Laban sa Kahirapan – Comprehensive and Integrated Delivery of social Services (Kalahi-CIDSS), one of the programs of DSWD, she became more active in the community, especially when she attends seminars and skills trainings. To do this, she would sometimes tag along her youngest son in order for her to take care of the 4-year old, and at the same time volunteer for Kalahi-CIDSS. No matter how busy she was, she made sure to call her husband and check on his status, and that of her children.
"Kana gyud akong kinamanghuran ang naka-experience sa akong ka busy sauna kung mag-attend nako og training sa Kalahi-CIDSS didto sa Butuan City. Siya man gyud ang akong siguruhon pagdala kay gamay paman, unya ang mga maguwang kay dali naman maistorya sa ilanang amahan," (My youngest son was my constant companion during the times when I was busy attending to Kalahi-CIDSS activities, especially when I traveled to Butuan for trainings.  I made sure to always have him with me because he was the youngest, compared to his older siblings who could easily be instructed by their father), Jinky shared.
Roger on the other hand tries to be as productive as possible. After sending their children to school, Roger drives his habal-habal and provides rides to commuters around Barangay San Marcos. He would sometimes assist Jinky in attending to their sari-sari store together with two other stay-out store helpers. Their sari-sari store is their main source of income.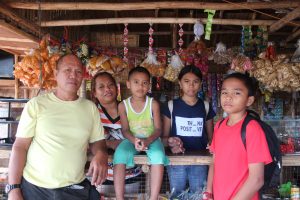 "Naningkamot gyud mi magtiayon nga matukod ang tindahan isip kaabag sa kita sa akong bana kay upat baya among anak, 3 ang high school. Ang madawat namo sa MCCT-IP, amo gyud na idapat diritso sa tindahan arun madugangan ang among kapital arun mapadako ang tindahan. Kay importante gyud nga naay panginabuhian kay sa panahon sa tingbaha, wala may byahi sa habal-habal, (We really worked hard to put up and manage our sari-sari store since it is one of our source of income because we have 4 children – 3 are in highschool. We use the grants we received from MCCT-IP to add to the capital for our sari-sari store to improve it. It is really important to have a sustainable livelihood because during flooding season, driving a habal-habal is almost close to impossible)" Jinky explained.
Jinky ensures her family is full of love and care through proper time management and keeping her own self healthy and happy as well.
"Ang akong nadawat nga Php2,400.00 adtong 2018 ug Php3,600 aning 2019 sa UCT gipadulong jud nako sa akong mga anak. Gipalit nako og gatas, mga sinina ug dugang gamit sa eskwela. Bisan dili tantong daku ang kantidad ug kaisa ra sa isa aka tuig pero napahimuslan gyud nila magsoon. Kay tungod sa kamahal sa pamaliton, talagsa nalang jud ko makapalit og mga gamit sa mga bata kay unahon ang pagkaon, (The Php2,400 I received in 2018 and Php3,600 for the 2019 grants from the Unconditional Cash Transfer (UCT) Program was used for my children's needs. I bought milk, clothes and additional school supplies. Even if it was just a minimal amount, and it was only given once in a year, we were able to make good use of it. Due to the increase of prices of commodities, I seldom buy stuff for my children because we prioritize our budget for our food consumption)," she added.
Leading with compassion
Jinky is known to their community for being an active parent-leader. Even if she was not able to finish elementary, she is good in communicating with people and helping them to find solutions to their problems. She is even willing to open her house to anyone who is going through hard times.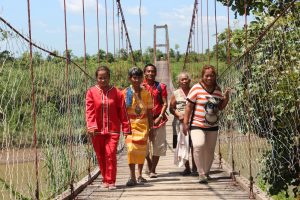 She actively leads members in the community in whatever activities they have, with MCCT, and Kalahi-CIDSS. Whatever she learns from training and seminars, she sees to it that other members of the programs will also learn and apply it to their lives.
"Importante gyud ang pagtinabangay. Bisan kinsa nga moanhi sa among balay amo na i-welcome. Kung unsay naa sa among panimalay, amo na i-share sa uban tungod kay kabalo mi unsa kalisod ang pamuyo sa pobre, (Extending help to our neighbors is very important.  We welcome whoever comes in our house. Whatever we have that we can share, we share, because we know how hard it is to live in poverty)," Jinky said.
Every information she gets from their municipal links, she extends it to her fellow beneficiaries so they can keep on track on MCCT-IP matters. Despite of her busy days attending to their sari-sari store and family, she finds time to schedule her meetings with her members to make sure that everyone is well informed and can fully participate in activities like Cash-for-Work.
Always ready to extend a helping hand
During the notification and registration activities of the UCT in 2018, Jinky was one of the hired notifiers from DSWD. She was tasked to notify the 15 beneficiaries of barangay San Marcos under the UCT Listahanan, which includes beneficiaries from Sitio Dinagat and Kilubidan. These 2 sitios would take you more than 5 hours to reach using a baroto-de-sagwan ride. People from these sitios have to pay Php1,500.00 to Php1,800.00 for baroto-de-sagwan for them to reach the central area of the barangay. Because of this, Jinky exerted extra efforts to reach the beneficiaries in the area.
Instead of asking the beneficiaries to go to the town and have their 2×2 pictures to be taken in a photo studio, with the help of her co-notifiers, she took pictures of them and had it printed in the town.
The day before the UCT payout activity, Jinky told the beneficiaries to stay in their house for a night so that they can go to the payout early in the following morning. She fed fifteen beneficiaries and let them sleep in their house. At dawn, Jinky and her husband drove the beneficiaries to San Francisco, Agusan del Sur for the payout. It took them 3 hours for to reach the payout venue.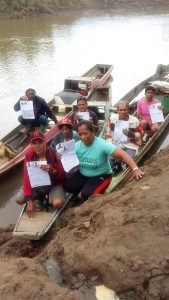 The beneficiaries were so thankful to Jinky and Roger because of their hospitality and selfless acts of service. Jinky was able to help the beneficiaries save for transportation and other expenses in getting their Php2,400.00, which would have been not enough to cover for their transportation expenses from either Sitio Dinagat or Kilubidan to San Francisco, and then back. The usual transportation expense is Php4,000.00 to and from their Sitio to San Franciso, AdS. But with her help, she was able to make the beneficiaries happy and appreciative of the program of the government.
"Para sa ako, ang pagkanotifier dili lang kutob sa pagpahibalo sa mga tao nga beneficiaries sila sa programa ug aduna silay madawat nga kwarta, kundi ang masiguro nga kining mga tawhana makaabot gyud sa payout ug madawat ang grants nga para gyud kanila, (For me, being a notifier is not limited to informing the people that they are beneficiaries of the program and they can receive money, but to ensure that these people be in the payout venue and get the grants intended for them), Jinky explained.
Jinky knows the helpless and sad feeling of being poor because she personally was once very poor, and almost had nothing. Before these programs of the government came to their communities, it was like government really did not exist. This was why she made sure that she was able to assist other beneficiaries in their community to let them feel the impact of these programs which she has already enjoyed.