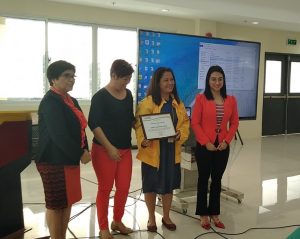 The Department of Social Welfare and Development (DSWD) Central Office commended DSWD Field Office (FO) Caraga for being the only field office in the country to serve 100% of its target beneficiaries for Social Pension Program for Indigent Senior Citizens in 2019.
FO Caraga received the commendation last January 17, 2020, during the consultation dialogue for the Supplementary Feeding Program and Social Pension Program at the DSWD Central Office in Quezon City.
Social Pension Program Focal Person Juvy P. Echavaria received the commendation on behalf of the FO. Echavaria shared that she's very much elated with the commendation, saying that such achievement is a result of the untiring commitment of the Field Office management and staff, specifically the Social Pension Program Management Office, in serving indigent senior citizens in the region.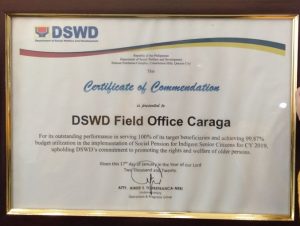 Echavaria added that the commendation is a motivation for the team to work even harder to reach its 170,000 target beneficiaries in 2020.
For 2019, DSWD Caraga was able to serve 143,774 Social Pension beneficiaries amounting to Php840 million in all 73 local government units in the region.
A total 29,176 beneficiaries were served in Agusan del Norte province; 35,324 in Agusan del Sur; 10,715 in Dinagat Islands; 30,468 in Surigao del Norte; and 38,091 in Surigao del Sur.
A series of payouts were conducted so that beneficiaries could claim their Php3,000 stipend semestal grants. A total of Php6,000 was enjoyed by the beneficiaries for 2019.
The Social Pension program provides Php500 grant to qualified indigent senior citizens as augmentation for their daily subsistence and other medical needs. This is in line with the fulfilment of the government's obligation to the most vulnerable sector through social protection, and for the full implementation of Republic Act 9994 or the Expanded Senior Citizens Act of 2010.
Eligible for the program are senior citizens who are 60 years old and above; frail, sickly or with disability; no pension from government agencies or any other insurance company; no permanent source of income; and no regular support from their family for their basic needs.