BUTUAN CITY- The Department of Social Welfare and Development (DSWD) Field Office Caraga targets the completion of the encoding of the collected data during the 3rd Round Listahanan Household Assessment conducted by the National Household Targeting Section (NHTS), by the end of January 2020.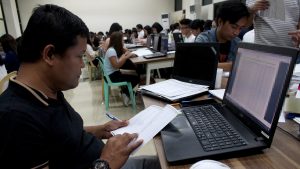 As of January 27, 2020, a total of 476,358 or 96 % Household Assessment Forms (HAFs) out of 494,266 were encoded by the NHTS staff at CSU Main Campus Ampayon- the official encoding station of Listahanan.
Using the Data Entry Application (DEA), the 144 hired encoders will encode the information from the Household Assessment Form (HAF). This information was collected by the hired enumerators during the house-to-house interview last December 2019 in Caraga Region.
After encoding the HAF, the 144 hired verifiers will then verify the encoded HAFs as to completeness and accuracy of the information encoded in the database. The Encoding Supervisor has been supervising the data entry process. Once the encoding and verification activities are completed, the NHTS will submit the data to the Central Office to secure the Certification of Completion and file for the Request for Application of the Proxy Means Test (PMT). It is through the application of the PMT that the households will be categorized as POOR or NON-POOR households.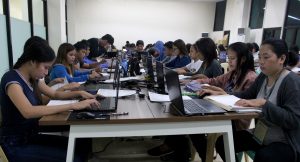 The conduct of the house-to-house interview and encoding activities are part of the Data Collection and Analysis Phase of the Listahanan cycle. Once done, the Validation and Finalization Phase will commence. This phase provides an opportunity for the transparent review of the initial list of poor households generated after the PMT was applied. All grievances will be catered such as inclusion and exclusion error with the Listahanan team together with the help of the Barangay/Local Government Units (BLGUs) through the Barangay Verification Team (BVT) and Local Verification Committee (LVC).
The Listahanan Database will then be the basis for the inclusion of individuals, families/households to the programs and services of DSWD. The Database will also be shared to other National Line Agencies, Local Government Units, Non-Government Organizations, Civil Society Organizations to be utilized in identifying possible beneficiaries for their programs and services.