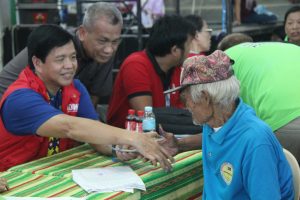 The Department of Social Welfare and Development (DSWD) Field Office Caraga ended 2019 with flying colors as it was able to surpass expectations, especially in hitting its targets for its programs and services for the year. One of its programs, the Social Pension Program for Indigent Senior Citizens (SocPen) was able to serve 140,000 senior citizens for 2019 – the set target for the Field Office for the year.
The Field Office have worked tirelessly to disburse the P840 million allocated budget for the program to the beneficiaries of the said program in 73 local government units in the region. A series of payouts were conducted so that beneficiaries could claim their P3,000 stipend every semester.
A total 29,176 beneficiaries were served in Agusan del Norte province; 35,324 in Agusan del Sur; 10,715 in Dinagat Islands; 30,468 in Surigao del Norte; and 38,091 in Surigao del Sur.
The Social Pension program provides a monthly stipend amounting to P500 to augment the daily subsistence and other medical needs of indigent senior citizens. This is in line with the fulfilment of the government's obligation to the most vulnerable sector through social protection, and for the full implementation of Republic Act 9994 or the Expanded Senior Citizens Act of 2010.
"Nagpasalamat ko sa Ginoo nga naay pension para sa mga senior. Makatabang gyud sa kawad-on. Gamiton ko ning akong nadawat para ipalit bugas ug tambal (I thank God that there is such pension for the senior citizens. Indeed, it's a great help. I will use the pension to buy rice and medicine)," benificiary Rosenda Mabilog, 76, said after she received her pension in San Jose, Dinagat Islands last year.
Another beneficiary, Fernando Bauso, 74, a resident of San Franisco, Agusan del Sur, was more than thankful to the program. "Nagpasalamat kog dako sa DSWD sa akong nadawat…nga di pud ko magsalig sa akong mga anak kay naa napud silay mga pamilya (I'm thankful to DSWD for the pension I got. I will no longer rely on my children as they already have their own families)," Bauso said.
Eligible for the program are senior citizens who are 60 years old and above; frail, sickly or with disability; no pension from government agencies or any other insurance company; no permanent source of income; and no regular support from their family for their basic needs.
Based on the 2015 Census of Population, there are over 7.5 million senior citizens in the country. The number is expected to hit 9.5 million by 2020. DSWD will be ready to cater to their needs, through the different programs and services.