The vastness of the ocean is beyond the knowledge of common people. Not all learn to understand how nature behaves – just like how a fisherman understands the movement of waves and wind in the middle of the ocean. But, does a man totally comprehend the ever changing behavior of nature?
Way back November 7, 2013, Philippines experienced the most unforgettable and painful tragedy ever recorded in the country – the Super Typhoon Hayan or locally known as Bagyong Yolanda happened. The Filipino people did not have any idea the strength of a super typhoon – no one had any idea what a storm surge was. This was the typhoon which became the life changer of so many Filipinos.
The life of a fisherman from Barangay Rizal, Municipality of Socorro, Province of Surigao del Norte changed after Bagyong Yolanda. Just like the other families affected by the historical typhoon, it left a serious dent in their lives.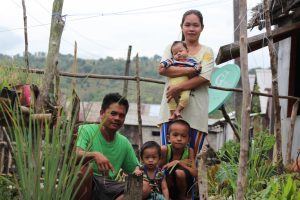 Bongbong  Banay-banay Rudela, 28 years old, married to Charagin Ocon-Rudela – a father of 7 children, is one of the fishermen who went ashore 2 days before the landfall of Bagyong Yolanda. November 5, 2013 – 2 days before the super typhoon entered the Philippine Area of Responsibility, more than 20 fishermen from Socorro went out to sea to fish. Bongbong, together with 2 other men who happened to be his uncles went off together in the vast waters of Surigao del Norte.
"Nagdesisyon naman lang ko ato nga managat kay ang sa balita isa paman ka semana usa moabot ang bagjo. Maayo nalang naa mi makuha ug mabaligya bisan gamay para makapalit og bugas ug gatas sa akong kinamangahurang anak atong higayuna nga lima pa kabulan, (I decided to go fishing since the news said that the typhoon will only reach us in a week's time. I was hoping that at least we could catch and sell some fish so we can buy rice and milk for my youngest child who was 5 months old at that time)," Bongbong said.
They went out to sea and stayed out for 2 days and 2, until they decided to go back to shore to since the waves started to get really big and the winds have steadily increased its strength. But along their way home, the rain started to fall and intensified by the minute.
"Dili nako makaya nga molingi sa akong mga kauban kay sakit na kaayo ang ulan nga moigo sa akong tangkugo. Kung molingi ko sa akong mga mata ug nawong man moigo. Ako nalang sila gisinggitan nga ipanglabay ang mga kuha namong isda ug ubang pang mga kahon nga karga namo para mas magaan mi. Pabinlan ra nako og isa kay kung malunod mi naa pami abayan (I can't look at my companions at the back because the rain was falling so hard it was hurting my nape. If I would try to look back, it was my eyes and face that would be hit by the rain. I just shouted at them to throw what we caught and the box containers to lessen our weight. I just told them to keep one box so that if we would be capsized, we still have a floater)," He added.
After a few hours of heavy rains and strong winds, the intensity of the wind started slowing down. But it was during that time that the full power of Bagyong Yolands was unleashed. Without warning, a very massive wave hit their Bangka and reduced it to smithereens. Bongbong was rolled and dragged underwater many times as big wave after big wave kept on passing through them. But he managed to swim, he called out his uncles and told them to grab the floating container and tie themselves together so they will not get separated.
The morning came, they were shivering, hungry, and exhausted – but they were still alive and still floating. Bongbong told one of his uncle to hold onto one of the outrigger of the boat which was detached when the wave hit them. But his other uncle was already acting weird – he was already irrational.
"Sige naman siya ingun nga molangoy siya palayo namo kay didto daw siya mo adto padulong sa pamilya niya. Dili naman siya magpaduol namo. Sige pud mi sunod-sunod niya. Mga 15 ka metro ang kalay-on na niya sa amo, nikalit lang siya pag-unlod ug wala na gajud namo nakita pa utro (He kept on saying that he will swim away from us because he wants to swim towards his family. We kept on following him, but he kept on swimming away from us, until he was about 15 meters away when he suddenly started sinking. That was the last time we saw him)," Bongbong shared while teary-eyed.
Their misfortunes continued the following day when Bongbong's other uncle was bitten by a fish. The wound on his face was so bad that part of his jaw bone and his teeth was exposed. It was a battle for survival. They tried consuming their own shirts to fight their hunger.
On the morning of November 9, 2019, Bongbong woke up and saw that his uncle had already died. Bongbong was holding on to his uncle's hand while holding on to the outrigger. He tried to check on his uncle – maybe he was just sleeping. But apparently, he was already dead for a few hours. He tried letting go of his uncle's hand since he no longer had the strength to keep themselves afloat. He cried as his uncle sunk to the bottom of the ocean.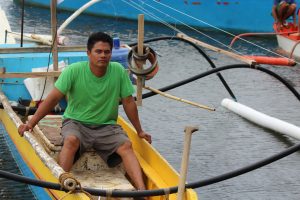 "Dili pa gyud ko makadawat nga ako nalang isa sa lawod. Gipanghinaan na kaayo ko atong panahuna. Pero gibuhian ra gihapon nako akong uncle kay maluya man ko og samot kung sige pako pugong niya nga molutaw (I can't accept that I was the only one left in the middle of the ocean. I felt so hopeless at that time. I decided to let go of my uncle's hand because I no longer had the strength to keep us both afloat)," He explained hardly.
Bongbong felt hopeless. He was alone. While on the middle of the ocean, there were 2 instances when a ship was seen in the horizon. But both ships did not see him floating.
"Ako nalang isa. Naay panahon naa ko nakita mga barko, apan wala gyud ko nila nakita. Nakahuna-huna ko hikog pagka-ika tulo ka adlaw gikan pagkalunod namo. Pero paghikot nako sa akong liog gamit akong sinina, gisakitan man ko mao akong gibadbad (I was all alone, but there two ships I saw passing by from afar, but they did not notice me. So I thought of committing suicide 3 days after we drowned. But when I tied my shirt on my neck, I felt pain so I untied it right away)," Bongbong said.
When he woke up on the fifth day since the incident, he could no longer hold on to the apparatus which kept him afloat. Too tired, too hungry, he thought of giving up- this time he was serious about it.
"Pagmata nako, wala na ang katig kay nabuhian nako samtang nakatulog. Sige nalang ko sikad para molutaw. Wala nako dayon kadumdom unsay nahitabo sa ako. Namat-an nako nga murag naay nagbira nako. Nagtoo sila nga patay nako. Pero pagkakita nila nga molihok pa ang pilok tapos nangurog akong lawas sa katugnaw, didto sila nakabalo nga buhi pa ko. Taga-Tandag City nga mga mangisdaay ang nakakita sa ko (When I woke up, I don't have the outrigger anymore because I hold of it while sleeping. I just kept on paddling and kicking to keep myself afloat. Then I can't remember what happened next. I just felt that someone pulled me out. Yhey though I was dead, but when they saw my eyelids moving, and my body shivering, they knew I was alive. They were fishermen from Tandag City)," He shared emotionally.
The fishermen sent him to the hospital. His sister and brother-in-law took care of him while on the hospital – he was there for one week.  When he got back to his family, his wife almost did not recognize him anymore. His face got swollen and full of wound. His wife felt bad not being able to visit him in the hospital.
"Wala man ko gipaadto sa hospital kay basin mabughat ko kay bag-o lang sab ko ato nanganak sa akong ikaaupat nga bata. Pag-uli ni Bongbong diri sa balay, wala ko niduol sa iya. Gusto man nako siya gakson pero mura man og dili nako bana. Dili naman nako mailhan iyang nawong. Niadto kog kusina dayon ug nag-init og tubig bisan walay rason. Wala ko kabalo unsay buhaton atong panahona. Nagtoo ko nga patay na siya (I was advised not to go to the hospital because I might have complications with my recent delivery of our 4th child. When Bongbong came home, even if I wanted to hug and greet him, I wasn't able to do so. I went to the kitchen to heat some water, even without a reason. I just didn't know what to do at that time. I thought he was dead), Charagin shared while tearing up.
Bongbong's experience was dramatized in an FM Radio station in Socorro, twice, due to insistent public demand. Many people learned from his experience, many got inspired. After what happened, Bongbong had second thoughts of going back to fishing. But he had to, he had a family to feed. So even if he always remembers his ordeal at sea every time he goes out, he finds the courage to go on with his life with his family in mind. But this time, he comes home right away when the wind gets strong and the clouds gets dark.
Sa kalisod sa panginabuhi diri sa isla, mapugos gajud ko nga mangisda. Apan kung dili maayo ang panahon, dili na gajud ako managat. Apan mapasalamaton ako kay dunay bag-o nga programa nga motabang sa susama nako nga pobre. Pinaagi sa DSWD Listahanan, sa UCT Program, nakadawat mi ug ayuda nga naghatag ug alibyu sa among kalisod. Nadawat nako ang grant ug giuna gajud nako dayon ang pagpalit og isa ka sako nga bugas ug gatas sa mga bata, (Opportunities for work/livelihood is hard to come by here in the island. I had no choice but to go back to fishing. But I don't go out to fish if the weather is not good. That is why I am really thankful that there is a new program from the government through the Department of Social Welfare and Development (DSWD) Listahanan, the Unconditional Cash Transfer Program. I received my grant and bought 1 sack of rice and milk for the kids right away)," Bongbong happily shared.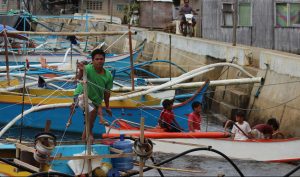 He also added that it was the first time that he was able to buy 1 sack of rice one time. Akong panghinaot gajud nga adunay ipuli nga programa ang gobyerno alang kanamo nga mga kabos sa panahon nga mahuman ang UCT Program. Ug kung ipadayon man ugaling sa gobyerno ang UCT Program, unta madugangan pa ang kasamtanang kantidad arun dili lang bugas ang among mapalit sa panahon nga madawat namo ang grants, (I hope that there will be a regular program of the government for us poor when the UCT Program ends. And if they would continue the UCT Program, I hope they will increase the current amount for the grants so that we can buy, not only rice, when we receive the grants.
Bongbong did not expect to be a beneficiary of any government program but now he is very happy because he felt that his condition is being recognized by the government.
The Unconditional Cash Transfer is a program of the government which provides assistance to the poorest of the poor who are directly affected with the increase of prices in commodities after the implementation of Tax Reform and Inclusion Law was implemented in January 2018.