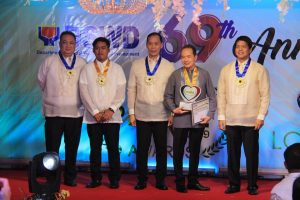 The Department of Social Welfare and Development (DSWD) Field Office Caraga is yet again on the spotlight for its innovative systems during the recently concluded DSWD 69th Anniversary at the DSWD Central Office, Quezon City last January 27, 2020.
The Field Office bagged the Best Knowledge Management Initiative during the Program on Awards and Incentives for Service Excellence (PRAISE) Awards 2019 for its Integrated Financial Monitoring System (INFIMOS) and Text Query System, designed and developed by the Financial Management Division (FMD).
INFIMOS is a management tool used to monitor funds utilization. It is an advanced computerized system used by DSWD Caraga's Accounting, Budget, and Cash Sections for recording of details of the transactions of all funds, programs and services.
DSWD Caraga is the only Field Office in the country that has this kind of automated financial system.
The INFIMOS, which was initially introduced in 2014, has been the workhorse of FMD Caraga since then.
Due to its benefits, the said system has been used by DSWD Caraga until the present. The nominated team/system developers have been continuously adding new features and functionality resulting to a more useful and powerful system that truly supports the implementation of various programs in its financial management and many more ways.
INFIMOS has stored 1,661,348 pages of digital images of 62,708 vouchers and supporting documents. These digitized file storage of INFIMOS resulted to savings on office supplies. The 1,661,348 pages of digital files amount to 3,322 reams of paper. The office had saved about P764,000.00 because of this.
Due to INFIMOS, it has become less daunting to account, analyze, report, manage the numerous accounts covering the P2.5-billion budget of DSWD Caraga for its 36 programs and projects, 45 responsibility centers, 11 bank accounts, and more than 1,000 employees.
Among the benefits of INFIMOS are accuracy of records and reports; reconciled records of Accounting, Budget, and Cash Sections; shorten processing time and reduce the burden of heavy workload on the staff; status and whereabouts of vouchers are tracked; and data and files are ensured from loss since they are digitized and backed up.
Moreover, another best initiative of DSWD Caraga is the Text Query System, which is a facility for use of staff, vendors, and service providers to get information, about the status of their claims and payment made, thru text message. The system is fully automated to provide information upon request of staff, vendors, and service providers – 24/7.
It is a facility for FO Staff, Vendors and Service providers – makes use of tracking of claims and status of payment and whereabouts of Suppliers and Service Providers' claim in the INFIMOS to autonomously respond to their queries.
With information on details of payment, vendors and suppliers can claim the payment as soon as check or ADA is made. Thereby, it hastens the payment and with OR issued, the transaction's voucher can be submitted to COA early.
Indeed, this is an excellent feat for the Field Office, most specially b
The PRAISE or the Program on Awards and Incentives for Service Excellence is designed to encourage creativity, innovativeness, efficiency, integrity, and productivity in the public service by recognizing and rewarding officials and employees, individually or groups, by providing incentives and rewards for their suggestions, inventions, superior enhancement, efficiency, economy or other improvement in government operations/service.