BUTUAN CITY- Giving recognition to all hardworking staff, the Department of Social Welfare and Development (DSWD) Field Office Caraga awarded their Outstanding Listahanan Field Workers on February 13, 2020 at Almont Hotel Inland Resort.
National Household Targeting Office (NHTO) Director Andrew J. Ambubuyog graced the event together with Regional Director Mita Chuchi Gupana-Lim, OIC-PPD Chief Ramil M. Taculod, NHTS-Regional Program Management Office staff, and Listahanan Field staff representing the 5 provinces in Caraga Region.
On her welcome message, Regional Director Lim congratulated the Listahanan Field workers whom she called as silent heroes.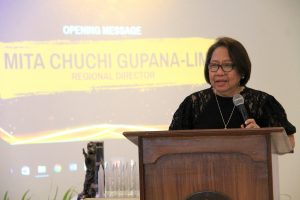 "I would like to congratulate everyone- our silent heroes – our Listahanan 3 Field Workers – for a job well done during the 3rd round household assessment. With your unfaltering commitment and optimistic work principles, you have gone beyond the call of duty through your dedication and heart for the service of the poorest of the poor," said Lim.
On the other hand, NHTO Director Ambubuyog mentioned on his inspirational message the notable characteristics of the Field Office that contributed to the success of Listahanan 3 in the region.
"Leadership, perseverance, and ability to take risks are the qualities that I observed in Field Office Caraga. Among all the regions, Field Office Caraga exhibits these characteristics. I would like to acknowledge the great effort of everyone that contributed to the success of Listahanan 3. I would like to commend RD Lim for the full support to NHTS team, your accomplishment is indeed outstanding, said Ambubuyog.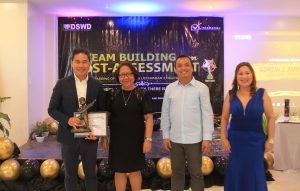 Awards such as Outstanding Listahanan Team, Outstanding Area Supervisor, Outstanding Enumerator, Outstanding Encoder, Outstanding Verifier and several Special Awards were personally handed by Dir. Ambubuyog, Dir. Lim, Mr. Taculod and Ms. Andoy to Listahanan field workers who showed excellent performance during the 3rd round household assessment.
Narrating her experience, Area Supervisor Vanessa G. Suarez assigned in San Miguel, Surigao del Sur said that her experience in Listahanan was remarkable.
"One of the most challenging and remarkable experience in my life was being an area supervisor. It was a breathtaking job because of the different trials that I've encountered in the field. Like crossing the rivers, climbing the hills, riding the habal-habal and pump boat. But those were nothing because it is love and dedication that drives us everyday to reach our brothers and sisters for assessment,'' Suarez said.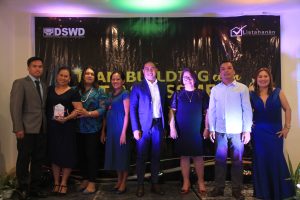 Consistent and devoted to hitting its targets, DSWD FO Caraga is the first region to start and complete the household assessment for 45 days. A total of 494,292 households were assessed in 1,311 barangays in Caraga Region.
Prior to the awarding activity, the Area Coordinators, Area Supervisors, Enumerator, Encoder, and Verifier participated in a Team Building cum Post-Assessment activity. It was a venue for the participants to discuss issues, challenges, and strategies faced by the field staff during the data collection phase, as well as in preparation for the validation and finalization phase for Listahanan 3.