It was all smiles for the Department of Social Welfare and Development (DSWD) Field Office Caraga, as the Protective Services Division (PSD) grabbed the 3rd National Program on Awards and Incentives for Service Excellence (PRAISE) 2019 award for the Field Office for the Best Operations Office category, during the DSWD 69th Anniversary Celebration at the DSWD Central Office in Quezon City, on January 27, 2019.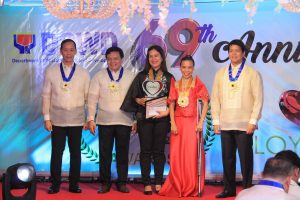 The PSD, which has been tasked to supervise, monitor and provide technical assistance and resource augmentation of Social Welfare and Development (SWD) programs and projects to ensure protection and promotion of rights of the vulnerable sectors, topped other contenders from the different Field Offices around the country.
In the past, the PSD of FO Caraga has been awarded with different National PRAISE Awards. It has been awarded 1st place Best Crisis Intervention Unit (2017-2018), 2nd place Best Operations Office – Capacity Building Section (2017), Best Technical Staff (2018), Gawad Huwaran Awardee (2017), and CSC Caraga Regional Winners (2017 and 2018). But for this year's PRAISE Awards, this is the first time that the PSD is nominated as a Division.
PSD is comprised of four sections, the Center-Based Section, Crisis Intervention Section, Capacity Building Section, and Community-Based Services Section, covering different programs and projects like the Social Pension Program for Indigent Senior Citizens, Supplementary Feeding Program, Adoption resource and Referral Unit, Minors Travelling Abroad, and Sectoral Services.
The PSD of FO Caraga is home to outstanding performers in terms of delivery of service. The division has multiple innovations enhanced and developed in order for the division to serve the clients the service that depicts the DSWD's core values: maagap at mapagkalingang serbisyo, serbisyong walang puwang sa katiwalian, and patas na pagtrato sa komunidad.
In attainment of the delivery of the programs and services to the vulnerable sectors, PSD maintains its good working relationship and partnership building with internal staff and external actors like the Local Government Units, National Government Agencies, Civil Society Organizations and similar groups which helped the Division in affording the quality services that the clients deserve.
Having won the Best Operations Office for National PRAISE Award is an evidence that the Protective Services Division of DSWD Field Office Caraga has exercised exemplary performance of their roles and responsibilities, which has contributed to the efficiency, economy and improvement in the FO's operations. ###