The Protective Services Division of DSWD Field Office Caraga conducted a three-day Caring for Carers cum Team Building Activity for its staff under the Adoption Resource and Referral Unit (ARRU), Recovery and Reintegration Program for Trafficked Persons Unit, and for the Social Welfare and Development Leaders of the five provinces of the region, at Inijakan Beach Resort, Cantilan, Surigao del Sur on February 6-8, 2020.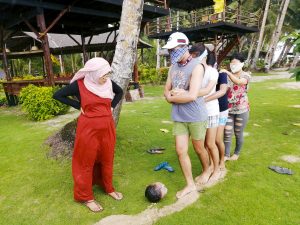 The photo shows the participants, led by Thesa Joy B. Musa, ARRU Head, blind-folded during one of the activities. The activity is called Land Mines, which teaches the participants to follow their navigator's instructions for them to finish the trail without going out of track and not hitting the coconuts that serves as bombs.
 The game teaches participants the importance of keeping their focus, and also instills trust, which is very important in the workplace, especially that the participants work with clients and with their division/section/unit.
After the game, participants shared their insights from the activity, and how it is applicable in their daily work in the office.