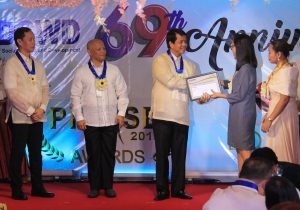 The Personnel Administration Section (PAS) of the Department of Social Welfare and Development (DSWD) Field Office Caraga has received has secured the 3rd Place award for the Best Support Office Category during PRAISE or the Program on Awards and Incentives for Service Excellence Awards for 2019, during the DSWD 69th Anniversary Celebration in Quezon City on January 27, 2020.
After having been proven to be a vital part in the agency's delivery of its services, the Personnel Administration Section was nominated by the Field Office for the said Group Award category.
The PAS was nominated due to its untiring dedication to ensure that all personnel requests and general administration transactions are carried efficiently and effectively.
The said section ensures proper monitoring of employee's attendance, leave, and time keeping; accurate payroll administration; process of employee's request for certification and other copies related to their employment; facilitation of terminal pay claims and employee's availment of leave monetization; and provision of technical assistance to support the implementation of Human Resource policies, programs, and systems in the Field Offices across all units.
The Section was able to maintain teamwork and close coordination with program handlers and its administrative staff through open communication and coordination.
Thus, transmission of daily time records, accomplishment reports, leave applications, contracts, among others, has been hastened, resulting to early payment of salaries and other entitled compensation benefits. Previous grievances on delayed salaries were minimized and concerns on salaries are deliberately acted upon.
The PAS has also crafted user guide manuals and conducted orientations during regional and provincial activities, which has given regional and field workers the proper information needed for them to ensure proper transactions, and know their roles and responsibilities in their function as DSWD workers.
Moreover, the Section was also able to design different web-based systems such as the Personnel Payroll and Remittance System (PPRS) and the Personnel Information System (PIS) that helped the Section in the effective and efficient delivery of personnel administration transactions.
The web-based PPRS was innovated to eliminate the risk of data inconsistencies and to ensure tracking and accuracy of payroll entries. With this system all workers can view their payroll entries (deductions and net pay) and verify any inconsistencies. Pay slips and remittances can also be generated in the system.
The PIS, on the other hand, was innovated to ensure that all staff employed by the Department are properly accounted and relevant information are captured for organizational consumption. PIS information such as salary, position, SSS/GSIS/PHIC/HDMF/TIN numbers, birthdate, etc. are also directly linked to PPRS to ensure consistency of data.
Though only having 11 staff members, the Section was able to augment its staff to other DSWD programs activities such as Social Pension payouts, Unconditional Cash Transfer validation, Family Food Packs escort to local government units, CCAM and Sustainable Livelihood Program cash for work payouts, and MCCT payouts.
Indeed, the PAS has proven their worth and importance at the Field Office, and this was verified and proven true by the evaluators of the National PRAISE committee. Truly, PAS has provided quality support to the operations at the Field Office.