Accidents happen anytime and anywhere but the road is among the most common places where they frequently happen.
In fact, according to data released by the World Health Organization (WHO), there are 1,350,000 lives taken due to road accidents in 2018; and statistics in the Philippines recorded that 12,000 Filipinos die on the road every year.
Road accidents can easily happen to anyone. For a 48-year old, mother of three from Dinagat Islands, driving is dangerous, but she tries her best to do it safely.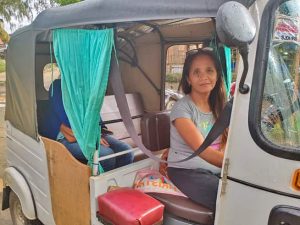 Katherine Esguerra is a bao-bao (tricab) driver. She would navigate through the 10.73 square-mile municipality of San Jose, every single day.
"Dili man jud malikayan ang mga disgrasya sa dalan, mao ng ako hinay-hinay lang jud akong pagmaneho. Usahay naay mga dili musalig sa ako kay tungod babae lagi daw, pero dili raman nako ibutang sa buot ilang ipang-ingon (Road accidents are inevitable, that's why I always take it slow when driving. Some people do not trust me because according to them I am a woman, but I just don't mind what they say)," Katherine shared.
According to a study conducted by Vias, a road traffic institute, "women drivers take fewer risks than men, and are less likely to be involved in serious accidents." The study was prepared to coincide with International Women's Day last March 8.
Apart from being a bao-bao driver, she is also an active grantee of the Pantawid Pamilyang Pilipino Program (4Ps) for 10 years, and is balancing her time as a responsible parent leader for six years now. Her children Lee, Jac, and Red are the motivating forces that pushes her to traverse the roads whether be it rain or shine.
Why does she do it all alone, though?
Katherine and her husband Rene were married for 13 good years until they got separated in 2017 due to irreconcilable reasons. That moment was one of the greatest challenges their family faced. She tried to save the relationship for the sake of their children but it didn't work.
"Grabi jud to kalisod na desisyon para sa ako kay dili ko gusto nga maapektuhan ang mga bata ug maglisod ko og pasabot sa ila nganong kinahanglan muabot sa pagbulag (It was really a hard decision for me because I do not want my children to be affected and I have difficulties in letting them understand why it would resort to separation)," she narrated.
In order to end the trauma embedded to the minds of their children, she bravely took a step and decided to leave her husband; even though this would mean that she'll be alone in supporting the needs of her children. Providentially, the 4Ps grants she is continuously receiving contributed a lot to her children's educational needs.
To support their finances, she rented a bao-bao for 300 pesos a day and started driving last year. The male-dominated industry is not a problem to her since she was a motorcycle driver for years already. Though she was not able to use her degree in Computer Science, she never minds it as long as she is able to support their family and save for their future, even after they exit the Program.
"Pinaagi sa tabang sa gobyerno, nakaabag jud kini dili lang sa pag-eskwela sa akong mga anak, apil usab ang mga nakat-unan namo sa binulan nga FDS sama sa pagtigom ug paggamit sa kwarta nga sakto (My children's educational needs had been addressed, thanks to the government's help. But more than the grants, the discussions we learned from our monthly FDS, such as financial literacy and how to save our resources, has helped us a lot)," she said.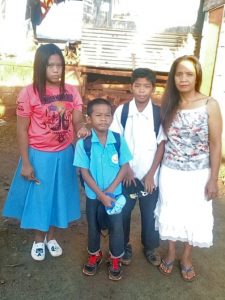 Presently, Katherine and her children live in a peaceful life despite of the previous setbacks they faced. For her, reconciliation is possible in the future if her husband would willingly abandon his wrongdoings. For now, she only hopes what's best for her children and she is empowered to attest to the slogan, Hindi ka babae lang. Babae ka!
Amidst the dangers and uncertainties she faces every day, especially with her line of work, she does her best to contribute for her family and her community. Katherine has shown that there is no limit for anyone, regardless of anyone's gender. Being a woman has never stopped her from succeeding, even if the nature of her work used to be dominated by men.
This March, the Department of Social Welfare and Development (DSWD) Field Office Caraga is united with the Philippine Commission on Women (PCW) in the 2020 National Women's Month Celebration (NWMC) with the theme, "We Make Change Work for Women."
The 2020 NWMC shall celebrate and take stock of the progress made to advance gender equality and women's empowerment (GEWE) in the country. ###(Social Marketing Section/DSWD Field Office Caraga)
Photo Credits: Keren Joy Martinez, Municipal Link