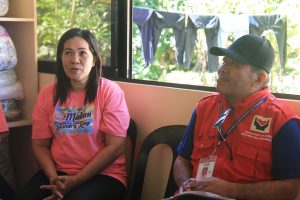 CARAGA – Department of Social Welfare and Development's (DSWD) Sustainable Livelihood Program (SLP) National Director Restituto Macuto paid a visit to five livelihood projects in the municipalities of Agusan del Norte and Surigao del Norte on March 1, 2020.
The project visit aims to keep tabs on the progress made by the SLP associations, be acquainted with the good practices they have made since project implementation, and revisit the timeline and goals of the association.
Macuto also initiated this activity to see how the program has helped and impacted the program participants.
Macuto was joined by SLP National Information Officer Donards Kim Tañedo and the Regional Program Management Office, headed by SLP Field Office Caraga Regional Program Coordinator Mary Ann Manla.
The team visited the following projects: laundry shop project of the Mabini Laundry Shop SLP Association (SLPA) in Cabadbaran City, digital services and school supplies project of the Magpayang Farmer's SLPA in Mainit, pottery-making project of the Bugas-Bugas Ceramics Maker SLPA in Placer, general merchandise project of the Trinidad SLPA in Surigao City, and tart production project of the Sison Tart Producers SLPA in Sison.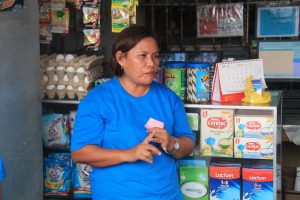 During the visit, the five associations were interviewed by Director Macuto. He checked the association's financial records such as receipts, books, financial statements, and inventory. He also asked them about their goals and future plans for their association and their project.
In one of his discussions with the association members, he stressed that it is important for the group to define and specify their goals and their corresponding timeline. "Kapag gumawa kayo ng goal, be specific about it. Short-term, medium-term, or long-term goal ba ito? You need to be clear about this so that you know what to achieve in the future," he said.
The associations expressed their delight and gratitude to the SLP team particularly to Director Macuto for taking time to visit and check on them. They said that it motivates them to do better and boost their livelihood projects. Program participants promised that they would take good care of the projects entrusted to them and do all means to sustain it.
Sison Tart Producers SLPA President Margie Estrella said, "Ako ni sila gitudluan unsaon pag buhat og tart kay gusto nako naa sab sila mahimong source of income. Magtabang-tabang mi para kini nga livelihood project mulambo pa, aron dili lang among mga pamilya ang makabenepisyo ani apil na sab laing miyembro sa among komunidad (I taught other program participants on how to make tarts because I want them to have a source of income. We will help each other so that this livelihood project will prosper more, helping not just our families but as well as other members in our community), ".
The recent project visit was Macuto's first time to visit the Caraga Region.