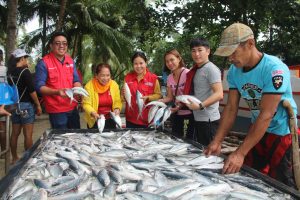 The fish production project of Kapit-Bisig Laban sa Kahirapan – Comprehensive and Integrated Delivery of Social Services (Kalahi-CIDSS) in the towns of Marihatag and Barobo in Surigao del Sur province, yielded a total of 5,807 kilos of bangus (milkfish) on its first harvest.
The fish culture project in Barangay Amontay, Marihatag yielded a total of 1,047 kilos of bangus, while the one in Barangay Unidad, Barobo yielded a total of 4,760 kilos.
Amontay and Unidad communities made their first harvest last February 27 and March 5, respectively.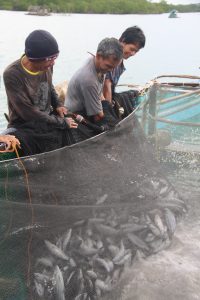 "First ni sa Kalahi-CIDSS nga naga-engage o naga-pondo aning livelihood nga project. Kay kasagaran nga mga proyekto sa Kalahi nga gi-pondohan mga basic facilities man – dili mn siya related sa income-generating projects (This is the first time Kalahi-CIDSS has engaged in funding livelihood projects. Usually, the program grants funds for basic facilities/infrastructure, not directly related to income-generating projects)," Kalahi-CIDSS Deputy Regional Program Manager Ester Villamor said.
In Marihatag, bangus were sold P120-P140 per kilo, depending on the size; while in Barobo the price ranges from P110 to P120 per kilo. Harvested bangus were right away sold out as fish brokers, fish liners, and locals all lined up to buy the produce.
Villamor, who was present during the bangus harvest in Marihatag, said she was glad with the outcome of the project and to see the community work together, starting from the planning and implementation of the project up until the harvest.
"Hinaut nga buligan pa ug dasigon kanunay ang atong kaugalingon nga atong i-maintain ug atong ipadyon ang inyohang proyekto (We hope that you will continue to be active and encourage yourselves to maintain and support your project)," Villamor said.
Barangay Subproject Management Committee Chairperson Faith S. Layno said she is very thankful for DSWD's bangus production project, saying it would greatly help their community to have sustainable income.
Layno said they will then right away purchase another batch of bangus fingerlings so that they can do another harvest in five-months' time.
Meanwhile, Villamor said she is excited for the community in Barangay Cabacungan, Barobo, who are set to harvest their bangus in April.
Kalahi-CIDSS is one of the poverty alleviation programs of the government being implemented by the Department of Social Welfare and Development (DSWD). It uses the community-driven development (CDD) approach, a globally recognized strategy for achieving service delivery, poverty reduction, and good governance outcomes.
Kalahi-CIDSS aims to empower communities by treating them not as passive recipients of assistance and services but as partners in development as well as reduce poverty by implementing barangay-level projects that respond to the communities' felt needs and problems.