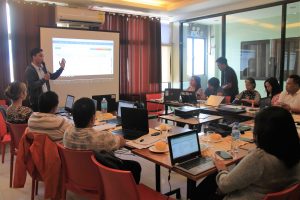 BUTUAN CITY – To keep up with the policy changes and enhancements of the program and to improve the quality of service, staff of the Regional Program Management Office and selected field staff of Sustainable Livelihood Program (SLP) gathered to attend a 3-day technical assistance training for SLP monitoring and evaluation tools and establishment of SLP program databases at Amaris Suites, Butuan City on March 11 to 13, 2020.
Technical persons from the National Program Management Office (NPMO) came over to discuss important matters with regards to the topic. Purposely, the activity aimed to explain the roles and responsibilities of the Monitoring and Evaluation Officers on the implementation of the Memorandum Circular (MC 22); present and address issues and concerns that surfaced during the 2019 program implementation; review monitoring and assessment tools and tackle key points on administering and reviewing the tool; discuss features of the enhanced program database; and conduct actual monitoring and assessment in Butuan City.
SLP is one of the capacity-building program of the Department of Social Welfare and Development, which aims to provide access to opportunities that increase the productivity of the livelihood assets of poor, vulnerable, and marginalized communities, in order to improve their socio-economic well-being.