Just when you think the spirit of bayanihan is gone, some people will prove you otherwise.
Bayanihan is a Filipino custom which refers to the spirit of communal unity, work, and cooperation, to achieve a common goal. Its idea is traced back to Filipino's tradition wherein the town's people were requested to help a family who will move into a new place.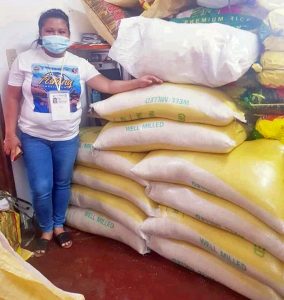 In Barangay Taft, Surigao City, the beneficiaries of the Pantawid Pamilyang Pilipino Program (4Ps) relived this tradition through donating ten (10) sacks of rice to their barangay local government unit. The beneficiaries received the grant through the Sustainable Livelihood Program (SLP) and put up a rice trading business.
Rubelyn Mercado, SLP Association president, says that even with their small assistance, they hope to augment the limited funds of the local government and help the constituents of Brgy. Taft.
"Kaming mga opisyales sa Taft Rice Traders, malipayon na mu-share sa panalangin tungod kay isa kami sa napili nan DSWD Caraga Region na hatagan sa grant sa SLP (As the officers of Taft Rice Traders, we are glad to share the blessings since we are chosen to be one of the program participants of SLP)," Mercado said.
SLP is one of the capacity-building programs of DSWD which aims to improve socio-economic well-being of the poor, vulnerable, and marginalized communities through providing them access to opportunities that increase the productivity of the livelihood assets. When the Corona virus disease (COVID-19) hit the country, most of these assets were greatly affected.
Thus, for Mercado and other beneficiaries, it would not just indicate a decrease of their income, but also an uprise of poor households who cannot afford to buy necessities.
"Kinasing-kasing namo nga gihatag ang napuyo ka sako nan bugas para sa katawhan nan amo barangay. Among paninguhaon na mapalambo pa namo ang proyekto na gisalig sa amo aron mas daghan pa kami matabangan sa umaabot (We heartily gave ten sacks of rice for the people in our barangay. We hope that this association entrusted to us will progress so that we can help more people in the future)," Mercado shared.
In addition to this, the beneficiaries also gave another ten sacks for the association members. They said they are doing this because they love their barangay and in times of calamities and pandemics, a giving heart is most important.
Elenor Yuipco Bonono, barangay councilor, appreciated their initiative and shared in a Facebook status, "Saludo kami sa ijo. Being 4Ps members, waya maka-hinder sa ijo pagka-marajaw na mo-extend nan tabang sa barangay. Kamo ang dapat tularan! (We salute you. Being 4Ps member did not hinder your kindness to extend help in our barangay. You should be an epitome!)"
Truly, the Pantawid rice traders has proven that the bayanihan spirit is still alive. ###(Social Marketing Section/DSWD Field Office Caraga)