In a time when the majority are clamoring to be part of the Government's Emergency Subsidy Program, which covers poor/low-income families most affected by the impact of the Enhanced Community Quarantine due to the COVID-19 pandemic, one family has raised the bar for selflessness and waives their right to receive the 5,000 Pesos assistance, even if they were qualified to be part of the program.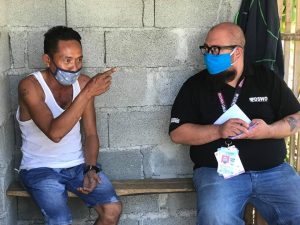 Leo Odchimar, 49 years of age, is a peddler who lives with his wife, Luzminda and their youngest son, in the fishing community of Purok 7, Sitio Manhuyay, Barangay Cantapoy, Malimono Surigao del Norte. He has been living in the community for 5 years now, after transferring from Butuan City, since it was more favorable for his small business – selling different products, like, buckets, basins, kitchen utensils, etc.
Leo has been contented living a simple life in their town. "Diri sa amo, mamaligya ko ug balde, planggana, ug uban pa. Maayo man pud ang abot namo. Ug naa koy baligya gikan sa Butuan, moanhi man among mga silingan unya mopalit sila. Mobaid pud ko ug gabas, ug nay magpabaid (I sell different kinds of products such as buckets, basins and other things here in our community. Business is quite good, especially in times when I bring some new products from Butuan City. My neighbors would come and buy my products. I also accept saw sharpening if there are clients)," Leo shared.
But when the COVID-19 pandemic hit the country, Leo faced a dilemma. People were told not to travel to other places because of the Enhanced Community Quarantine (ECQ). He can no longer go to Butuan to buy more products that he can sell. Good thing there were still clients paying the balance of the total amount to be paid for the products they brought from Leo.
It was a problem, not just for Leo, but also for the people in their community, who mostly belong to the informal sector. With the strict laws implemented to ensure the safety of the people during the quarantine, there were several families who were feeling the impact of the ECQ.
But the government made sure that the poorest families affected by the ECQ were taken care of. The Social Amelioration Programs was implemented to give aid to these families. An Emergency Subsidy Assistance of 5,000 Pesos was to be given to qualified families. When the Local Government Unit of Malimono started to do validation for qualified families for the program, Leo was one of the families identified.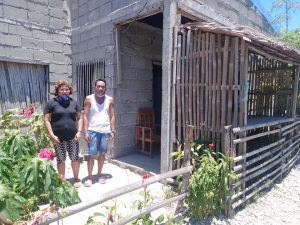 This was good news for Leo and Luzminda. At least, they will be able to have the 5,000 Pesos to buy their needs, especially that the ECQ made it impossible for them to continue their little business.
But when Leo was about to get his Emergency Subsidy, his other son in Butuan City informed him that they were told that they qualified for the SAP, but this time in Butuan City.
"Nastorya nako akong anak, ingon niya nasulod pud mi sa Butuan. Apan sila naman sa iyang pamilya ang namuyo didto, lima ka tuig naman ko diri sa Malimono. Ang akong income man gud, ako pud na ishare pud sa akong anak sa Butuan. So makadawat naman pud siya didto, nagdesisyon ko dili nalang ni nako kuhaon dinhi kay naa pa pud mga silingan namo mas luoy pa namo nga wala naapil sa lista (I talked to my son who is living in Butuan, he told me our family was also identified as beneficiary. But basically, it was supposed to be for his family, since he is already married, and I have been living here in Malimono for 5 years now. Part of my income I set aside and share it with my son who is in Butuan, so the thing is, he will be able to receive the aid there. So I decided not to pursue the 5,000 Pesos given here in Malimono, since I am also aware that we have neighbors who are not on the list, and they have worse living conditions than us", Leo said.
Leo talked to his wife about this matter, and his wife supported his decision. So, during the pay-out in their barangay, Leo told the staff from the LGU and from DSWD that he will waive his right in receiving the subsidy, and told them he would like it to be given to someone else in their barangay.
"Kami diman kwartahan gyud pero naa paman among silingan nga nanginahanglan pa. Ug naa paman pud mi gamay nga konsumo kay nanghatag man ang LGU ug ayuda adtong niaging mga adlaw. Kaya paman namo, mas importante among silingan nga naglisod gyud pud (We are not well-off, but we have neighbors who really need the assistance right now. We still have something left for our daily consumption, since we still have something left from the assistance given by the LGU a few days ago. We can still survive, so it is much better that the subsidy be given to those who are really suffering, Leo explained.
Amidst the clamor of people claiming it is their right to be part of the Social Amelioration Programs of DSWD (majority of whom definitely do not fit the criteria of qualified families), it is inspiring to hear of people who understand the current situation of the communities, and understand the program's implementation.
Leo Odchimar is a person whose principles make him a good example and an inspiration during these trying times. May his act of kindness and self-sacrifice motivate others to assess their current situations. And consider the fact that there are really those most affected by the effects of the ECQ we have right now.