The world was shaken to its core when the deadly Corona Virus Disease 2019 (COVID-19) hit the country. In a snap of the fingers, people's lives changed drastically. Community quarantines were implemented, business establishments closed, students had no choice but to skip their own recognitions and graduations, and many workers were forced to stop working and stay at home.
Without a doubt, this virus brought devastating and rippling effects to people and to their lives. Yet in spite of the growing fear and distraught among the people, compassion also emerged.
Good Samaritans in the form of Sustainable Livelihood Program (SLP) associations in the region composed of Pantawid Pamilyang Pilipino Program (4Ps) beneficiaries initiated donation and community service activities to help other struggling members in their community and to extend support to front-liners.
Despite being needy themselves, these SLP program participants chose to be kind and selfless.
On March 26 and 27, a week before the whole region was put into enhanced community quarantine, Poblacion 2 Bugasan SLP Association (SLPA) and Sun Flower #P731 Bugasan SLPA in Tubay, Agusan del Norte distributed relief packs to other SLP program participants and members of the community, respectively. Poblacion 2 Bugasan SLPA shared 15 relief packs while Sun Flower #P731 Bugasan SLPA gave out 26 food packs.
The said distribution was an initiative by the SLPAs to help their fellow program participants and their families whose source of income or jobs were seriously affected by the crisis. The association used their petty cash fund to dole out supplies for the members.
"Kini gipahinungod isip ginagmay nga tabang sa mga katawhan tungod sa gisagubang nga kalisod karon epekto sa COVID-19 (This initiative was taken so we may be of help to the community especially during these trying times caused by COVID-19)," Marites Cadiog of Poblacion 2 Bugasan SLPA said.
After this kind of act, SLPAs from other municipalities also rendered selfless and compassionate service in their respective communities.
The SLP Federated of Surigao City shared packed lunch and snacks to a total of 200 front-liners, composed of the Philippine National Police (PNP), Armed Forces of the Philippines (AFP), Barangay Tanods, and Barangay and City Health Workers, in Surigao City on March 27.
Staff from the City Social Welfare and Development Office – Surigao City and DSWD SLP Provincial Operations Office assisted the federation during the distribution of meals and snacks. City Councilor Mario Gesta also showed his support to the federation and joined the team.
"The federation came up with this initiative as their way to give back to the national government for supporting them for a long time. Indeed, it was a great and commendable act of our SLPAs who opted not only to serve themselves but to help the rest of the community as well," SLP Provincial Coordinator for Surigao City Junrey Betonio said.
SLP Federated President Rubelyn L. Mercado said that it felt good being able to contribute to society. She shared that it was a tiring activity but it was worth it.
"SLP Federated of Surigao City will always be grateful for the blessings and opportunities given to us by the DSWD and the national government. With this, we believe it was the right time to give back – as they say, sharing is caring. We prepared food meals and distributed it to frontliners staying in the different drop-offs or checkpoints. It was a memorable experience for everyone," SLP Federated President Rubelyn L. Mercado said.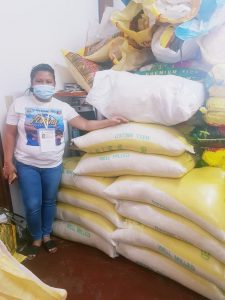 Mercado said that the federation members came up with this idea to show gratefulness to the people who are working long hours just to protect them from the threat brought by the pandemic. She said that the risk of staying outside and getting exposed was worth taking because front-liners were very delighted with their service.
Nevertheless, precautionary measures such as wearing masks and observing social distancing were followed during the food distribution.
Mercado also spearheaded the rice donation of their SLPA in Barangay Taft, Surigao City. They gave away 10 sacks of rice to the Barangay Local Government Unit (BLGU) of Taft with the intention of supplementing the finite fund of the BLGU and helping the people in their barangay.
Along with this drive, the SLPA also dispensed additional 10 sacks of rice for the association members.
A similar initiative was also done by the Poblacion Women's SKA in Carmen, Surigao del Sur and SLPAs in Mainit, Surigao del Norte to express their gratitude for the tireless efforts and service of the uniformed personnel and barangay volunteers.
The SLPAs prepared packed lunch and merienda and distributed it to front-liners. Association members said that they agreed to do this activity because of their desire to help the community in any way they can despite their meager resources.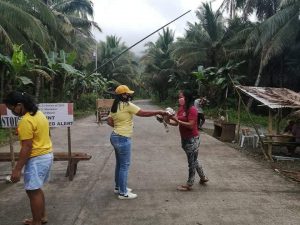 Meanwhile, in Barangay Cabayawa, Tubay, Agusan del Norte, the Cabayawa General Merchandise SLPA handed out 107 pieces of personalized face masks – 35 masks were turned over to the barangay while the rest were distributed among their association members. Just like the other associations, the Cabayawa General Merchandise SLPA utilized their petty cash fund to produce these masks.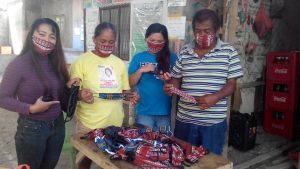 Multiple SLP associations in Mainit, Surigao del Norte also gave bags of rice to their association members and their families. The distribution of rice is a part of the profit-sharing among the SLPA members. Instead of cash, SLPA officers decided that it is best to give rice to the program participants as rice is the topmost need of the people.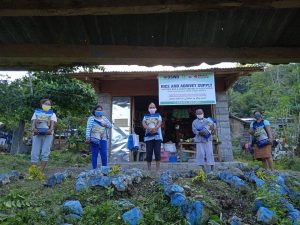 Lastly, San Agustin Norte SLPA in Tandag City, Surigao del Sur doled out family food packs to 22 members of their association as well. With the strict implementation of the community quarantine in Tandag City, most of the members' livelihood and employment were put to a stop. The food packs contain 5 kilos of rice, canned goods, milk, and coffee.
Truly, these efforts and contributions of the various associations have made an impact on the community. Even if they belong to the vulnerable sector, the SLP program participants sincerely looked for ways to pitch in and help. These people have really proven that those who usually have less tend to give more.
Despite the overwhelming tragic news circulating this time, there are still a lot of things to be proud of such as these beautiful acts of kindness. These SLP/Pantawid Pamilya beneficiaries have proven that even in the midst of a great crisis, compassion thrives.
Salute to the modern-day Good Samaritans. You have made this world a better place to live in. (Social Marketing Section/DSWD Field Office Caraga)