Today, the world is still filled with the horrors of the COVID-19 pandemic. During this time of crisis, most people would only care about their safety and food security. However, in a small purok in Barangay Carpenito, lives a Mandaya woman who has a charitable heart for the needy.
Robilyn, 29, is married to Marven Coralde since 2010. They are blessed with four children namely Marbabes, Marlyn Rose, Mark Robven, and Marven Jr. They have been living in the municipality of Tagbina, Surigao del Sur for 10 years already, but she is originally from Cebu City.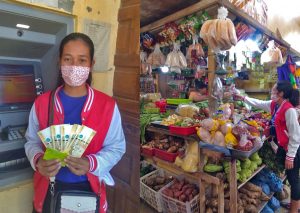 She did not finish any degree and was not able to secure a decent job. Her husband is currently working in Laguna as a construction worker earning a minimum wage of Php7,000 a month. Thus, she has to attend to the needs of their four children alone; but she doesn't see this as a burden.
"Usahay naay mga panahon nga lisod. Pero kung unsa ang mapadala sa akong bana, amo kining paiguan para sa mga panginahanglanon, labi na sa mga bata (There are times when it gets really hard. But whatever my husband sends us, we make sure we budget it properly, especially to address our children's need)" she shared.
As a beneficiary of Pantawid Pamilyang Pilipino Program (4Ps) for 4 years now, Robilyn ably manages their resources well. But the coming of corona virus disease (COVID-19) is a different story. Due to the strict implementation of the enhanced community quarantine in almost all Regions, her husband cannot immediately provide their needs like before because his work was affected.
Fortunately, the National Government timely actions, especially in the implementation of the Emergency Subsidy Program (ESP) under the Social Amelioration Programs (SAP), they were able to survive. All 4Ps beneficiaries were automatically covered by the program as eligible recipients of the said subsidy. This was a breather to Robilyn, who during the time of the declaration of community quarantine mid- March, was so worried of the welfare of her family.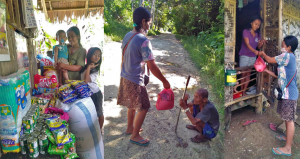 After withdrawing the subsidy amounting to P3,650 (rice subsidy and health grant not included), she immediately bought groceries and a sack of rice. Her close neighbors, who happened to be members of the program too, told her to save a portion of the subsidy because the community quarantine might be extended. Little did they know that she was up to something remarkable.
From what Robilyn bought, she packed 3-5 kilos of rice, coffee, sardines, and noodles. After that, she gave it to their neighbors who were greatly affected by the quarantine. When asked why she did it despite being needy herself, she said it was just right sharing her blessings.
It is just so ironic that those who have less, and are also affected by the pandemic would be the ones to selflessly share the little that they have. It is amazing how those who are less fortunate in life – those who have less, are actually the ones who give more.
"Nabati nako ang ilang kalisod. Wala ko naguol sa mga ginikanan kay mukaon man sila og bisan unsa. Ang akong gikagul-an ang ilang mga bata. Mao nga nakadesisyon mi sa akong bana nga mutabang sa mga naglisod bisan sa gamay nga pamaagi (I felt their struggles. I am not worried of the needs of the adults/parents, but I worried about the children. That's why my husband and I decided to help them even in our own little way)," she ended with a smile. ###(Social Marketing Section/DSWD Field Office Caraga)