Living on an island where basic needs are purchased and transported from the mainland (Surigao City) is a continuing challenge for the inhabitants of the Province of Dinagat Islands (PDI).
PDI, one of the five provinces in Caraga, is composed of seven island/coastal municipalities blessed with picturesque beachfronts and turquoise waters. Though its beautiful tourist spots, the province has yet to experience the modernization of its famous destinations, to make it an ideal place for massive tourism.
Industry and livelihood scarcity
When the pandemic hit a few months ago, the industry went down and this affected most of the Dinagatnons; some residents hurriedly travelled to the mainland and bought food supplies for their families' consumption. However, some beneficiaries of the Pantawid Pamilyang Pilipino Program (4Ps) have no other choice but to wait for their cash grants as their livelihood was affected. Most of the 4Ps beneficiaries have no stable and regular means of income prior to the COVID-19 outbreak which only means that they have been experiencing poverty two-folds than usual.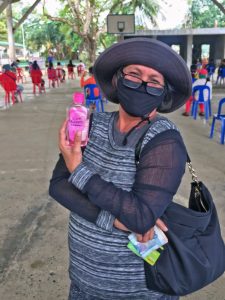 "Ang panginabuhi namo mao ang pagpanagat, ug karon tungod sa hulga sa COVID naapektuhan tawon mi. Malipayon ko nga napahigayon ning pagpanghatag sa ayuda kay dako gajud ni og ikatabang kanamo aron pamalit og pangkonsumo (We live through fishing, and now with the threat of COVID our way of living is affected. I am grateful to be a recipient of this subsidy because it is of great help for us to buy for our consumption)," Jean Dagala, a Pantawid Pamilya beneficiary from the municipality of Libjo, said.
Since the typical and routine activities of the inhabitants changed in a blink of an eye, the government initiated undertakings that could help the Filipino people to survive. The legislators enacted and signed into law the Republic Act 11469 or the Bayanihan to Heal as One Act to address the threats and impact of COVID-19 in our country.
Financial aid as a responsibility
Fortunately, last April the beneficiaries started to receive the emergency subsidy from the Social Amelioration Program under RA 11469. The active beneficiaries received an amount of P3,650 through their EMV cash cards. The beneficiaries were informed ahead of time that they will be receiving P5,000 but since they have monthly financial assistance from the Program, rice subsidy amounting to P600 and health grants amounting to P750, the remaining Php1,350 will just be downloaded to their EMV cash cards by June, together with the grants for the month of May.
Upon receiving the financial aid from the government, the Pantawid beneficiaries expressed their heartfelt gratitude to the government, the DSWD staff through the Pantawid field workers, the Local Government Unit officials and other people who helped them unconditionally.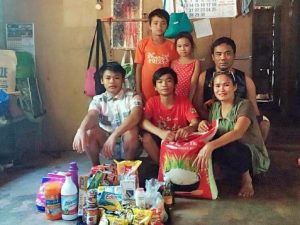 "Ako og ang akong tibuok pamilya malipayon ug mapasalamaton sa gobyerno pinaagi sa 4Ps kay nakadawat kami sa ayuda. Nakapalit kami og pang adlaw-adlaw na pagkaon, medisina ug bitamina sa mga bata. Inubanan sa kakugi sa pagpangisda sa akong bana, aduna kami pangkonsumo bisan sa kalisod karong panahona. (We offer our heartfelt gratitude to the government through 4Ps because we received the subsidy and we we're able to buy food, medicines, and vitamins for our kids. Through the determination of my husband in fishing, we still have our food consumption amidst these difficult times)," Gertudes Tejor, a parent leader from the municipality of Cagdianao, said.
During these difficult times, some of the bene
ficiaries were stereotyped as lazy, irresponsible, and ungrateful; still they remain their feet on the ground and proved these allegations wrong. With positivity, those who were engaged in backyard gardening believed their motto, "Food is always at home."
Beneficiaries' determination for sustainability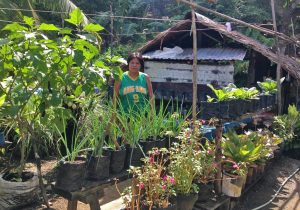 Lyn Casaalan and Lito Vargas Sr., household beneficiaries from the municipality of Loreto, isn't as worried about food to be placed on the table, as they happily maintain their backyard garden which is situated only a few meters away from their houses. Different varieties of vegetables such as eggplant, tomato, pechay, bell pepper, and alugbati are found in their garden. She said that planting the vegetables on their own makes them confident that it is organic, fresh, and good for the health of their family.As much as possible, the program's beneficiaries try to be productive as possible. A common criticism to them is that the program is turning them stubborn, and that several beneficiaries are just waiting for their grants. But this is not exactly what is happening at the field – Pantawid Pamilya beneficiaries are trying hard to be productive.
Beneficiaries of the program try to earn a decent living amidst the challenges they face, especially in landing a good paying job. But even though they are earning a meager income, several beneficiaries are still able to send their children to college. Even working as Barangay Health Workers, Barangay Tanods, they are still able to provide for the needs of the family.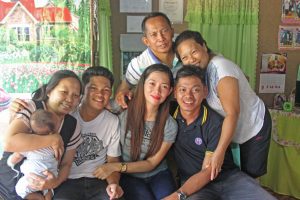 The Balbuena Family of Libjo whose eldest daughter Renelyn graduated as Cum Laude in 2011 and is now a Certified Public Accountant working at the Department of Public Works and Highways (DPWH) in the municipality of San Jose; second daughter Rhea Mie graduated in 2014 and passed the Civil Service Examination; third child Gilbert passed the CPA board examination in 2018; and youngest child Troy is an upcoming senior high and also a consistent top achiever in his class.
"Dako ang among pagpasalamat nga nakarga mi sa 4Ps kay nakatabang gajud sa pagpaeskwela sa akong mga anak. Nakaabag sa among magtiayon nga dili na kaayo mi malisdan sa pagpangita og kwarta (We are thankful to be a member of 4Ps because it helped us in sending our children to school. It lessened the burden of looking for money to sustain our needs)," Merlyn Balbuena said.
For those who are unable to land a job, they still spend their time productively. Some do community volunteerism work, to keep themselves productive in their community. During the Enhanced Community Quarantine, though some lost their jobs, and are limited to have any kind of activity that would allow them to earn some kind of income, they still felt that the government did not abandoned nor neglected them – they even felt cherished and loved with the different programs of the government that provided for their needs.
Positivity over adversity
These stories of families battling adversity in such challenging times would not be known if not for the dedicated Pantawid field workers who have taken the opportunity to provide guidance to the beneficiaries during this pandemic. From the simultaneous release of Period 1 cash grants, to the fast implementation of SAP, and rigorous field monitoring, they have committed their time and efforts for the 4Ps beneficiaries.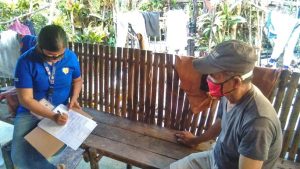 Inevitably, the government, specifically DSWD and its workers have experienced stressful situations during this time, but they did not lose the heart to prove that everyone is working together to achieve a common goal – the promotion and the protection of the welfare of everyone, especially those affected by the COVID-19 Pandemic.
The field workers may sometimes feel drained, exhausted, weakened, and disheartened but at the end of the day a simple thank you, a simple smile coming from the beneficiaries, or stories of success that they would hear from the beneficiaries is what they need to keep going. This is made possible by 4Ps beneficiaries because most of them have grateful hearts. Some send messages through phone, social media, and in personal interactions expressing how thankful they are to receive assistance amount enough to sustain their daily needs. ###(Social Marketing Section/DSWD Field Office Caraga)