The island of Siargao is considered as one of the preferred destinations and one of the most coveted tourist hotspots in the country. Every year, specifically during the summertime, the Local Government Units (LGUs) in the province are preparing for foreign and local tourists to flock the breathtaking spots in the island, to enjoy sand, sea and surf, in what surfing aficionados consider as the best surfing spot in the country.
The 5th class municipality of General Luna (GL), Surigao del Norte, one of the 9 municipalities in the island, is considered the busiest and most sought-after tourism destination in Siargao. It is home to one of the well-loved surfing spots, not just in the island, but in the world – the Cloud 9 surfing area. It is one of the few places in the country where surfing can be done throughout the year.
GL also offers tourists a run for their money with their tri-island (Daku, Guyam, Naked island) hopping tours, if they are not into the extreme activity of surfing. Aside from these activities, the island's nights light up with its superb parties and events.
And if people had their fill of General Luna's spots, the entire island has a lot more to offer. One could always have a side-trip to the Tidal Pools of Magpupungko (Pilar, Surigao del Norte), go swimming with stingless jellyfishes in the crystal-clear waters of Sohoton Cove (Socorro, Surigao del Norte), enjoy the calm waters of Sugba Lagoon (Del Carmen, Surigao del Norte), and enjoy cliff jumping and explore the top of Taktak Falls (Sta. Monica, Surigao del Norte).
Indeed, the island is a dream destination for a lot of tourists, especially those who love the beach. The Local/Municipal Tourism Office has recorded a total of 274,547 (86,144 international/188,403 local) tourists visiting the island, in 2019 alone. This had a major impact in the lives of the communities in the municipality, giving jobs to thousands of families.
HOPING FOR A RECORD-BREAKING YEAR
With the influx of tourists coming in and out of GL in 2019, the LGU had high hopes for 2020. Arceli Gallentes, Local/Municipal Tourism Officer of GL shared that they were expecting a record-breaking year for 2020. "We had quite a number of reservations already for 2020, some had their reservations as early as late last year. We were hoping that more tourists would come in, and boost livelihood in the island, especially that a lot of local shops have opened," Gallentes said.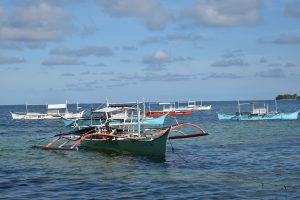 Though there were already reports of a deadly virus ready to spread havoc in Asia as early as December 2019, thousands still flocked the island in the 1st quarter of 2020. It was only mid-March that people began seeing the seriousness of the threat when local transmission were recorded in the country.
"We gave tourists some time to leave the island before we had our lockdown. Once we closed our borders, we never let anyone in, to ensure the safety of everyone," Gallentes said.
General Luna was placed on lockdown, as the Provincial LGU tried preventive measures to ensure that the COVID-19 pandemic spared the island communities in Siargao. No tourists were allowed to travel to Siargao. And with no tourists, and with no definite end to the pandemic in sight, their dream of a record-breaking year was now fading. There was a total shutdown of the municipality's tourism industry by the end of March.
INDUSTRY DOWN – FAMILIES FEELING DOWN
With the lockdown in place, everyone in the island whose livelihood is connected to the tourism industry was now in peril. Hotels/bed and breakfast/home stays, restaurants/café/bars, souvenir shops, beach resorts, were now being closed. Only a few shops (selling the necessities) were allowed to operate. This meant loss of jobs to workers, artists, and loss of income to entrepreneurs'/business owners.
Most affected were those who belonged to the informal economy – workers who did not have security of tenure, those who were earning on a day-to-day basis. Hospitality industry workers, surf instructors, boatmen (island hopping), tricycle/habal-habal drivers, tattoo artists, tourist guides – these were the most affected during the community quarantine period.
Mark Anthony Ayuda, a 32 year-old surf instructor, was among those who were affected by the lockdown. "Sa pagsarado sa mga resort, naundang pud akong pag-tudlo. Lisod kay duna koy tulo ka anak, singko, tres, ug uno anyos. Ang gamay kailangan pa palitan ug gatas (When the resorts closed, I also stopped having surfing sessions. It was hard for me since I am raising 3 kids – five, three, and 1 year-old. The youngest is still consuming formula milk)," Mark shared.
Prior to the COVID-19 pandemic, Mark said that he was able to provide for the needs of his family since he was an "on-call" instructor in several resorts in GL. He would earn Php300 for a 1-hour session. In a week, he would be able to have at least four (4) sessions, and during peak seasons (April/May and August – September), he would be able to have sessions daily.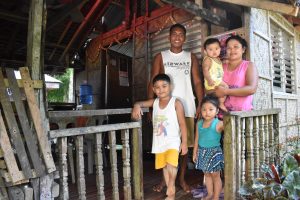 "Dako gyud nga kawalan kay sa wala pa ang virus, makakuha man ko ug hantod upat ka kliyente kada semana. Sa peak season, kada-adlaw duna koy matudluan. Karon, wala na, wala na koy income (It is a big loss for us, since prior to the virus hitting us, I could have at least 4 clients a week – even having daily clients during the peak seasons. Now, I do not have any more income)," Mark said.
The lockdown started on March 18, and all surfing activities were banned starting April 1. So this forced Mark to try fishing, just to provide for the needs of his family. He also started some gardening in a vacant lot beside their house.
"Buhi-buhi sa gyud karong panahuna kay unsaon man, wala naman koy income. Maayo nalang maka-uban ko panagat sa akong mga kauban. Naa pud ko gisugdan tanom-tanom sa among kilid kay wa man ta kahibalo hantod kanus-a ning lockdown (I needed to find ways to provide for my family since I no longer have a source of income. I would tag along with my neighbors when they go fishing. I have also started some gardening since we all do not know how long this lockdown will last)," he said.
Aside from the surf instructors who were living off the opportunities brought about by the tourism trade, island hopping guides and boatmen were among the most affected also. When tourists were banned from the island, the boatmen, who used to have daily trips in the summer, now lost their jobs.
Tomasito M. Crisologo, 64, head of a family composed of 9 members, is among those affected by the lockdown in General Luna. He works as a boatman, catering to boat rentals of those who would avail of the island hopping activities in GL. What made their situation worse was that his son, Tomasito Crisologo, Jr., who's married, and lives with him, is also a boatman, and equally affected by the pandemic.
"Lisod among kahimtang sugod nagka COVID, kay nawala ang mga turista. Pagkawala sa turista, nawala pud among trabaho kay bawal na man mag island hopping. Ang lisod pa gayud sa among sitwasyon kay akong anak nga pamilyado, si Junior, nga kauban nako ug puyo sa among balay, lakip pud walay trabaho kay boatman man pud siya (We have a problematic situation since COVID hit us since it affected tourism in the island. When the tourists stopped coming, we lost our jobs since island hopping was banned in the municipality. What made the situation worse was that my son who's married, Junior, who lives with me, was also affected, since he also works as a boatman)," Tomasito Sr., said.
Since both father and son lost their jobs, it was hard for them to provide for their families. "Okay ra unta ug usa sa amo naa pay trabaho kay makapakaon pa mi sa pamilya, ug makahatag pa mi sa panginahanglanon sa among pamilya. Pero pareho man mi apektado ni Papa mao nga lisod gyud sa amo (It would have been okay if one of us still had a job, we would still be able to provide for the needs of the family. But sadly, Papa and I had the same job, so we were both affected)," Tomasito Jr., said.
Tomasito Sr., and Junior. looked for ways to provide food on the table. Junior, who was the better fisherman, borrowed a small Bangka so that he could fish. He would go out to sea twice or thrice a week to fish for liplipan (black marlin).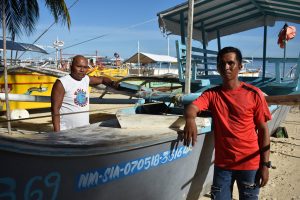 "Nanagat ko aron naa mi makaon. Maayo nalang makakuha ko ug usa or duha ka liplipan kada semana. Mga 20 kilos, okay na kay makatabang na sa mga panginahanglanon namo. Ako na ibaligya sa mga taga merkado dayon (I went on to fish so that we would have something to eat. It was of great help when I get to catch one or two 20-kilo black marlins in a week. I would sell my catch to those selling in the market, so that I would be able to buy stuff that we need)," Junior said.
It was hard for the Crisologo family, but they tried their best to earn a living despite the limitations due to the community quarantine. Fishing provided for their needs. But they would still prefer the island-hopping job they had since fishing was not Junior's bread and butter.
For Junior, catching at least 1 or 2 black marlins was a good week for him and his family. But for Clementino Cabadonga, a 33-year-old fisherman who is expecting his second child, the lockdown affected his livelihood differently. There was no problem with the catch. His problem was more on the buyers of his catch.
Clementino used to directly sell his catch to the restaurant and hotel owners. Compared to those who sell their catch at the market, those who directly sold the fresh catch to private resorts, earned bigger. Clementino used to have a "suki" or a patron, who would always get his catch. But with the restaurants closing, he no longer has a regular customer.
"Akong mga kuha diretso na sa akong suki. Mas taas man sila mo presyo kay sigurado man sila nga presko unya pilian gyud pud nako sila ug nindot nga kalidad sa isda. Pero karon nga nanirado na sila, maglisod nako ug baligya kay naa man pud lain mamaligya sa merkado (I sold my catch directly to my patrons. They bought my catch on a much higher price since they were sure I only gave them the freshest catch, and they were sure I gave them the best quality of fish that I caught. But since they no longer are open for business, I now have a hard time selling my catch since there are also those who are selling fish in the market)," Clementino shared.
With the growing needs of his family, especially that his wife is 4 months pregnant, Clementino is worried of what the future holds for them.
"Kinahanglan ko makatigum kay buros akong asawa sa among ikaduha. Wala ta kahibalo hangtod kanus-a ning COVID. Mao nga nabalaka ko kay ang among kita karon panahuna igo ra sa among konsumo. Wala nay sobra nga akong ma tago para sa pagpanganak sa akong asawa (I need to save up for my wife's delivery of our second child. What worries me is that nobody knows how long the COVID problem would affect us. This is why I am very worried since the income I get for fishing could only cover our daily needs. There is no extra that I could save for my wife's impending delivery), Clementino exclaimed.
With the effects of the pandemic affecting the lives of all three families, the first thing that they wanted to do was to call out the government for aid. With government implementing strict quarantine protocol, they thought that it was just right that government would address their needs since it was impossible for them to have a decent income.
SAP TO THE RESCUE
The government needed to step up its provision of emergency subsidy to the most affected families due to the Enhanced Community Quarantine. President Rodrigo Roa Duterte was given special powers to realign 200 Billion pesos to aid 18 million low-income earning households who are most affected by the economic standstill due to the pandemic.
General Luna was allocated 1,368 slots to aid the affected families. Tomasito Sr., was among those identified to receive Php5,000 emergency subsidy under the Social Amelioration Programs implemented under the Department of Social Welfare and Development. Through the program, the LGU is deputized to identify low-income earning families belonging to the informal sector, most affected by the community quarantine.
"Dako kayo akong pasalamat nga naapil mi sa programa kay naglisod na gyud mi sa among kahimtang. Pagkadawat namo sa ayuda, nagpalit gyud mi diretso ug is aka sako nga bugas para sa among tanan. Salamat kayo kang Presidente Duterte kay nahuna-hunaan mi niya mga pobre (I am really thankful that we were considered for the program because we were really affected by the situation. I immediately bought a sack of rice for all of us when I received the aid. I am really grateful to President Duterte for thinking of the poor's welfare), Tomasito Sr. said.
Mark and Clementino's families also qualified for the program. But they almost did not make the final list of beneficiaries since the validating teams had a hard time locating their addresses.
"Halos walay makatuod sa ilang mga panimalay. Naa man sila sa lista gikan sa DSWD, so amo gayud sila gipangita aron ma validate. Apan mismo mga barangay officials dili makatuod ug asa gyud sila nagpuyo (No one really knew where their houses were. Their names are in the DSWD list of probable qualified families, so we really tried locating them for the validation. But even the barangay officials could not pinpoint where they exactly live), Marilou P. Gonzaga, Municipal Nutritionist Action Officer, and one of the lead of the validation team shared.
With the economic boom spreading all over GL like a brushfire in the past few years, several new buildings (houses, homestays, shops) would pop up from time to time, changing the landscape of communities drastically. Small houses visible from the road are now covered with huge buildings, making it difficult for people to locate homes of the locals, especially those whose houses have been moved further back after their lots where rented out by business establishments.
Naglisod ug pangita sila ni Ma'am sa among balay kay natabunan naman sa sementado nga building among atubang. Mao niadto gyud ko sa opisina nila aron magpavalidate ko kay wala man ko naapil. Maayo nalang ila ko giadtoan unya nalakip ko sa programa. Dakong tabang ang Php5,000 nga among nadawat. Gipalit gyud nako dayon ug bugas, vitamins, ug gatas para sa akong mga anak (The validating team had a hard time locating us since a new cemented building was built in front of our house. So I really went to their office and demanded that I be validated. Good thing they really went out of their way and visited us, so we qualified. The Php5,000 we received really helped us. I immediately bought a sack of rice, vitamins, and milk for my children), Mark said.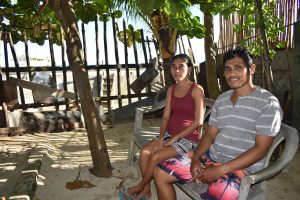 Clementino also had the same fate. He was also excluded from the initial list because his house was located just behind a big, cemented house. So the barangay officials thought he was not qualified. But again, the validating team from the Local Social Welfare and Development Office made sure to really locate the possible beneficiaries, so they found Clementino's house.
"Dako kaayo akong pasalamat kay natud-an gyud nila among panimalay. Kay kung wala pa mi na validate, sigurado ko dili gyud mi maapil ug hantod karon maglisod gyud unta gihapon mi. Salamat sa DSWD ug kang Pres, Duterte sa ayuda. Dako kaayo ni ug tabang sa amo. Nakapalit gyud ko ug vitamins sa akong asawa ug gatas sa akong anak. Naa pud ko gitago para sa pagpanganak (We are really thankful that they were able to locate our house. Because if we were not located properly, we would have been left out of the program – we would still be suffering right now. We thank the DSWD and Pres. Duterte for the aid. This has really helped us in this time of crisis. After receiving the money, I bought some vitamins for my wife and milk for my son. I also made sure to save some of the money for my wife's delivery) Clementino emotionally shared.
Marilou, who was tasked to lead the validation teams, admitted that they had a hard time locating the families who were on the initial list from DSWD's Listahanan Database.
"Naglisod gajud kami kay dili na matuod ang mga balay nila, ang uban natabunan na sa mga dagko nga balay ug building. Apan ako mismo naniguro nga makita sila kay luoy pud ug dili sila makadawat labi na nga apektado sila sa (We really had a hard time locating their houses, especially that some houses were hidden in plain view due to the newly built buildings and houses. But I made sure that they be located and identified since it would be unfair on their part since they are qualified for the program because they are affected by the pandemic)," Marilou said.
But amidst the challenges, the LGU of General Luna made sure that they did all the necessary preparations, especially in the validation of qualified families. "Wala kami nagpa pressure sa timeline, wala kami nagdali-dali. Kay mas importante sa amo nga mavalidate ang mga pamilya aron ang mahatagan kadtong qualified gajud (We did not rush the process. We did not succumb to the pressure of meeting the timeline. What we did was we ensured the calidation process to ensure that we identify those qualified families)," Marilou added.
DSWD – LGU PARTNERSHIP
The implementation of the SAP was a challenge not just for DSWD, but also to the LGUs. This has been the first time that such a critical program was implemented in a short period of time. This includes the orientation, preparation of documents, fund transfer, validation, the payout, and eventually the liquidation. The partnership of DSWD, the LGUs, the Philippine National Police, The Armed Forces of the Philippines, and the Department of Interior and Local Government made the SAP implementation successful, especially in Caraga region.
Everyone understood how important the program was to the most affected families, so the cooperation and coordination between DSWD, the LGU, and the other partners was kept tight.
For a 5th class municipality which is basically dependent on its tourism industry, the pandemic was more than a challenge – it was a crippling force that brought the economy, the life in the island to a standstill. It was a big problem to the families who were dependent on the influx of tourist in the island, especially that majority of the job opportunities in the tourism industry is informal. But with the Social Amelioration Programs, the affected families were given a lifeline. It was a breath of fresh air for them, a chance to at least provide for the needs of their families.
DSWD and the LGUs are continuously working to provide a more sustainable service to the communities affected by the pandemic. No one knows how long the COVID-19 virus would post as a threat, so no one is backing down, or relaxing. Continued efforts are being done to address the needs of the communities, even those who have yet to receive any aid from the government.