It is already 5 o'clock in the morning and the sun is almost up.
As the rooster crows loudly, it was a cue for Dayna to get up from bed and prepare for another long day of helping and serving her community again.
Dayna Maisos, a Pantawid Pamilyang Pilipino Program (4Ps) beneficiary and a Barangay Health Worker (BHW), serves as a frontliner in her community at Barangay Sering, Socorro, Surigao del Norte. She is also an active Parent Leader and was once a community volunteer during the implementation of the Kapit-Bisig Laban sa Kahirapan – Comprehensive and Integrated Delivery of Social Services (Kalahi-CIDSS), another program of the Department of Social Welfare and Development (DSWD), in their municipality.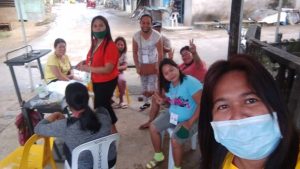 As a BHW, Dayna assists the employees of the Rural Health Unit (RHU) in monitoring the condition of citizens entering their barangay and checking if residents are strictly abiding by the health measures and protocols set by the municipal and national local government units in response to the threat brought about by the COVID19. Dayna and her co-workers and volunteers from the RHU are also joined by barangay officials, tanods, volunteers, and personnel from the Philippine National Police.
Dayna, together with other frontliners, are stationed at the barangay checkpoints and religiously keep track of the condition of the residents of Barangay Sering. She starts her day early and gets home late. During this time of crisis, she has to sacrifice her time with her family and spend more time serving their community.
Being a frontliner also entails risks and responsibilities. She has to take the risk of getting exposed outside and becoming vulnerable to the disease while securing the safety and protection of her community. To add to that fear of getting infected, Dayna also expressed that their job as frontliners becomes more challenging when some members of the community fail to follow the rules.
"Naay mga tao nga dili gayud maminaw. Musupak sa mga patakaran. Kami nga mga BHW, kami pa gayud ang basulon ug pasipad-an tapos dili mahatagan og pagtagad gihapon. Apan wala namo nahuna-hunaan bisan naa sa risgo among mga kinabuhi apan serbisyo among gipagtigbabaw aron dili na mudaghan ning kaso sa Corona Virus, (There are really some who do not listen and abide by the rules. Even if it is us, BHWs are held accountable if people violate the guidelines, we are still left unappreciated. But we do not mind these things and continue to put our jobs and society first and risk our lives just to prevent the spread of the Corona Virus)," Dayna said.
Despite these struggles, Dayna still finds joy in serving her community. With her experiences as a parent leader and a former community volunteer, she is already used to the strains brought by her responsibilities especially in this time of pandemic. She believes that these challenges help her become a more effective and efficient leader and member in her community.
Just like Dayna, there have been several 4Ps beneficiaries who also stepped up and showed compassion and selflessness when the pandemic broke out. These beneficiaries bravely took the risks and opted to serve the community.
Dayna and the rest of the program beneficiaries have proven that more than just a Pantawid beneficiary, they too can become our modern-day heroes.