Social Workers managing the Adoption and Foster Care program of the Department of Social Welfare and Development (DSWD) Field Office Caraga attended the National Dialogue on Alternative Parental Care Program (APCP) held on June 23-24, 2020 via Google Meetup.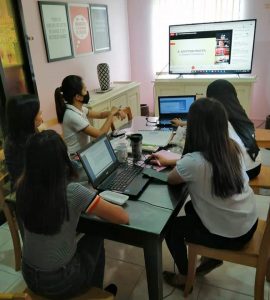 The Adoption Resource and Referral Unit (ARRU) under the Protective Services Division, made sure that no pandemic would stop them from continuing their planned activities for the year, which includes the National Dialogue between DSWD, the Inter-Country Adoption Board (ICAB), and other partners.
 ICAB-Philippines Director Bernadette Abejo, and University of the Phillipines (UP) Law Center Institute of Human Rights Director Atty. Elizabeth Pangalangan, served as speakers and consultants for the said event, which was also attended by Social Workers from the other Field Offices.
 The National Dialogue on Alternative Parental Care Program (APCP) function as the gateway to discuss the assessment and recommendations of the consultants on the APCP. Topics discussed during the dialogue were the inter-country adoption laws and guidelines, guardianship, and the Kafala System – the alternative parental care system used by the Muslim countries.
 Online Adoption and Foster Care Forum
 After the successful online National APCP Dialogue, the first online Adoption and Foster Care (AFC) Forum was then conducted on June 26, 2020 at the DSWD FO Caraga Regional Learning Commons (RLC), Butuan City.
 The forum was attended by prospect couples and individuals who wanted to adopt or foster children who were neglected, abandoned, or orphaned.
 The participants were given hints and sample life scenarios on how is it to be an adoptive or foster parent. Discussions about the Alternative Parental Care Program were tackled during the forum. Requirements and other important points were also discussed including the Simulated Birth Rectification Act (RA 11222).
 The Field Office, as mandated by the Agency's mission to lead in the formulation, implementation, and coordination of social welfare and development policies and programs for and with the poor, vulnerable, and disadvantage, is hoping for more individuals to share their love and resources to children who are neglected, abandoned, and orphaned that needs compassion, care, and attention, especially in this time of pandemic.###