The Department of Social Welfare and Development (DSWD) Field Office Caraga conducted the 42nd Regional Matching Conference (RMC) last May 28, 2020 at the DSWD FO Caraga- Regional Learning Center, Butuan City. This amidst the challenges brought about by the COVID-19 Pandemic.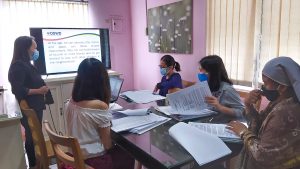 The RMC was organized by the Adoption Resource and Referral Unit(ARRU) under the Protective Services Division, and was attended by the Regional Child Welfare Specialist Group (RCWSG) members: Atty. Noreen Grace Gonzaga, Sr. Marilou Besere, Dr. Candy Claire Balili, and Melanie Juan, Crisis Intervention Unit head, who served as presiding officer.
The RCWSG, as stated on Section 19 of RA 8552 (An Act Establishing the Rules And Policies On The Domestic Adoption Of Filipino Children And For Other Purposes), will serve as the Adoption and Foster Care Committee that will review, deliberate and recommend the matching of a child to Prospective Adoptive Parents (PAPs) and licensed foster families. The members are also tasked to resolve any issue or dispute between and among agency, the parents, the foster parents, and the child. They will also monitor the implementation, review and recommend changes in policies concerning adoption/foster care and other matters related to child's welfare.
The RCWSG will also submit to the Secretary of the DSWD and to Congress an annual report of the policies, programs and activities relative to the implementation of the Act at the regional level.
Adoption cases were presented by the handling social workers via teleconference to meet the required social distancing. A total of three child cases for adoption and two couples vying to be adoptive parents are subjected for a Home Study report to be conducted by the assigned social worker.
The Adoption Resource and Referral Unit is still accepting adoption and foster care applications despite the threat of COVID-19 virus. The Department is looking forward for more couples and/or individuals willing to give their time, love, and care to the abandoned, surrendered, neglected, or orphaned children. ###