When talking about superheroes, one can immediately think of their favorite childhood characters such as Superman, Batman, Wonder Woman, or Spider-Man. Children would imitate their moves, lines, and even their outfits – flying and jumping around while wearing red capes and masks.
Kids love daydreaming of superhero adventures. Even adults are wishfully imagining that they would have supernatural powers like being able to fly and glide across countries and having super strength so that they can help people in danger or in need. For many years, people have hoped that someday, they will become the superheroes that they have always dreamt of.
But as one becomes older, the realization sets in that all those superhero dreams are just make-believe and only a figment of the imagination. While becoming grown-ups and being adults, people become aware that there is no such thing as superheroes.
But coming to terms with this truth, people are also able to discern that they can still become heroes but with a different kind of superpowers – the power of love, sacrifice, and compassion.
Today, as people wrestle with an invisible enemy, the COVID-19 threat, several individuals are standing up and risking their lives to serve the Filipino people. These individuals selflessly sacrifice being away from their families and bravely faced the possibility of getting infected with the virus.
Some of these individuals are field employees of the Department of Social Welfare and Development – whom some call "Heroes in Red Vests". For the last two and a half months, these people had been away from their homes and had been dedicating their time, effort, and energy to ensure that affected families get the financial assistance they need through the Social Amelioration Programs (SAP).
Here are some of the stories and experiences the Heroes in Red Vests have shared: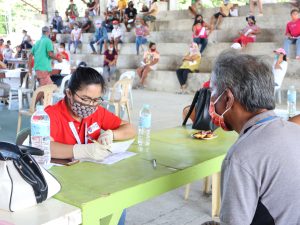 "As a field worker, patience, positivity, and prayers were my essentials during the SAP implementation. It was tough being in the field. It was difficult to keep our chill and still smile while people were bashing us for not being able to include them in the program. Despite the risk of getting infected with COVID-19 while providing social services to the people; the rants of unqualified and/or not served households both in social media and in our office; the fact that I am not able to go home to my family, I still chose to serve the communities I am working with and working for. It's because I care for them and I enjoy doing this job. This SAP journey taught me a very significant lesson in my career and as a person as well; that is to put others' welfare before mine. I realized that if I wouldn't help or I get tired of helping, who else would? Our exhausting SAP journey was paid off as beneficiaries expressed their gratitude to us. Every "Salamat, Ma'am!" was worth every sweat and tear we shed during the implementation." – Honey Lizelvie Capin, Kalahi-CIDSS Area Coordinator (Madrid, Surigao del Sur)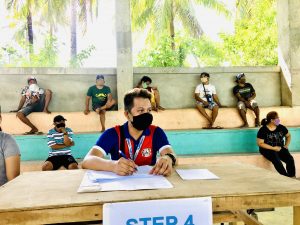 "During the SAP implementation, we faced a lot of criticisms especially from people who didn't understand the process and guidelines of the program. As we conducted the house-to-house validation, several residents questioned what we were doing in the validation and even our integrity as public servants. But on the bright side, I was also happy because there were also other people who defended the field staff – saying that we were only doing what the agency has mandated us to do. Because of that experience, I learned to lengthen my patience and understanding. This also applies to our program beneficiaries. In this time of crisis, I encourage everyone to respect our government, broaden our understanding, and trust the authorities." – Danwhel Rosales, Kalahi-CIDSS Community Empowerment Facilitator (Taganaan, Surigao del Norte)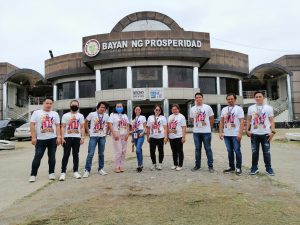 "We are honored to be part of the success of the Social Amelioration Program despite the challenges that almost made us stop. However, seeing and hearing the unending gratitude of the recipients fueled our passion to serve and not to give up; not minding the negative critics but only focus on our goal. Touching lives of the recipients, and learning life lessons which humbled us and made us strive to do better in our chosen profession." – Pantawid Pamilyang Pilipino Program staff/Team Malambuon (Prosperidad, Agusan del Sur)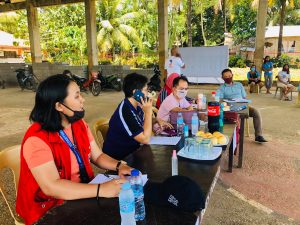 "The greatest hardships and struggles I encountered during SAP implementation were the criticisms thrown to me. For the first time, I was blamed for a complaint which even reached a popular TV show in the country. I wanted to resign because of that. But seeing the people that were in need, I knew I needed to go on and serve the community. The people needed my service especially in this time of COVID19.
In life, a lot of things can happen to us but the only thing that truly matters is how we react to it and what we make out to it. Life is about learning, adapting, and changing all the struggles that we experience into something positive." – Stephanie Lerasan, Municipal Link (Alegria, Surigao del Norte)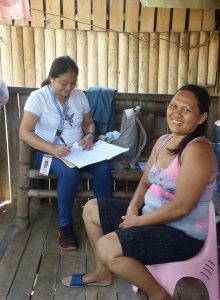 "For two weeks, we had challenging experiences. We had to dedicate most of our time even weekends just to validate eligible beneficiaries. Even if our backs hurt so much already during payouts, we were still happy because we saw how happy and grateful the beneficiaries were. No matter how tiring our job was, it was bearable because we knew that people got the help they needed." – Edna Corvera, Municipal Link (Nasipit, Agusan del Norte)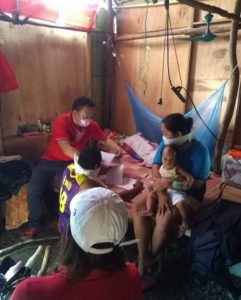 "At first, I thought the SAP was just like the other intervention and assistance programs of the agency. Being in DSWD, we were already used to doing tough and challenging tasks. But with SAP, it was different. It felt like a nightmare. Our day would begin earlier than usual and we'd go home late just to ensure that the qualified beneficiaries get the help they need. I was exhausted from all the social media posts, grievances, and untruthful answers during media interviews. It even made me feel not want to talk to people anymore but I love my job. So I still continued doing my job. My worst experience was when I fell in the water while holding a bunch of SAC forms during a house-to-house interview. In spite of that, I remained determined and went on with the implementation. Now that we are done with the implementation, I am amazed at how we were able to surpass all the stress and anxieties. SAP gave me the privilege to know real stories and struggle of Surigaonons and how can I be of help to them." – Junrey Betonio, SLP Provincial Coordinator (Surigao del Norte)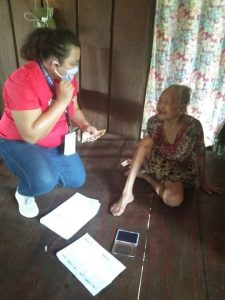 "Finalizing the clean list of beneficiaries was a long, tedious experience. We had to ensure that beneficiaries were qualified according to the guidelines set. The scheduling of payout was also an exhausting experience because all of the barangays wanted to be prioritized for the payout to avoid complaints from their constituents. Everybody wanted to expedite the release of funds. Since the implementation began, we at the MSWD Office would cater to countless clients with grievances. People complained about why their names were not on the list and asked of the basis in the selection of beneficiaries. Even during payouts, complaints and threats from unserved families were nonstop. It was frustrating and tiring. But amidst all the accusations and criticisms, we still chose to be the bigger persons. Even we were tired, we still tried to smile. Even if the people were bombarding us with grievances, we still chose to help them and make them understand. At the end of the day, our end goal was to help and serve the community. Seeing them happy is already the biggest reward we could ever ask for." – Kimberly Ticar, SLP Project Development Officer (Carmen, Surigao del Sur)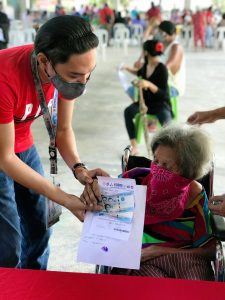 "My SAP experience was extraordinary. It taught me the values of empathy, love of service, and altruism. It taught me to brave the frontlines. As an articulation of the collective interest of the underserved, the Social Amelioration Program is truly empowering not only for the beneficiaries but also for the implementers.
The experience of having to tread the road less traveled leading to the peripheries on an empty stomach at times not minding the scorching sun at daytime is truly rewarding as it instilled in me the priceless lessons of leadership and selflessness." – Ernest Darwin Esguerra, Municipal Link (Santiago, Agusan del Norte)
These DSWD frontliners – the heroes of today, have gone great lengths just to serve the Filipino people. Amid the loathing they received from angry clients, they opted to continue to do their job with much commitment and compassion. These individuals have always chosen to serve the people. Their spirit to help never falters.
Being a hero is not easy. It takes selflessness and sacrifice. It is just fitting to take a minute and thank these hardworking and courageous "Heroes in Red Vests".
Sa mga bagong bayani ng bayan, maraming salamat sa inyong serbisyong may malasakit! (Social Marketing Section/DSWD Field Office Caraga)