It has never been about receiving something for the Pantawid Pamilya beneficiaries of Barangay Himama-ug. Yes, the program basically provides aid to the qualified families. But this time, the beneficiaries are paying it forward – they are the ones giving.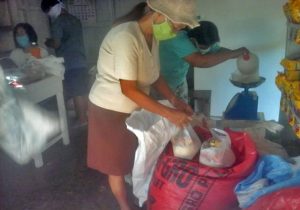 Granted with three projects under the Sustainable Livelihood Program (SLP), one of the three major anti-poverty programs of the Department of Social Welfare and Development (DSWD) – the program beneficiaries who are into the business of baking, hog-raising, and merchandising, joined together to help frontliners during the pandemic.
"Walay dato nga wala nay gikinahanglan, ug walay kabus nga dili makahatag og tabang sa uban (There are no rich people who do not need anything, and no poor people who cannot lend a hand to others)," Gloria Peniones, association president of Himama-ug Hog Raisers, one of the SLP Associations said.
With the combined efforts of the three SLP associations, they were able to provide free bread and drinks for frontliners who are manning the checkpoints. Nurses, members of the Citizen Armed Force Geographical Unit (CAFGU), police forces, firefighters, and Local Government of Tagana-an workers who rendered their services were the recipients of the bread and drinks.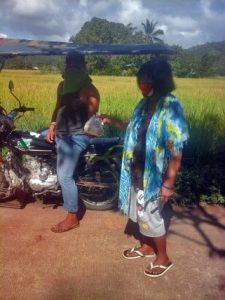 The fresh bread – pan de coco, ensaymada, frances, mushroom, choco roll, and elorde, were personally made by the beneficiaries in their small pantry. For a duration of three days, they were able to provide morning and afternoon snacks worth P1,500 to the frontliners.
In addition to this, the beneficiaries were able to provide food packs to 71 families in their neighborhood especially those who were affected by the quarantine period – tricycle or habal-habal drivers included. The food packs consist of 1 kilo rice, sardines, and noodles, summing up to P5,000 for the 71 recipients.
"Usa pud ni sa nakita namo nga pamaagi na makatabang sa barangay labi na kay lisod ang panahon karon (We also see this as an opportunity to help our barangay especially during these hard times)," Jeepy Cuaz, association president of Himama-ug Agrivet Suppliers said.
These initiatives and efforts were greatly appreciated by the Barangay LGU of Himama-ug since they are also placed under tight budgeting as the pandemic continue to be a threat all over the country.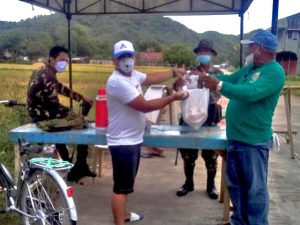 "Amo ning gibuhat, maayo nalang nga makuha-kuhaan ang kakapoy sa mga nagbantay sa among checkpoints kay nakabalo mi unsa kalisod ilang trabaho ug misaludar kami kanila (We did this to ease the tiredness of those manning the checkpoints because we know how difficult their duties are and we salute them for that)," Joy Alparo, association president of Himama-ug Bakers, said.
By answering the call for bayanihan, the beneficiaries of Himama-ug proved that they too could help in this time of pandemic. Even though they are affected by the strict quarantine protocols, they are doing their part in easing the burden of one another – this time, everyone is affected, even those who are serving the welfare of the people.###(Social Marketing Section/DSWD Field Office Caraga)