"Daghan kaayong salamat kay wala kami pasagdi sa gobyerno (We are thankful that the government never abandoned us),'' – Charlene E. Peñaranda (Emergency Shelter Assistance and Social Amelioration Program beneficiary – Bislig City, Surigao del Sur).
The prime duty of the government is to serve and protect the welfare of the people. Government must possess the capacity and capability to see beyond the struggles of its people, deliver pro-poor programs, and implement interventions that would uplift the lives of the people, especially those in the marginalized sector. These are the reason why until now, the government unceasingly does its best for the welfare of the people.
In times of disasters such as earthquakes, typhoons, volcanic eruptions, fire incidents, and even the during pandemics, the government needs to be visible on the frontline. Government agencies, and the Local Government Units (LGUs) need to be more responsive to the call of its people in giving out assistance such as relief good or cash assistance. This is the reality – when a crisis happens, people turn to government for assistance.
Just like Charlene E. Peñaranda and Roleser A. Anima, residents of Market Site, Barangay Mangagoy, Bislig City, Surigao del Sur, they have been victims to serious calamities. And every time disaster struck, it was government that they ran for help. Charlene and Roleser both are victims of the fire incident than transpired last June 23, 2019 that burned their houses into ashes. And just recently, their livelihood were affected due to the enhanced community quarantine brought about by the COVID-19 pandemic. But the government, has seen their problems, appraised their situation, and served the rightful assistance they needed.
Fire incident in 2019
On June 23, 2019 around 11:20 in the morning, a fire broke out in Market Site, Barangay Mangagoy, Bislig City. A total of 439 families were affected by the fire, which caused an estimated damage of around 60-million pesos.
"Pirte kahadlok kadtong panahon sa sunog kay wala pa gyud akong bana kay nangisda siya atong panahona. Naglibog ko unsa akong unahon unya naa pakoy tulo ka mga anak. Akong gihuna-huna nga maluwas akong mga anak bahalag walay bitbit nga sanina (I was so afraid when the fire broke out because my husband was not around since he went fishing. I was confused what to do first, but then it came to me that I should save my three children first, and not mind if we don't get anything out)," Charlene recalled.
Some of the affected families temporarily sheltered at the gymnasium, while seeking help from the government especially their immediate needs.
"Drabe kalisod to nga time. Luoy kaayo among kahimtang kay sa dihang miulbo ang kalayo, niambak mi sa dagat para lang kami maluwas. Wala mi nadala pero mayo nalang napahiluna mi sa gym unha nahatagan ug food packs (It was a difficult time for us. We were forced to jump into the sea because the fire spread so fast and we couldn't escape. We couldn't get any of our belongings, but good thing we were accommodated at the gymnasium, and we were provided food packs),'' Roleser said.
COVID-19 Pandemic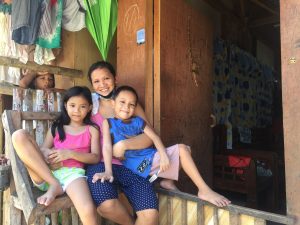 COVID-19 is an infectious disease which causes by severe acute respiratory syndrome due to the newest coronavirus strain. This new virus and disease were unknown before the outbreak began in Wuhan, China in December 2019. Since then, it has spread globally, resulting in an ongoing pandemic.
In the Philippines, the Inter-Agency Task Force on Emerging Infectious Diseases (IATF-EID) convened in January 2020 to address the threat. They created a National Action Plan to contain the virus, and at the same time address the needs of those affected.
On March 7, 2020, the first local transmission of COVID-19 was confirmed, and later on, local transmission transpired. The World Health Organization worked closely with the Department of Health in responding to the COVID-19 outbreak.
As measure to limit the spread of the virus, the government imposed community quarantine and later, it was raised to enhanced community quarantine, where the people are ordered to stay at home and residents are restricted from travelling to other cities or barangays. Malls are also closed, transportations are limited, and thus, the livelihood of low income earners were severely affected.
"Karon nga naay COVID, mas lisod na hinuon ang kahimtang kay akong bana na-stranded sa lain munisipyo. Naa pud ang kabalaka nga basin matakdan mi kay dili nato makita ang virus (We were greatly affected with COVID, especially that my husband got stranded in another municipality. We also fear that we might be infected since we could not see the virus),'' Charlene said.
Everything was changed when the pandemic hit, especially in a Barangay like Mangagoy, which is considered the center of trade and commerce in the city of Bislig. Fear of the disease has forced people to panic, and the protocols in place has made life hard for the people, especially those who lost their jobs and means of earning a living.
"Kuyaw man ni nga sakit nga miabot sa kalibutan kay naglisod man ang mga tao. Ang panginabuhian apektado pud unya kanunay gina-check ang mga tao nga musulod-gawas sa lugar (This virus disease is horrifying. People are really affected and it has made life difficult, especially that it has an effect on the economy.  There is constant monitoring of people soming in and out of the different places),'' Roleser shared.
Emergency Shelter Assistance and Social Amelioration Program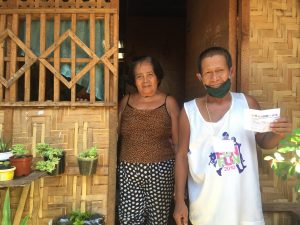 DSWD through the Disaster Response Management Division (DRMD) provides families affected different calamities and disasters. The Emergency Shelter Assistance (ESA) provided to families whose houses are either partially or totally damaged during calamities, just like fire incidents.
For the victims of the Bislig, Surigao del Norte fire-incident, the agency provided ESA to 297 households with a total amount of Php2,935,000.00. Families with partially damaged houses were given Php5,000.00, while families with totally damaged houses received Php10,000.00. Also, the residents received food and non-food assistance amounting to Php3,843,377.90.
Other than the DSWD, the Local Government Unit of Bislig City and the Provincial Government of Surigao del Sur also provided aid to the affected families through food and cash assistance. Charlene and Roleser's families were able to avail this assistance.
"Sa dihang nadawat nako ang kwarta gikan sa ESA, ako dayon gipalit materyales para matukod ang among balay. Bahalag gamay basta kay naa mi kapuy-an. (The moment I received the cash assistance from ESA, I immediately brought construction materials for our house. The size of the house we built did not matter. What was important is that we had a house to live in),'' Charlene shared.
"Daghan cash assistance among nakuha gikan sa gobierno. Isa na ni-ana ang 10k nga gikan sa DSWD. Sama sa uban pud, ang kwarta amo dayon gipatukod sa among na-ugdaw nga panimalay (We received various assistance from the government, one of which was the Php10,000 from DSWD. Just like the others, we used the money for constructing our totally damaged house),'' Roleser shared.
On the other hand, the RA 11469, also known as The Bayanihan to heal as one act, which granted the President powers and authorities necessary to carry out urgent measures to meet the COVID-19 national health emergency, came in handy for those affected by the COVID-19 Pandemic. Under the said act, an Emergency Subsidy Program (ESP) is to be implemented to provide outright cash assistance to 18-million low income households who are heavily affected by the COVID-19.
The Department, in partnership with the LGUs, successfully implemented the Social Amelioration Program, specifically the ESP.
"Nakadawat pud ko og Php5,000 gikan sa SAP. Na-tymingan pud nga kana nga time bisan apektado ang panagat, na-swertehan akong bana sa iyang panagat didto sa Placer. Mao ang kwarta ako pud gihatag sa lima ka pamilya nga naa pud anak apan wala nakadawat sa SAP. Kay karun nga time kinahanglan ta magtinabangay (I also received the Php5,000 emergency subsidy from SAP. But I was able to share it to five other families who are affected, but were not able to receive the aid, since my husband was able to earn some money with his fishing in Placer, Surigao del Norte. In times like this, we really need to help each other),'' Charlene Said.
Indeed, this act of kindness from Charlene earned her praises from her neighbors. No one could ever imagine that kindness could still be possible, especially that everyone is having a hard time with the pandemic.
"Karon nga nag-atubang napud ta sa lain krisis, nakadawat napud ko ayuda gikan sa gobierno. Bintaha nalang kay bisan nahunong akong panginabuhian, nakapalit ko og pagkaon ug tambal. Gigamit gyud nako ang kwarta sa among panginahanglanon (Now that we are facing another crisis, I am glad that I also received cash assistance from the government. Even though my livelihood was affected, I was able to buy food and medicine. I used the money in buying our basic needs),'' Roleser added.
Social Services for the poor
 DSWD, as the lead agency in providing social protection, is mandated to contribute to better quality of life of the Filipino People, especially those who are marginalized and disadvantaged. The families of Charlene and Roleser are proof that the government is serious in addressing the needs of those who are in need.
"Daghan kaayong salamat kay wala kami pasagdi sa gobierno bisan sa unsang sitwasyon. Dako na kaayo na nga tabang, salamat DSWD (I am thankful that the government never abandoned us in any situation. This is a big help for us. Thank you DSWD),'' Charlene emotionally shared.
"Nagpasalamat ko sa DSWD nga aduna silay tabang sa mga taong naka-angkon sa kalisod karun, ingon man tong panahon sa sunog ug bisan karon sa COVID, naa pirmi ang gobyerno (I am thankful to DSWD that they give assistance to those who are facing difficulties, even during the fire incident and until now that we are battling COVID-19, the government is here for us),'' Roseler added.
DSWD will continue giving hope to the Filipino people through its programs which is always intended for the needy, and those who are trying to get by everyday life amidst the different challenges and hardships. #Social Marketing Section