"Mas maayo nga mutabang ta, kaysa kita ang tabangan. Swerte na kaayo kami kay nahimo ming membro sa 4Ps ug naa kami madawatan, samtang ang uban wala (It is better that we help rather than us being extended the help. We are very fortunate enough to have been part of the 4Ps, and that we receive the grants, compared to those who are not)."
These were the words of the 41-year old parent leader and daycare worker, Rona Fuentes. She is one of the 16 parent leaders of the Pantawid Pamilyang Pilipino Program in Barangay Sampaguita, Veruela, Agusan del Sur.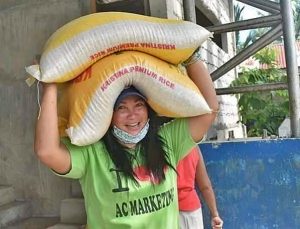 When COVID-19 took its toll in the country, several Local Government Units provided relief assistance to its constituents. The BLGU of Sampaguita did the same when they delivered half-sacks of rice to every household in their barangay. Lacking manpower, some of the 4Ps parent leaders volunteered to deliver the goods to their community. 
Though the "new normal" scenario was still slowly sinking into their system, just like wearing face masks and maintaining physical distance, they all were convinced that the need to be together and do something tangible and real was something they needed to do.
A similar situation happened in Barangay Doña Telesfora, Tubay, Agusan del Norte, wherein a group of Modified Conditional Cash Transfer (MCCT) beneficiaries also felt the bayanihan spirit which is innate to Filipinos especially during times of hardship and challenges.
"Naningkamot gyud mi na mag-solicit sa mga kaila, kaparentehan, ug batchmates namo nga pwede makaabag luyo aning COVID-19 nga krisis (We took the initiative to solicit from our colleagues/batchmates and relatives who were generous enough to help amid this global crisis)",
Jerama Daug, one of the active MCCT-IP Parent Leader said.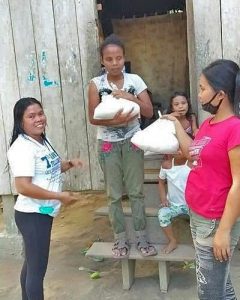 Daug asked the other members to provide a list of families (non-Pantawid) of their respective purok or sitio who were not able to receive the Social Amelioration Program subsidy of the government. By aiding a little amount of love and compassion, they were able to distribute rice packs to 100 families in their barangay.
In the Region, a total of 188,467 4Ps beneficiaries received the emergency subsidy under the SAP. This is a provision of the government through the Department of Social Welfare and Development to aid the most affected families because of corona virus disease (COVID-19).
The pandemic awakened a very unique spirit of community that has been in the Filipino culture for centuries. Truly, finding resources is not a big issue when done by willing and compassionate individuals and groups, who are willing to extend their hands, regardless of their differences.
"Grabi ka mahinungdanon ang among panagkita. Bisan og nabag-uhan mi sa pag-social distancing, kay sauna magkumustahay ug magginaksanay gayud mi, pero nalipay gihapon kay nagkakitaay mi (It was a meaningful get together. Although maintaining the social distancing is awkward, because we always greet with a handshake or a warm hug, but we are still glad to see each other)," Fuentes added.
More than the cash grants that they are receiving, the volunteer work gave them an opportunity to develop their capacities as beneficiaries such as decision making and planning. For this, they always considered themselves fortunate. ###(Social Marketing Section/DSWD Field Office Caraga)