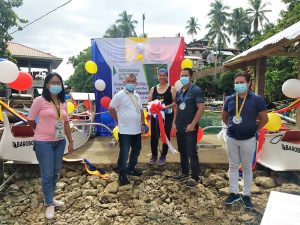 BAROBO – In pursuit of providing the poor, vulnerable, and marginalized communities with access to opportunities that will increase the productivity of their livelihood assets and improve their socio-economic well-being, the Department of Social Welfare and Development (DSWD) Field Office Caraga's Sustainable Livelihood Program (SLP) handed over tourist boats and fishing vessels to three SLP associations residing in coastal barangays in Barobo, Surigao del Sur.
The DSWD-SLP turned over one unit of tourist boat and four units of fishing vessels to the P4 Seafarer SLPA at Barangay Poblacion on July 11, 2020. The project amounted to a total of PHP 478,400.00.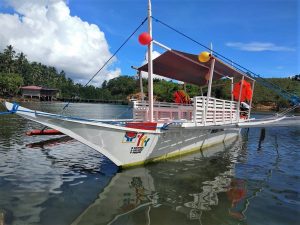 On behalf of the members of the P4 Seafarer SLPA, Association President Georgia G. Husain showed their gratefulness to the DSWD-SLP for bringing them livelihood opportunities. Husain envisions that with their association's commitment and collective efforts, their tourist boat and fishing vessels project will expand and may help boost the municipality's tourism industry and economy.
"Magpasalamat mi sa DSWD-SLP sa gi-grant na kantidad sa among grupo. Akong grupo nga Pantawid nangandoy pa nga naa pay dugang na source sa panginabuhian. Gipili namo ni nga project kay kusog ang turismo diri sa Barobo. Daghang tourist spots diri sama sa Bogac, Cabgan Island, Turtle Island, ug daghan pa. Nagtuo mi na ma-sustain kini kay naglambo ang turismo diri sa Barobo (We would like to thank the DSWD-SLP for granting our group this project fund. Our group, composed of Pantawid Pamilya members, has long been hoping to have an additional source of income. We chose this project because tourism in Barobo is booming. Our municipality has a lot of tourist spots such as Bogac, Cabgan Island, Turtle Island, and a lot more. We believe that this project will sustain because of the richness of our tourism industry)," Husain said.
On the other hand, the Kinayan SLPA and Kinayan Dos SLPA at Barangay Kinayan also received two tourist boats, respectively, on July 15. Each association was granted with an amount of PHP 450,000.00 to purchase the tourist boats and other equipment necessary for the business operations.
The two associations opted to propose the said project because their barangay is one of the entry points for tourists who are bound for island hopping.
Kinayan DOS SLPA President Margie Ibañez, during her acceptance speech, expressed her gratitude to the agency and promised that they will nurture the project and work hard to ensure its sustainability.
"Kami mapasalamaton sa proyekto nga gihatag sa DSWD Field Office Caraga pinaagi sa SLP. Busa ang amo lang gyud ika-promise na amo jud ni ampingan. Aron pud kani maka-anak pa na proyekto. Aron pud maka-benefit ang uban na kaubanan namo sa komunidad  (We are very grateful for this project given to us by DSWD Field Office Caraga through the SLP. Hence, we promise to take good care of this project so that it would expand in the future and give benefits to other members in the community)," Ibañez expressed.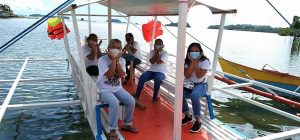 The SLP program participants also showed their appreciation to the Local Government Unit (LGU) of Barobo for its unwavering support and commitment to realize these projects. LGU Barobo, together with the Barangay Local Government Units of Poblacion and Kinayahan, pledged to continue monitoring the project and provide any kind of assistance to the SLPAs.
At present, these associations have already begun accepting bookings but only limited to local tourists. They will be following the 50% capacity during operations as mandated by the Inter-Agency Task Force on Emerging Infectious Diseases (IATF-EID) and other healthy safety protocols stipulated in the omnibus guidelines such as wearing of face masks, washing of hands, and observing the 1 meter social distance.
These projects are huge livelihood opportunities for the program participants especially that several tourists visit the municipality of Barobo for its mesmerizing islets and islands such as the Cabgan Islets and Turtle Island. Although they can only accommodate local tourists as of the moment, this venture will still be of great help to them to get through this period of crisis.
Both turn-over ceremonies were attended by Barobo Mayor Joey S. Pama and Municipal Social Welfare and Development Officer Marilou M. Godito. They were joined by the BLGU officials of Poblacion and Kinayan and the DSWD-SLP field staff.
SLP is one of the core programs of the Department which is centered on poverty-reduction and capacity-building.#