To help augment the daily subsistence and other medical needs of the indigent senior citizens during the health crisis brought about by the Novel Coronavirus Disease also known as COVID-19, the Department of Social Welfare and Development (DSWD) Field Office Caraga has fast-tracked the distribution of the 2nd-semester payout of the Social Pension Program for Indigent Senior Citizens last July 21, 2020.
As of today, there are already 6 municipalities served in the region. Due to strict protocols of other provinces, the agency was only able to cater the cash assistance to Agusan del Norte. The initial total number of 6, 261 beneficiaries served will increase as more municipalities will be covered in the following days. Each beneficiary was given 6-months' worth social pension covering the months of July – December 2020 amounting to P 3,000.00.
Below are the municipalities where DSWD-Caraga will conduct the social pension payout for August 4 – 31:
Tubay, Agusan del Norte;
Las Nieves, Agusan del Norte;
Jabonga, Agusan del Norte;
Esperanza, Agusal del Sur;
La Paz, Agusan del Sur;
Talacogon, Agusan del Sur;
Bunawan, Agusan del Sur;
San Luis, Agusan del Sur;
Rosario, Agusan del Sur;
Sison, Surigao del Norte;
Tubod, Surigao del Norte;
Malimono, Surigao del Norte; and
Dinagat Islands
To ensure an efficient payout, DSWD Caraga opted to conduct a direct payment by a designated Special Disbursing Officer (SDO) in coordination with the Local Government Units (LGUs) of the scheduled respective municipalities/cities and the provinces.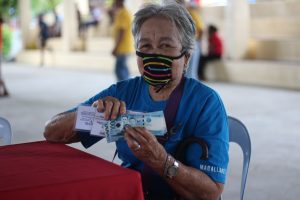 The Republic Act No. 9994 or the "Expanded Senior Citizens Act of 2010" also known as the Social Pension for Indigent Senior Citizens program, provides monthly stipend amounting to Php500 to indigent senior citizens to augment their daily subsistence and other medical needs. It is distributed on a semestral basis at P3,000 per semester or P500 per month for six (6) months. It also specifies that seniors qualified to receive social pension are those who are frail, sickly or with a disability; without any pension from other government agencies; and without a permanent source of income or source of financial assistance/compensation to support their basic needs.
One of the beneficiaries who received the aid thanked the agency for the fast provision of the aid. "Mapasalamaton kaayo ko sa DSWD kay natabangan ko pinaagig pinansyal . Naa na jud koy magamit sa pagpalit ug tambal para sa akong tiil nga nag ngotngot kay lisod kaayo mangitag kwarta karon ilabina kay naay COVID"  (I am very grateful to DSWD for helping me through this financial assistance. I already have the money to buy medicine for my sore feet because it is very difficult to make money now since there is COVID)," Leonora C. Siman, 77 years old SocPen beneficiary from Magallanes, Agusan del Norte shared.
DSWD-Caraga constantly reminds the beneficiaries to bring their identification (ID) cards issued by the Office of the Senior Citizen Affairs (OSCA) or any valid government-issued ID or federation ID indicating their date of birth, in claiming the cash assistance during payout.
Accordingly, as of July 29, 2020, the total available clean list beneficiaries is 159,992 out of 170,000 target beneficiaries for 2020.  DSWD – Caraga assured the public that they are adhering the existing safety and health protocols to determine the best payout method to lessen the exposure of beneficiaries and personnel to the pandemic alert caused by coronavirus disease.