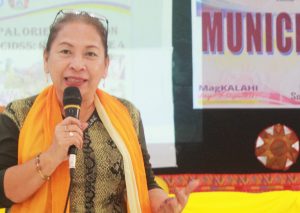 The Department of Social Welfare and Development (DSWD) Field Office Caraga's implementation of the Disaster Response Operation Procedure (DROP) to combat COVID-19 threats is now in full swing.
DROP allows DSWD's Kalahi-CIDSS-covered areas to shift its operations from regular developmental activities into a disaster response modality to immediately address issues related to early recovery.
Kalahi-CIDSS or Kapit-Bisig Laban sa Kahirapan – Comprehensive and Integrated Delivery of Social Services is one of the poverty alleviation programs of the government being implemented by DSWD. Employing community-driven development (CDD) as a strategy, Kalahi-CIDSS trains and engages communities together with their local governments (barangay and municipal) to choose, design, and implement development projects to address their most pressing needs.
"Sa DROP implementation, naa na ta karun sa MIAC (Municipal Inter-Agency Committee) technical review sa uban areas. Buot pasabot, after aning MIAC tech review, RFR (Request for Fund Release) submission and downloading na dayun (In DROP implementation, we are now in MIAC technical review in some areas. Meaning to say, after this MIAC tech review, RFR submission and downloading will follow)," Kalahi-CIDSS Deputy Regional Program Manager Ester Villamor said.
At present, there are nine municipalities covered by Kalahi-CIDSS National Community-Driven Development Program (NCDDP). These are the towns of Barobo and Madrid in Surigao del Sur province; Placer, Taganaan, Anao-aon and Malimono in Surigao del Norte; Dinagat, San Jose and Basilisa in the Province of Dinagat Island.
The implementation of DROP is in response to Proclamation No. 929, which was issued last March 16, 2020, declaring a State of National Calamity for a period of six months for the entire country. The said proclamation also enjoined all government agencies and Local Government Units (LGUs) to render full assistance, cooperation and mobilize the necessary resources to undertake critical, urgent, and appropriate disaster response aid and measures to curtail and eliminate the threat of the disease.
The KALAHI-CIDSS, in its capacity to work with the people in the vulnerable community, is taking its experience to use the program to complement with all other efforts of different government agencies. The DROP is a temporary procedure that will be adopted to facilitate the implementation of the Community-Driven Development COVD-19 disaster response.
Sub-projects eligible for funding under DROP includes:
– Cash-for-work (CFW) for CVs/residents for the cleaning and sanitizing public places and offices, communal livestock and/or vegetable/fruit gardening/farming, repacking of goods, manual hauling of food packs in GIDA.
– Training of Barangay COVID-19 Response Team with a considerable number of the participants (observing social distancing, provision of PPEs, and other locality guidelines on DOH protocols)
– Retrofitting or Refurbishing of identified public buildings like evacuation centers, barangay halls, school buildings, tribal halls, multi-purpose centers which can be converted as temporary isolation space for onward referral to the official treatment and monitoring facilities in accordance with DOH protocols
– Repair of water supply systems and facilities that were completed with previous project funding;
– Procurement of DOH-approved medical tools and equipment to be used in the COVID-19 response, communication devices like sound system for information dissemination, etc.;
– Setting up of temporary facilities to deliver basic services for the affected communities, such as temporary health facility, mobile market, community kitchen, etc.;
– Rental of vehicles for implementation and monitoring COVID-19-related activities;
– Procurement of personal protection equipment (PPE), hygiene kits, sanitation and cleaning supplies e.g., detergent and disinfectant products, etc., in accordance to DOH standards;
The DSWD, being one of the key agencies tasked to provide assistance for the management of COVID-19 situation, is responsible for the implementation of social protection programs, projects and services for the poor, vulnerable and disadvantaged.