Written by: Rosemarie O. Liquido
Beneficiary from Barangay Pamosaingan, Socorro, Surigao del Norte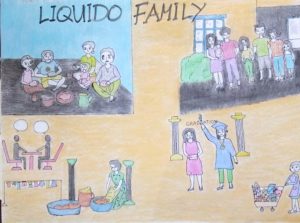 "Knock and the door will open, seek and you will find, ask and it will be given to you."
I am Rosemarie and I truly cling to this Bible verse. I've been married to Absalon S. Liquido for 27 years. We had been given three daughters who always enlighten our daily lives.
Having a family is not easy and having children is a grace bestowed by God to us. My husband and I had three children to feed, labor and farming was the source of income back then and I am a housewife who does all the necessary household chores, raised and takes care of the children.
In the year 2007, the Department of Social Welfare and Development (DSWD) Caraga conducted a survey in our barangay and I am fortunate enough that I was there. I had a feeling that I can be one of the grantees of the Pantawid Pamilya Pilipino Program (4Ps). But suddenly, when 4Ps form Kagawaran ng Kagalingang Panlipunan at Pag-unlad (Panunumpa ng Pagtupad sa mga Kundisyon 4Ps) needed to be filled-out that time, I was not there because I was at Surigao City doing my job as housemaid. I was very upset because that was my family's only chance to have an additional financial support. On the other hand, God do always sees everything and provides those who are needy because He gave me another chance to be a member of 4Ps through our barangay secretary who helped me on the matter and filled-out the said 4Ps form in Barangay Estrella.
It was year 2008, when 4Ps was introduced to us. At first, it helped changed a bit for our daily living for we could now pay school fees promptly, gave our children allowances when they are attending division and regional contest, and provide our family some decent meals. We could also buy medicine whenever we needed, unlike before we would just endure the pain for sometimes we don't have money to buy such medicine.
After a while, I realized that it was more than the cash grants. The Family Development Session (FDS) was one of our activities as 4Ps beneficiaries. The monthly FDS taught us how to stand on our own even though we are not professionals. But the best lesson that I've ever learned in my 12 years as a beneficiary was that poverty is not a hindrance to achieve your dreams in life.
It was year 2010, month of May when I became a Parent Leader. Having a hardheaded member who always contradicts was not easy to handle. The task was challenging. September 18-21, 2010 I was given an opportunity to attend a seminar in Balanghai Hotel and Convention Center, Butuan City with the theme "Capability Building for Parent Leaders." The said seminar taught us, the parent leaders, of our capacity of being a leader. It also helped, enlightened, and broadened our understanding towards 4Ps.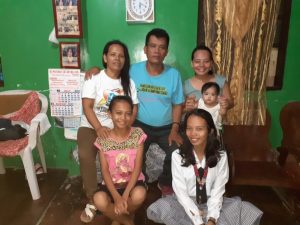 The years 2011-2015 were among the most difficult years for us. It was the time when my eldest daughter started to go to college. We needed to provide for her tuition fees every month and allowances every week. For parents like us who have no permanent income, it was very difficult that we needed to sacrifice some necessities just to help her pursue her dreams. We only provided her with P200 allowance every week. She needed to budget such amount including P30 tricycle fare back and forth. Sometimes she could not attend her examinations on time because we could not pay her tuition fees. To be able to pay such fees, we borrowed money from people we know and sometimes we needed to sacrifice our budget for the viand. We endured eating without viand lot of times, as long as we have provided our college students' needs. During her senior year, she received a scholarship from the Provincial Government and it lessened our burden a bit.
I also became a "hardenira" and labandera in 2012 for additional income in the family. Lots of time I feel exhausted and felt body pains, but I endured all those because this is what a decent mother would sacrifice for her children. In addition, I couldn't forget year 2015 where I became one of the utility of our barangay and in 2018, I volunteered for Kalahi-CIDSS, still a program of DSWD. As parents, we deprived ourselves for the things that we needed as long as we gave our children what they need.
During my eldest daughter's college life, she also did the same. We did not even know that she was once a dishwasher in her teacher's house, doing projects, house chores, and tutorials to have an extra income to sustain her projects and miscellaneous fees. It broke my heart a million times for I only knew and heard it on her graduation day, during her graduation speech. She graduated in college as Cum Laude and was granted P.D. 907 Honor Graduate Eligibility. She was also a journalist (News Writer and Editorial Writer) during her elementary and high school days and always attended division and regional level press conferences.
My second daughter was also a sports writer during press conferences and the youngest one, graduated as valedictorian in her elementary years. All the hardships that we encountered was paid off by my daughters' achievements. As parents, we also felt that we are achievers because their achievements are our reward… our reward of faith. They gave us lots of motivation to work for the family. God has been our guide along the journey in passing all the difficulties that we have encountered.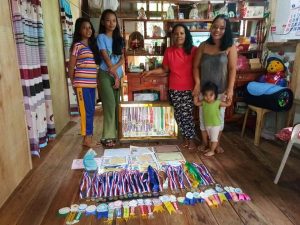 Seeing daughters reach their goals in life and settled down, seeing my family happy and away from sickness makes me happy and contented too.
Earlier this year, we transferred to our own house. The fruit of our labor that we can call our home. The pandemic that we are facing right now is dangerous, but I volunteered as frontliner against corona virus disease (COVID-19). My family and I will hold hand in hand and remain strong amidst the pandemic and the difficulties that we may face in the future.
Indeed, the grace of the Lord is always there as long as we knock, ask, and seek for His guidance, thus He will provide us of what we need. For those who have experiences similar to our family, I urge you to never lose hope and keep your faith that you can do it for God sees everything and He totally provides. #