BUTUAN CITY- The Department of Social Welfare and Development (DSWD) field office XIII has already served 151, 735 indigent senior citizen beneficiaries of the Social Pension (SocPen) program amid the COVID-19 crisis as of June 2020.
Beneficiaries of the 73 municipalities of Caraga received their 6-months' worth social pension covering the months of January – June 2020 amounting to a total of P 455,205,000.00. To date, the total number of beneficiaries in Caraga is over 89% out of the targeted 170,000 indigent senior citizens to receive the P 500 monthly government pension for the first semestral of 2020.
The breakdown of the 151, 735 beneficiaries, including replacements, out of the five provinces are as follows: Agusan del Norte, 33, 574; Agusan del Sur, 38, 536; Dinagat Islands, 11,239 ; Surigao del Norte, 30, 354; and, Surigao del Sur, 38, 032.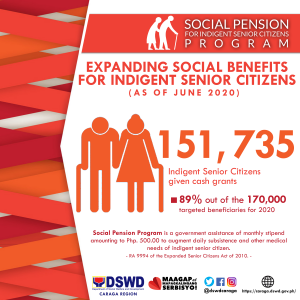 The program is known as a non-contributory pension that aims to augment the daily subsistence and other medical needs of senior citizens. The government assistance of a monthly stipend amounting P 500 is one of the obligations of the government as to the full implementation of RA 9262 of the Expanded Senior Citizens Act of 2010.
DSWD specifies the guidelines as to the seniors qualified to receive social pension as mandated by Memorandum Circular No.4  S. 2019. Hence, not all indigent senior citizens will receive the monthly P 500 pension from the government.
In a press release, DSWD assured the public that they are adhering the existing safe and health protocols to determine the best payout method to lessen the exposure of beneficiaries and personnel to the global phase of pandemic alert caused by corona virus disease.