The Department of Social Welfare and Development (DSWD) Field Office Caraga has already served 33% of the targeted beneficiaries for the Social Pension for Indigent Senior Citizens program only after a month of cash release as of August 2020 amid the Novel Coronavirus 2019 pandemic threats.
To date, there are already 56,367 beneficiaries from 31 municipalities/cities served under the SocPen program which corresponds to a total amount of P 169,101,000.00 cash release. The dissemination of financial assistances started last July 21, 2020, and since then, the Field Office has served 33% indigent senior citizen recipients out of the 170,000 targeted beneficiaries of the program this year.
Qualified indigent senior citizens from the following provinces of  Agusan del Norte (20, 598), Agusan del Sur (23, 194), Surigao Del Norte (11, 738), and Surigao del Sur (837) received their six (6) months' worth of pension covering the months of July – December 2020.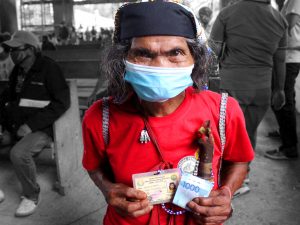 To ensure an efficient payout, DSWD Caraga opted to conduct a direct payment by a designated Special Disbursing Officer (SDO) in coordination with the Local Government Units (LGUs) of the scheduled respective municipalities/cities and the provinces. To ascertain the safety of the senior beneficiaries, DSWD decided to distribute the cash assistance of Php 500.00 per month on a semestral basis, totalling to Php 3,000.00 per payout.
The Republic Act No. 9994 or the "Expanded Senior Citizens Act of 2010" specifies that seniors qualified to receive social pension are those who are frail, sickly or with a disability; without any pension from other government agencies; and without a permanent source of income or source of financial assistance/compensation to support their basic needs.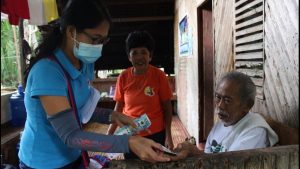 DSWD Field Office Caraga constantly reminds the beneficiaries to bring their identification (ID) cards issued by the Office of the Senior Citizen Affairs (OSCA) or any valid government-issued ID or federation ID indicating their date of birth in claiming the cash assistance during payout. For those senior citizen beneficiaries who can no longer claim their grants personally at the payout venue, their children or direct relatives can receive the cash grant provided that they would present the following:
Pagtugot Form (containing the original signature or thumbmark of the senior beneficiary);
Medical certificate;
Photocopy of the OSCA ID of the beneficiary; and
Photocopy of the valid ID of the authorized receiver by the grantee
The program's handlers would like to inform those who were not able to claim their 2nd semestral payout that DSWD will be conducting a special payout, in which the schedule will be disclosed to the partner LGUs, and that the claimants will just wait for the said schedule.
DSWD assures the public that paymasters conducting the payout are adhering to the existing safety and health protocols to determine the best payout method to ensure the safety and health of the beneficiaries and the general public, in particular.