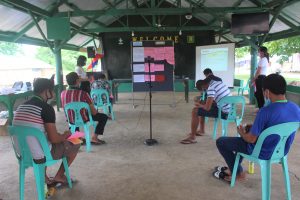 True to its commitment to serve the people and community equally, the Department of Social Welfare and Development (DSWD) is set to come up with a guide or manual for the proper and effective handling of former rebels (FRs) and decommissioned combatants' cases.
DSWD have conducted nationwide Focused Group Discussions (FGDs) to beneficiaries of the Enhanced Comprehensive Local Integration Program (E-Clip) to identify common and nuanced need of the different groups of FRs and their families; map out current case management process and practices of social workers helping FRs, and eventually identify issues and concerns in the case management process to be addressed in the manual.
In Caraga Region, DSWD conducted the FGD on August 18-20 at the 23rd Infantry Battalion Headquarters in Barangay Alubihid, Buenavista, Agusan del Norte. Some 21 FRs, including their families, participated in the activity.
Melanie G. Juan, Crisis Intervention Section Head, said the FGD is a national activity wherein the DSWD Field Office Caraga along with other field offices were mandated by DSWD-Central Office to conduct FGD not only with FRs but also with extremist groups and decommissioned combatants.
Jessie Catherine B. Aranas, DSWD Caraga's Protective Services Division OIC-chief, said the result of the FGD will be forwarded to the DSWD-Central Office for the final crafting of the case management protocol.
The FGD was composed only of a small group with seven participants in order to create a non-intimidating environment so that participants feel free to talk openly and give honest opinions about their situation.
Aranas said such small group offers a depth, nuance, and variety to the discussion and the views and opinions of the E-Clip beneficiaries.
Under E-Clip, qualified beneficiaries are entitled to receive livelihood grants, training and other assistance packages from various government agencies. It provides a complete package of assistance to former members of the New People's Army, as well as their family members who have surrendered to the government and became productive members of the society.