For a business to become successful, it requires to be run by effective and efficient leaders. But what makes an effective and efficient leader?
Being a good leader takes a lot of courage, sacrifice, and patience. When a person is given the function to become a leader, it means that he or she should be able to get along well with the members of the organization even if it means not being everyone's cup of tea.
Despite the conflicts brought by a challenging working environment, an outstanding leader remains to be a good influence to his or her peers. A leader perseveres and continues to inspire the people to work together for the success of their organization and its ventures.
Ma. Lorena Gloria, an active 45-year old Pantawid Pamilyang Pilipino Program (4Ps) partner-beneficiary from Barangay Quezon, Surigao City, best exemplifies these definitions of a good leader. In 2017, Lorena became a program participant of the Sustainable Livelihood Program (SLP) and eventually, was elected as the association president of the Quezon SLP Association (SLPA) – an association composed of 38 4Ps beneficiaries.
Through SLP, Lorena and her co-Pantawid members were granted the amount of PHP 900,100 as capital for their general merchandise business. The said project was turned over to their association in August 2019 and started operations immediately.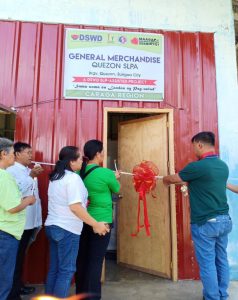 When she held the position as SLPA President, Lorena confessed that it was tough. She had trouble handling the members because they had opposing views and thoughts on different issues concerning their project. Because of the indifferences among the members, it created an unpleasant working environment for the association.
Lorena said that it had really challenged her leadership skills. She had to weigh carefully every option and opinion of her members to avoid worsening the situation. So as a good leader would do, she remained calm, pushed everyone to work as a team, and settled conflicts that can hurt the progress of their association.
She also promised that she will ensure that every member will be able to participate in the decision-making process. Other than this, Lorena also emphasized to the members that they need to practice transparency in their association to ensure its sustainability. "I told them that we needed to work as a team, to be open-minded, and to set aside personal interests for the progress of our group," she said.
Because of Lorena's leadership, the relationship between her co-members improved. The members learned how to communicate and work harmoniously with each other. Working as a team, they were able to do a few initiatives for their community. Just recently, the Quezon SLPA shared with the COVID-19 Pandemic frontliners in their area.
In her journey as a leader, Lorena realized that the position she is holding entails a huge amount of responsibility and sacrifice. It meant working harder than her members. But seeing the results of her sacrifices, she said that everything was worth it because it implied that she is an effective leader.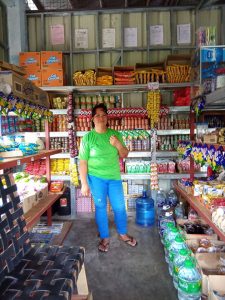 Lorena is aware that she still has a long way to go as a leader. She is also mindful of the fact that there will probably be more room for conflict and misunderstanding in their association in the future which will challenge her leadership. In spite of these possibilities, Lorena commits to uphold resilience in her leadership and to work passionately to ensure that their project and association will sustain and run for long years.#