Maria Rosa Aboyba, former parent leader of the Pantawid Pamilyang Pilipino Program (4Ps) residing in Barangay Maug, Butuan City, accepted her accumulated cash grants from the Department of Social Welfare and Development (DSWD), this month.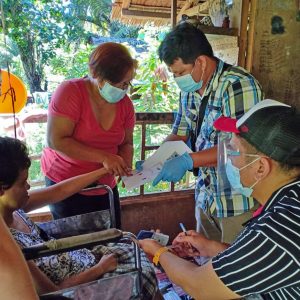 Aboyba, 49, was actively involved in the Program until 2017. Unfortunately, she contracted tuberculosis the same year. TB is normally spread from person to person through air transmission. The disease affected her health for months, causing her to be very sickly and weak.
Even when the grantee got sick, her children were still able to comply with the education conditionalities of the Program, as they maintain more than the required 85% attendance in school, and attend the monthly Family Development Sessions (FDS). But when the massive EMV (ATM) card distribution took place in 2018, Aboyba was not able to claim her card and worse, was unable to file for change grantee because her husband was working in Cebu City and her children are still underaged.
Prior to the special cash card distribution, the field staff conducted a home visitation and coordination with the Landbank of the Philippines (LBP) Butuan. The grants amounting to P33,000 was personally handed by the Municipal Roving Bookkeeper Danilo Lauro, City Link Robert Sumooc, and LBP staff Melcris Pacot.
"The household needs the cash grants to sustain the necessities of the monitored child beneficiary, and buy the medical expenses of the grantee especially during this time of the pandemic. We do not just want to heal as one, but also work as one," Lauro said.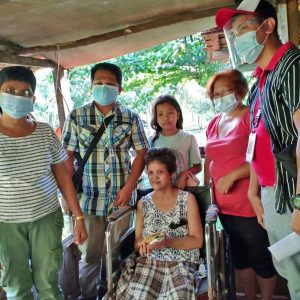 After receiving the cash grant, the current parent leader along with Aboyba's relatives went to buy her medications and groceries for their daily consumption. "Grabe ang akong pagpasalamat sa DSWD kay ila ning gihimo nga inisyatibo. Ako lang panghinaut nga magpadayon na ang akong pagkaayo (I am deeply grateful to DSWD for doing this initiative. I am just hoping for my continuous recovery)," Aboyba emotionally shared.
With this, DSWD Field Office Caraga strongly commits to its mission to lead in the formulation, implementation, and coordination of programs for the poor, vulnerable and disadvantaged sectors of the society. ###(Social Marketing Section/DSWD Field Office Caraga)