As poverty incidence rise among Filipino senior citizens, the need for basic resources to sustain the daily needs among them also broadens. Other than combating financial crisis and failing health conditions, that soon may lead to incapacitation, are only a few of the countless, terrifying circumstances many elderly face each day.
This is a common concern among poor, indigent senior citizens, just like what Alpia is going through right now. "Pasensya kaayo ma'am kay dili na jud ko kadungog ug kakita pag ayo (I'm so sorry ma'am, but I can no longer hear and see well)", with a misty-eye, she uttered during an interview.
Alpia Siman Casing was 73 years old when she qualified for the Social Pension for Indigent Senior Citizens Program implemented by the Department of Social Welfare and Development (DSWD). Now 78, and living with her daughter at Barangay Taod-oy, Magallanes, Agusan del Norte, she says that the program has been very significant in her subsistence.
In spite of Alpia's distressful circumstance, she has spent her days with her daughter, who, unfortunately, has been unlucky in landing a job. They both live together and share the challenges life has to offer.
"Dugay nako naglisod pangita ug trabaho. Labi na karon panahuna, mas nisamot karon tungod kay naay COVID-19 (It has been a long time that I have a hard time finding a job. It has been more challenging now that we have COVID-19)" Alpia's daughter shared.
Despite Alpia's daughter trying to land a regular job, she has found ways taking on small jobs such as being a nanny, a house cleaner, and sometimes accepts laundry pakyawan. But the demand for both of their daily needs still exceeds what she earns, since their daily needs do not only entail food, shelter, and clothing, but also Alpia's medication.
That being the case, Alpia weeps with joy as she recalled the day when she qualified as one of the beneficiaries of the Social Pension program. "Sukad-sukad, mapasalamaton gyud ko kay naay tabang nga akong mapaabot, sa una tag tulo (3) ka bulan, karon tag unom (6) ka bulan (Ever since, I have always been truly grateful that there is such assistance I could expect, first every 3 months, then every 6 months)," Alpia said.
While waiting for her turn during the 2nd Semester payout, the joy and excitement are very visible from the way she eagerly awaits in line to receive the stipend six-months' worth of grant from the program. When it was finally her turn, she presented her Office of Senior Citizen Affairs (OSCA) Identification Card, pressed her thumbmark in the space provided next to her name on the payroll, and laid her palm as the paymaster attentively counted the three Php1,000.00 bills on her palm.
"One, two, three. Three thousand na siya Nay para sa July to December (That's one, two, three thousand pesos for the months of July-December)," the paymaster exclaimed.
With a huge smile, she receives the Php3,000 handed over to her by the paymaster.  "Salamat ma'am, salamat gyud kayo niining tabang sa amo nga mga senior (Thank you ma'am, thank you so much for this aid for us seniors)," Alpia exclaimed.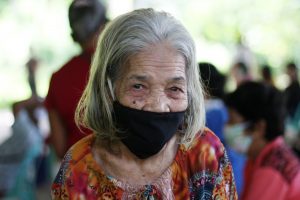 Three thousand pesos, some may say that this amount of cash is too insufficient to augment the daily needs of a single senior citizen, but for Alpia, this amount is a big help to address her needs. The amount, and meager income her daughter gets from doing jobs as an extra, would go a long way in buying food that would last them for weeks, buy some medicine and vitamins, and from time to time, buy a new set of clothes.
The amount Alpia and the other beneficiaries regularly receive could easily address their daily needs. But this does not necessarily only address their needs, especially that there are still senior citizens who act as the breadwinners in their individual families. Such is the situation of Maura T. Dela Peña, a 70-year old social pension beneficiary of Baranggay Caloc-an, Magallanes, Agusan del Norte who is raising her granddaughter who was left to her by her daughter.
"Wa gyud koy mahimo, naa pa koy gi buhi nga akong apo nga biniyaan sa iyang ginikanan (I feel helpless especially that I still have my grandaughter with me was left by her parents)," Maura stated.
Maura budgets her grants from the program for her needs and also that of her granddaughter. "Mo palit ko para sa akong panginahanglanon, ug mopalit pakog gatas para sa bata ug sud-an nga among makaon (I buy the things that I need, and also buy milk for my granddaughter and our food) she added.
When she was asked about her utmost priority on spending the cash assistance with, she pointed out the need for renovating her stilt house. She wept while sharing, "Maabot man gud mi sa taob maam, malunupan mi. Sa tinud-anay lang among payag mura gyud og balay sa baboy" (Our house gets flooded when it's high tide. Honestly, our house looks more like a pigsty)," Maura shared.
While wiping her tears, Maura added, "Pero mapasalamot ko maam kay nahatagan ko og kaluoy, dakong tabang gyud baya ning Pensyon sa DSWD sa amo (But I am extremely grateful because of the mercy I am shown through the grants I receive through the Social Pension from DSWD)," Maura said while raising the Php3,000 she just received from the program.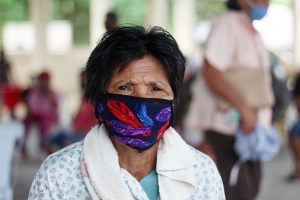 More and more senior citizens who are in tough situations are being thankful to the government for the aid they receive through the program. This fact only entails that each day, as the world ages, there is an ever-increasing number of Filipino senior citizens who find themselves requiring to still thrive to survive. Hence, the Social Pension program was designed to improve the living condition of senior citizens and to support their rights and welfare.
In view of this, DSWD Field Office Caraga continues to expand the targeted number of pensioners each year to effectively implement RA 9262 of the Expanded Senior Citizens Act of 2010. Be that as it may, Social Pension does not limit in augmenting the daily needs of the senior citizens, it also impacts to having a positive outlook and better understanding of life as they grow older such as in the case of  Juanito Delapa, a 78-year old SocPen beneficiary from Barangay Taod-oy, Magallanes, Agusan del Norte.
During the payout, Junito insisted to one of the DSWD workers conducting the payout to take a photo of him while he expresses his appreciation about the program. With a big smile, Junito shared, "Magpasalamaton ako sa DSWD kay natabangan ko ug ang uban pa nga sama nako nga tigulang ug luya na. Untana padayonon pa nila ilang nindot nga programa aron nga ang mga tigulang nga sama nako nga walay panginabuhian, matabangan gihapon samtang buhi pa  (I am grateful to DSWD for their assistance to frail elderlies like me. I wish they would continue their delightful program in helping the senior citizens who do not have many resources, yet still are trying to live comfortably)."
Amidst being frail and sickly, Juanito still shows positivity. It is clear that he values each day he faces as he age amidst the hardships he faces. He reminds everyone that even if one is already facing their sunset years, one can still remain hopeful and buoyant.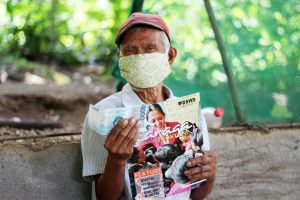 Alpia, Maura and Juanito are only a few of the hundreds of thousands of beneficiaries of Social Pension for Indigent Senior Citizens Program in Caraga who would like to voice their gratitude to the government, through DSWD.
With great responsibility in taking care and addressing the needs of the poor, marginalized, and disadvantaged, just like the indigent senior citizens in the country, DSWD strives to bring its timely and efficient programs and services, especially that people are depending on them for their safety and survival.