In just two months, the Department of Social Welfare and Development (DSWD) Field Office Caraga has already distributed the second-semester grants of social pension to 88,710 indigent senior beneficiaries as of September 25, 2020.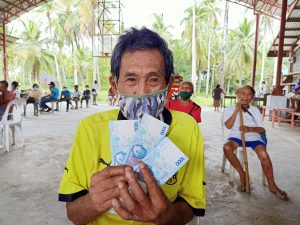 A total of Php266,130,000.00 cash assistance covering the grants for July to December is now being enjoyed by beneficiaries of the Social Pension for Indigent Senior Citizens program (SocPen). This was made possible through the hard work of the SocPen Team, with constant coordination with the Local Government Units (LGUs). Several senior beneficiaries have also claimed their unclaimed pension for the first semester.
Among the provinces that started the SocPen payout are Agusan del Norte,  with a total of 21,118 beneficiaries (Php63,354,000.00), Agusan del Sur – 39,892, (Php119,676,000.00), Surigao del Norte – 13, 601 (Php40,803,000.00), and Surigao del Sur – 14, 099 (Php42,297,000.00).
DSWD FO Caraga continues to conduct cash payouts directly to the senior citizen beneficiaries through the Special Disbursing Officers (SDO) from the field office. However, DSWD would like to emphasize that the distribution schedules may be affected due to the ongoing implementation of the community quarantine(s) or lockdown(s), and other circumstances in some areas of Caraga region due to the COVID-19 pandemic.
Republic Act 9994 or the "Expanded Senior Citizens Act of 2010" provides that seniors qualified to receive social pension are those who are frail, sickly or with a disability; without any pension from other government agencies; and without a permanent source of income or source of financial assistance/compensation to support their basic needs. Inasmuch as DSWD would like to include all indigent senior citizens, however, the budget for the program is limited.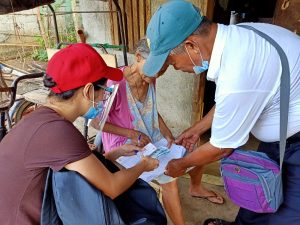 With this, DSWD assures that only the rightful beneficiaries are provided with government assistance such as the Social Pension. Qualified indigent senior citizens will receive a monthly stipend of Php500 to help augment their daily subsistence and other medical needs. The social pension is distributed on a semestral basis at Php3,000 per semester.
DSWD also continues its validation as part of the efforts to ensure that only eligible seniors will receive the monthly subsidy. If queries, concerns, and problems arise, DSWD is open to receiving these through these numbers: (085) 342 -5619; 09094522711; 09061211856; they can also email their concerns at focrg.socialpension@gmail.com.