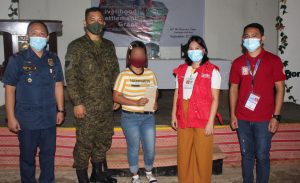 The Department of Social Welfare and Development (DSWD) Field Office (FO) Caraga, through the Sustainable Livelihood Program (SLP), extended livelihood assistance amounting to PHP 20,000 each or a total of 4,080,000 to 204 former rebels (FR) in the region.
The livelihood assistance is under DSWD-SLP's Livelihood Settlement Grant (LSG) – a special project that primarily aims to provide financial assistance to eligible FRs to support the establishment or continuity of their livelihoods and/or economic activities in their respective communities.
This project is in response to the national government's Executive Order No. 70 series of 2018, "Institutionalizing the Whole-of-Nation Approach in Attaining Inclusive and Sustainable Peace, Creating a National Task Force to End Local Communist Armed Conflict and Directing the Adoption of a National Peace Framework".
The distribution of livelihood assistance began during the first week of September and was completed on Thursday, September 24. It was also distributed by province – for Surigao del Norte, it was held in Gigaquit on September 10; for Agusan del Norte, it was distributed in Butuan City on September 11; For Surigao del Sur, it was conducted in Tandag City on September 16 and Bislig City on September 17; and for Agusan del Sur, it was held in Prosperidad, Bunawan, and Loreto on September 22, 23, and 24, respectively.
Beneficiaries of the livelihood grant, are FRs, ages 18 years and older, are identified and endorsed by the Enhanced Comprehensive Local Integration Program (E-CLIP) Committee, and were granted with the Joint AFP-PNP Intelligence Committee (JAPIC) Certification.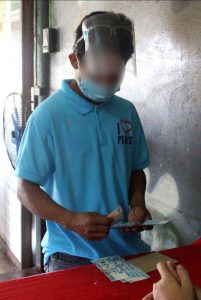 Prior to the livelihood assistance from DSWD-SLP, the FRs have also received financial assistance from the Assistance to Individuals In Crisis Situations, one of DSWD's protective services program designed to provide assistance to the poor, marginalized, and vulnerable individuals in the community.
Through the LSG, the FRs and their families will be able to venture into new or existing livelihood opportunities of their choice. During the release of funds, most beneficiaries shared that they would use the assistance to open a sari-sari store or engage in agriculture-based livelihoods such as aquaculture, poultry and livestock, and crop production.
One of the beneficiaries, "Jasmine", a 22 year-old returnee from Bayugan 3, Rosario, Agusan del Sur, shared that she and her husband have already decided that they will use the livelihood assistance to start a fish pond and hog-raising business. She also fervently hopes that their business venture will grow and sustain their family's needs for a long time.
"Dako kaayo ko og pasalamat nga nahatagan mi aning PHP 20,000 kay mahinay-hinay na namo ni og build sa among pamilya. Mag-uuma man mi so plano namo sa akong bana nga amo ning gamiton para magsugod og baboy ug fish pond kay basin pinaagi ani, mu-show up ang kita (I am grateful that we were given PHP 20,000 because we can use this to slowly build our family. We are farmers so my husband and I plan to use the money to start our own fish pond and hog-raising business because we hope that through this, income will come through," Jasmine said.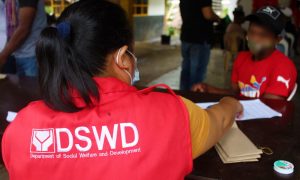 Moreover, thirty (30) days after the grant has been released, the DSWD-SLP, together with the different local government units, will conduct a Grant Utilization Monitoring to ensure that the FRs were able to use the assistance in their chosen livelihood venture, to track their progress, and to provide any kind of technical assistance to the beneficiary and their families.
DSWD FO Caraga's SLP has already accomplished its target for the year 2020. For 2021, the program eyes to distribute livelihood assistance to about 600 former rebels that will be endorsed by the E-CLIP Committee.#