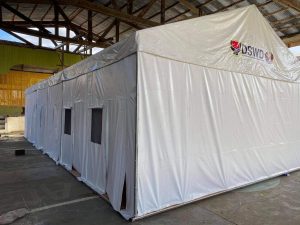 The municipality of Bayabas, Surigao del Sur has expressed its gratitude to the Department of Social Welfare and Development (DSWD) for the temporary health/quarantine facilities built in six of its seven barangays.
In a Facebook post by Bayabas Municipal Mayor Ma. Clarita Limbaro last September 11, she thanked the Department, including the Area Coordinating Team and Municipal Coordinating Team for the subprojects that were erected in barangays Panaosawon, Amag, Balete, Magobawok, La Paz and Cagbaoto.
Mayor Limbaro also thanked the barangay councils, community volunteers, and all those who were involved in the realization of the project.
The quarantine facility is a collapsible tent with 12 rooms, complete with beds, electric fan, table and chairs, and beddings.
The projects are under the Disaster Response Operation Procedure (DROP) of DSWD's Kapit-Bisig Laban sa Kahirapan – Comprehensive and Integrated Delivery of Social Services (Kalahi-CIDSS) Program.
The implementation of DROP is in response to Proclamation No. 929, which was issued last March 16, 2020, declaring a State of National Calamity for a period of six months for the entire country due to the COVID-19 pandemic.
DROP allows DSWD's Kalahi-CIDSS – covered areas to shift its operations from regular developmental activities into a disaster response modality to immediately address issues related to disaster early recovery.
Community projects proposed and funded range from Retrofitting/Refurbishing of dilapidated community infrastructures, Cash for Work projects, construction of Health facilities/amenities, procurement of Communication Devices for disaster operations, Construction of Communal Latrines, Construction of quarantine facilities, Construction of hand washing areas, Repair of water system, and fund Capability building activities relative to disaster.
Kalahi-CIDSS is one of the poverty alleviation programs of the government being implemented by DSWD. Employing community-driven development (CDD) as a strategy, Kalahi-CIDSS trains and engages communities together with their local governments (barangay and municipal) to choose, design, and implement development projects to address their most pressing needs.