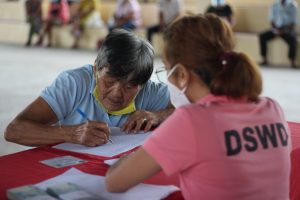 Due to the high number of queries regarding the qualifications for the Social Pension for Indigent Senior Citizens Program, the Department of Social Welfare and Development (DSWD) Field Office Caraga reiterates that only Indigent Senior Citizens are qualified to receive the social pension as per recognition of the Republic Act (RA) 9994 also known as the Expanded Senior Citizens Act of 2010.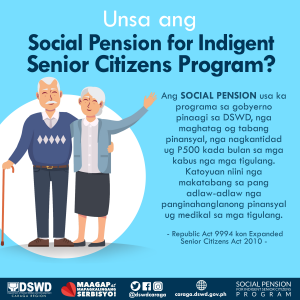 The law specifies that seniors qualified to receive social pension are those who are frail, sickly or with a disability; without any pension from other government agencies; and without a permanent source of income or source of financial assistance/compensation to support their basic needs. Hence, only Indigent Senior Citizens are qualified to receive the monthly stipend amounting to Php500 to augment their daily subsistence and other medical needs which is distributed per semester at Php3,000 per semester or Php500 in six (6) months.
The SocPen program is implemented by the DSWD in coordination with the City or Municipal Social Welfare and Development Office(s) (C/MSWD) together with the Office of the Senior Citizens Affairs (OSCA).
According to the guidelines of the program, the Barangay of Senior Citizens Association may recommend or submit a list of potential beneficiaries to the OSCA Head or to the C/MSWD office(s). The OSCA shall consolidate the list of all potential beneficiaries that are certified by the C/MSWD office for submission to the concerned DSWD Field Office. After so, the DSWD shall then cross-match the consolidated list submitted with the available data from the Social Security System (SSS), Government Service Insurance System (GSIS), Philippine Veterans Affairs Office (PVAO), and private insurances companies.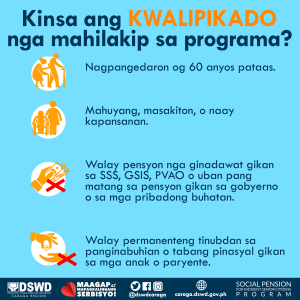 Inasmuch as DSWD would like to cater all senior citizens, the budget for the SocPen program is limited.
Having said all these, DSWD assures everyone that the agency is doing its best to ensure that only the rightful beneficiaries are provided with government assistance such as the Social Pension for Indigent Senior Citizens programs. DSWD also continues its validation as part of the efforts to ensure that only eligible seniors will receive the monthly subsidy.
If queries, concerns, and problems still come about, DSWD is open to cater all these through these numbers: (085) 342 -5619; 09094522711; 09061211856; they can also email their concerns at focrg.socialpension@gmail.com.