"Sa pagkatinuod lang, niagi gyud mi og lugaw-lugaw kay ang grocery pang kunsumo namo lisod kaayo. Dili na namo makumpleto, among gisiguro ang asukar, kape, gatas, ingon ana nalang (There were times that we only consume soft porridge rice. We could only buy the necessary things such as sugar, coffee, milk, and the like when we go buy our supplies)."
Victorina Guiban, a Pantawid Pamilyang Pilipino Program (4Ps) parent leader, was emotional as she reminisced how the current pandemic affected their family.
Her husband Mario is a barangay councilor (kagawad) in Don Francisco, Butuan City. They are blessed with four children, three of whom are now in college. Prioritizzing their children's education, the family is ledt with a meager budget for everything else. Thus, they doubled their effort to sustain their needs. Victorina makes and sells puto cheese and rice cakes to the neighborhood, and Mario sidelines as a habal-habal driver when there are no barangay sessions and activities.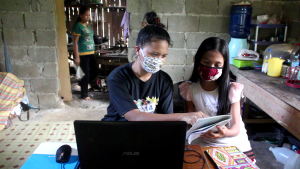 Even with this situation, a lot of the people in the community admire their passion and commitment to serving their community. They always made their selves available when people need both moral and financial help. They always extend their hand to anyone who needs help in their neighborhood.  Victorina regularly performs her duties as a parent leader, leading her co-beneficiaries of the 4Ps.
As indicated in the Program's Operation Manual, a parent leader is defined as "a point person, program beneficiary, and volunteer leader in a group of 25-30 household grantees." Moreover, the parent groups through their Parent Leaders must agree and establish their system of communication to facilitate efficient information dissemination.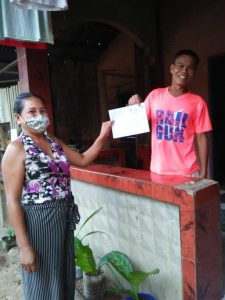 To show some initiative as a leader, and while showing her kindness, Vistorina volunteered to get the school cards of her fellow beneficiaries when she went to Pigdaulan National High School to get her youngest child's school card. She then handed these to them one by one in each of their doorsteps.
"Akong gihuna-huna nga makatabang ko bisan gamay. Ang ilang mga pasalamat pud dako ang kahulogan, ug maoy nakapalipay sa akong kasing-kasing (It was a simple gesture of kindness in helping them. Their gratitude meant a lot, and it made my heart happy)," she shared.
On normal days, Victorina, together with her family educates the community the importance of acquiring birth and marriage certificates. They conduct home visitations and provide details on how to avail free birth registrations offered by the government. They voluntarily escort the person in filing, guide them on preparing necessary requirements, and processing the request.
During this time of the pandemic, Victorina sees the importance of preparing for the rainy days. Early on during the pandemic, their family have felt how hard it was to manage for their everyday needs, especially prior to receiving their grants from the program and the Social Amelioration Program grants. That is why the family helps their neighbors who are really struggling by providing food to them.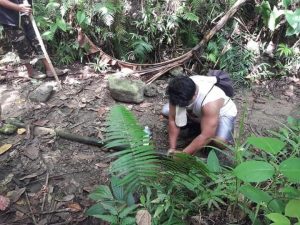 Mario on the other hand is helping out in the community by providing free repairs to the mainline water pipe and initiated a clean-up drive to the water source in their community.
The Guiban family has stayed true to their commitment in serving the community by being a true kaagapay ng pamayanan. Service is a lifestyle to the family, and as long as they are called upon to serve, they will always be ready. ###(Social Marketing Section/DSWD Field Office Caraga)