BUTUAN CITY- 276,654 households in Caraga have been identified as poor – this was the result of the Data Collection and Analysis phase to the 491,203 households that were assessed by the Listahanan field workers of the Department of Social Welfare and Development (DSWD) Field Office Caraga last year.
The initial list of poor was generated using the Proxy Means Test, a statistical model used to predict the per capita income of a household based on observable characteristics that correlate with, but are easier to measure, than income.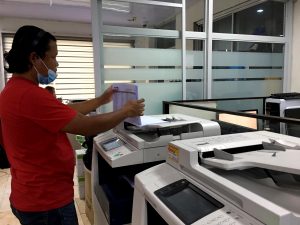 The initial list is the result of the sacrifices and struggles of the enumerators who visited and interviewed households, and collected pertinent information using Household Assessment Forms (HAFs) during the Listahanan 3rd round household assessment.
From the initial list, the province of Agusan del Sur tops the list of having the most poor households with 81,425 households, followed by Surigao del Sur – 67,702, Surigao del Norte-53,494, Agusan del Norte- 41,832, and Province of Dinagat Islands – 11,798. Butuan City, the region's capital had a total of 20,403 households listed as poor.
OIC-Regional Director Ramel F. Jamen emphasized that the said list is only the initial and the figures can change once the Validation and Finalization Phase of Listahanan commences.
"The list of poor households is only partial and the figure can decrease or increase once we will start our Validation and Finalization Phase of Listahanan. In this phase, we provide an opportunity for the community to review the list of poor households. If there are appeals or grievances, we will cater to them through our Area Supervisor," Dir. Jamen said.
As of this time, the National Household Targeting Section (NHTS) is preoccupied in printing the initial list of poor households, which will soon be disseminated to the barangays. DSWD is encouraging everyone to check the lists and report for questionable names either on the list of poor households.
"With this, we are encouraging the involvement of the community by checking the initial list posted at the barangay hall as we want to ensure that we will have an accurate, credible and final list of poor households. This list is very important as this will be used by our partner-stakeholders in implementing social protection programs of their localities since it contains complete name and addresses," Dir. Jamen added.
Initially, the receiving and resolving of grievance will commence next month after the completion of training of the field staff. The Area Supervisors will be assigned in the barangays, and will receive and process grievances. The grievances will be forwarded to the Barangay Verification Team (BVT) who will check first the merit of the grievances, then forward the grievances to the Local Verification Committee (LVC) who will resolve, check, identify and certify households that have not been assessed. #Social Marketing Section###